THE Baby & Broxi Bear Club is for boys and girls who want to have fun whilst playing football.
The classes are a perfect platform for children to play fun games, make new friends and learn a host of new skills with a team of enthusiastic qualified Rangers coaches. Kids' favourite, Broxi Bear, will also make a guest appearance during each coaching block.
The next block will be taking place week commencing: 20/08/2017 – 08/10/2017 at Rosshall Academy and Parklands.
Course prices are based on the 8 week block, however participants can join on at any stage for remaining weeks in the block with weekly cost being deducted from the total course price for each week missed. Payment must be made in full for the remaining weeks as opposed to paid on a weekly basis.
For more information or to book, call 0871 702 1972 (option 4) or email [email protected], calls cost 13p per minute plus network extras.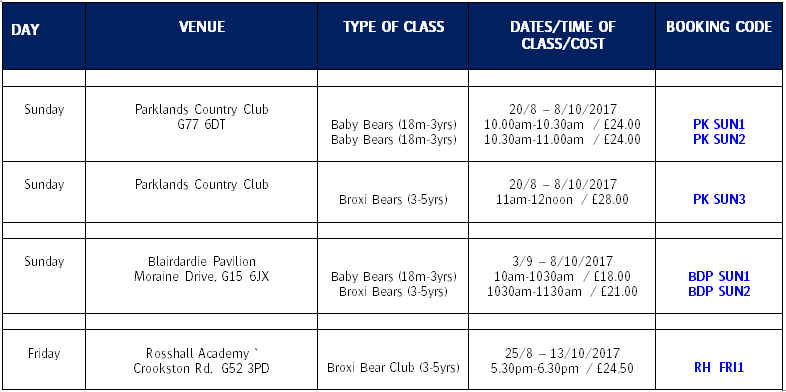 Places can be booked at any of the centres throughout block – only remaining weeks will be charged
*Rosshall Academy – no classes on Friday 22nd September (ie only 7 weeks)