STEVEN GERRARD said he will accept nothing but top standard going into Rangers final five games of the season.
The Gers manager told the media that his squad are playing for their futures as he assesses the Light Blues squad ahead of the summer.
Rangers head to Tynecastle tomorrow lunchtime after two weeks away from action following back to back wins and Gerrard believes his squad will be on song after some hard work on the training pitch.
Gerrard said: "It will be exactly the same as we approach any game, you are at Rangers and you go in to try and win.
"It is a little bit different than how the season has looked in terms of preparation time. We have had a lot of time on the training ground to plan and prepare because the games are coming every week now.
"That helps so we should be going in well drilled and really looking forward to this game on the back of two good wins with clean sheets. We want to build on those performances.
"It will be a tough match, I am sure they are very confident after getting to the Scottish Cup Final. I am sure the spirit has been really good in their camp and Craig will have them really well drilled, they are a tough team to beat, very physical.
"It is a very intimidating atmosphere down at Tynecastle and I am sure their fans will be up for it.
"We need to be ready to face that challenge but remember that we are going there to play the Rangers way and that is to play football in the right way and to everything we can to win the game.
"I think the last two performances were really strong and we played some really good stuff in possession.
"The important thing for me is to keep pushing because I won't have any individual or group try and take their foot off the gas. Players are playing for their futures here; it is as simple as that."
Gerrard responded to questions from the media about Chairman Dave King's letter to season ticket holders this week as season ticket renewals opened.
The 38-year-old continued: "I feel as if we fell short (this season) and I had a really honest conversation with the Chairman on the phone. I will be catching up with him face to face in the coming weeks as well.
"In terms of his statement he is well within his rights to say what he believes and what his opinion is. In terms of tangible Scottish dominance for me I don't think it is sensible for me to make any predictions.
"For me the challenge is to have this squad and this team ready to compete for what is available next season. I don't really have to look further than that.
"We want to finish this season as strong as we can and try and take as many points as we can.
"Then we want to get ourselves best prepared to have another go next year to win the next trophy which is available and that is the League Cup.
"I think it is very clear we do need backing; I am not a guy who has a magic wand and all of a sudden turns Rangers into a dominant force overnight.
"Everyone knows and every manager would say the same thing, you do need backing from your Chairman and from your board.
"We need that to happen and there has been progress made in a lot of areas which I am very pleased and happy about.
"I have also made it clear to the Chairman where I feel we need to improve the XI and the squad, moving forward to make sure we are capable of competing and tasting our first bit of success.
"I believe once we get that then it will help us to grow and achieve more things together."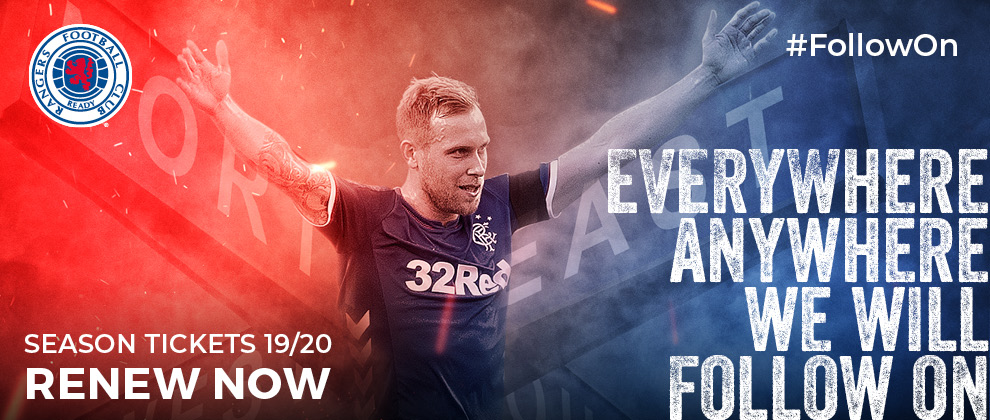 SEASON tickets for season 2019/20 are now available for renewal.
There are four easy ways for season ticket holders to renew for 2019/20. The deadline to renew your season ticket is Monday 20 May.
Website:

 

rangers.co.uk/renew
Rangers Ticket Centre
Phone: 0871 702 1972 (Option 1) Calls cost 13p per minute plus network extras
Email:

 

[email protected]
HELP & FAQS
 *calls cost 13p per minute plus network extras. Booking fees apply.