WE will be taking a look at some of the great names from our many opponents to have graced the pitch at Ibrox Stadium.
This week, it's Karim Benzema the powerful French striker who turned in an unbelievable performance for Olympique Lyon at Ibrox in 2007.
THE PLAYER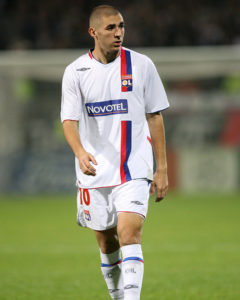 HE'S perhaps a controversial figure given the reasons behind his exclusion from the France national team, but Karim Benzema remains one of the best strikers in world football.
Bursting onto the scene with Lyon in 2005 under a certain Paul le Guen, Benzema played a part in the final four of the French outfit's stunning run of seven Ligue 1 titles in a row between 2001 and 2008.
He also claimed a Coupe de France in his time at the Stade Gerland, while he netted a total of 66 goals in 148 games – with 54 of them coming across 99 games in his final two seasons.
That form, for a highly successful and exciting club, was always going to attract the attention of others, and perhaps the biggest of them all, Real Madrid, signed Benzema for around €35million in 2009.
Like all of Madrid's marquee signings, he was paraded with much pomp and ceremony at the Bernabeu after he had signed an initial six-year deal with Los Blancos.
After a tricky start, he soon settled and, in his nine year-spell with the club, he has really racked-up the honours.
He has twice won La Liga and twice the Copa del Rey, but on four occasions, he has won the trophy most associated with Real – the Champions League.
He scored in the 2018 final, albeit profiting from a major error from Liverpool keeper Lorus Karius. The four Champions League wins have also led Benzema on to claiming (thus far) three UEFA Super Cup and three FIFA Club World Cup medals.
To date, in 420 appearances for Real, he has netted 206 goals.
On the international front (prior to him being excluded from squads), he made 81 appearances for Les Blues and scored 27 times, while he also appeared at the 2010 and 2014 World Cups, and Euro 2008 and 2012.
THE MATCH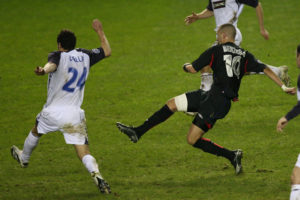 Following on from Rangers stunning 3-0 win over Lyon in France, combined with a win over Stuttgart and a draw with Barcelona, Rangers needed just a further point to qualify for the last 16 of the Champions League in season 2007/08.
Standing in their way, again, were Lyon. Led at this stage by Alain Perrin, their early group stage, including their defeat to the Gers, meant they were playing catch-up and had to win in Glasgow to make it through to the next round.
And their evening couldn't have begun any better for them nor any worse for Walter Smith's men with Sidney Govou netting after just 16 minutes following a Benzema assist.
Gers knew they needed an equaliser and began to pour men forward in search of it, opening up increasing space for the lightning-quick Benzema. And, but for a rather remarkable Steven Whittaker block on the line from the Frenchman, he could have put the tie to bed.
Indeed, Whittaker's clearance led to an outstanding Rangers chance, with Jean Claude Darcheville turning a Barry Ferguson cut-back over the bar from around three yards out with the goalkeeper stranded.
That was to be the last chance for Gers, and a slip from Carlos Cuellar allowed Benzema in to net and kill the tie. He then followed that with a fabulous run from midfield and a wicked 25-yard shot which found the bottom corner to send his side through.