STEWART ROBERTSON believes the progress that has been made on and off the pitch in 2018/19 proves Rangers are moving in the right direction.
In an exclusive end-of-season interview for RangersTV, the club's managing director expressed his delight with the work that has been put in to improve the facilities at the Hummel Training Centre and Ibrox Stadium this season and the impact Steven Gerrard has had since he took over as manager of the club 12 months ago.
Robertson said: "It's been very pleasing. I don't think there is any doubt we are in a much better position now than we were a year ago.
"On the pitch it's clear and I think everybody can see the quality of the squad and the lift the whole squad has had from Steven coming in and the profile that has brought to the club. That has also benefitted us off the pitch as well.
Our commercial income is up this year, we had a fantastic European run and it has got us back to what we are used to seeing at Rangers and it is where we should be.
"So there is no doubt we are in a much better place than we were last year."
On the training centre and Ibrox, he continued: "Both facilities were tired and it's taken time to, slowly but surely, renovate and improve and get Ibrox to what it should be like.
"Everybody knows what it was like back in the glory days and we are getting there. There was a lot of functional stuff that had to be done in terms of the health and safety aspects of it, and that is all completed.
"It's important when you've got effectively a small town arriving at your stadium every two weeks that people can come and they can watch the football safely.
"So all of that is done and we are now improving it and getting it to a standard we would like to see and what Rangers should have, to be quite frank, for 2019.
"The whole training centre is a fantastic facility. It is now nearly 20 years old and you don't think of it as being that age.
"So there were improvements that had to be made to give us that elite environment that the guys are after and should have to give them the best chance of doing the best job on the pitch.
"That has been great to see and it is expensive, it costs a lot of money, but it is a long-term investment and it's not just the first team that benefit from that, it is also the Academy and the players in our Women's squad who will begin to play their games up there from the summer.
The new stand at the Hummel Training Centre, which the Rangers Fans Fighting Fund funded, is going to be a great acquisition for us because it is not just the stand, there are four dressing rooms, there is an education base and there is some more office space which we badly need as the facility expands.
"I think we have now doubled the number of people at the facility compared to when it first opened, so we need to move with the times to make sure it is fit for purpose.
"But the improvements will be ongoing. There will be some improvements to the main stand in the players' area that we are looking to facilitate.
"Again it is just a bit tired so the matchday experience isn't great for the players. And going beyond next season as well we are looking at the hospitality facilities and some of the space that we have got around the stadium.
"With the club's 150th anniversary coming up in 2022 there are a couple of feasibility projects going on at the moment in terms of bringing Edmiston House back into use, which would be a great facility for the supporters.
"There are other areas around the stadium as well which, as we progress that work, we will announce it in due course. But I'm quite excited with the plans that are coming together."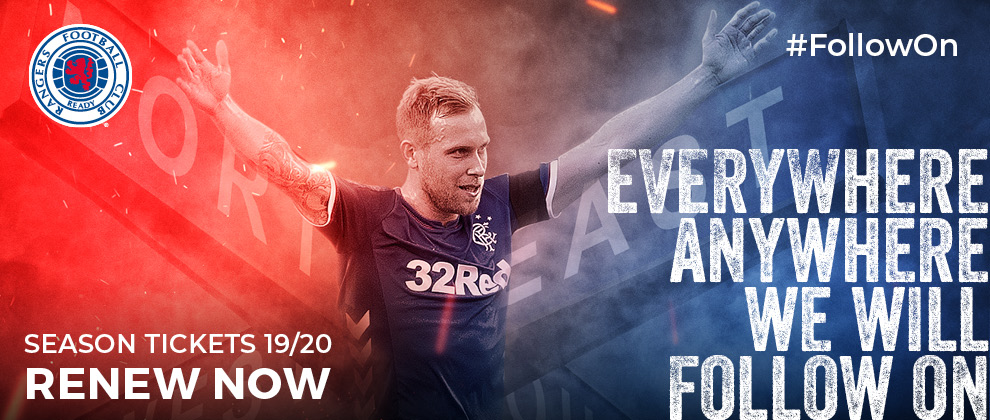 SEASON tickets for season 2019/20 are now available for renewal.
There are four easy ways for season ticket holders to renew for 2019/20. The deadline to renew your season ticket is Monday 20 May.
Website:

 

rangers.co.uk/renew
Rangers Ticket Centre
Phone: 0871 702 1972 (Option 1) Calls cost 13p per minute plus network extras
By Post:

 

Rangers Ticket Centre, Ibrox Stadium, 150 Edmiston Drive, Glasgow, G51 2XD
HELP & FAQS
 *calls cost 13p per minute plus network extras. Booking fees apply.