ALL Rangers Supporters attending Thursday night's Europa League match please read the following information.
CBRN Barriers will be in place before the match in the North-West Corner of the stadium footprint.  Please be aware that the barriers are larger than usual due to the increased number of away supporters.
Rangers fans will not be able to access the stadium footprint from Broomloan Road or traverse the barriers.  Please access the stadium footprint from Edmiston Drive, Harrison Drive or Mafeking Street.
Rangers Supporters will not have access to Broomloan Road – Coach and Bus Parking in streets other than Broomloan Road is not affected including Helen Street.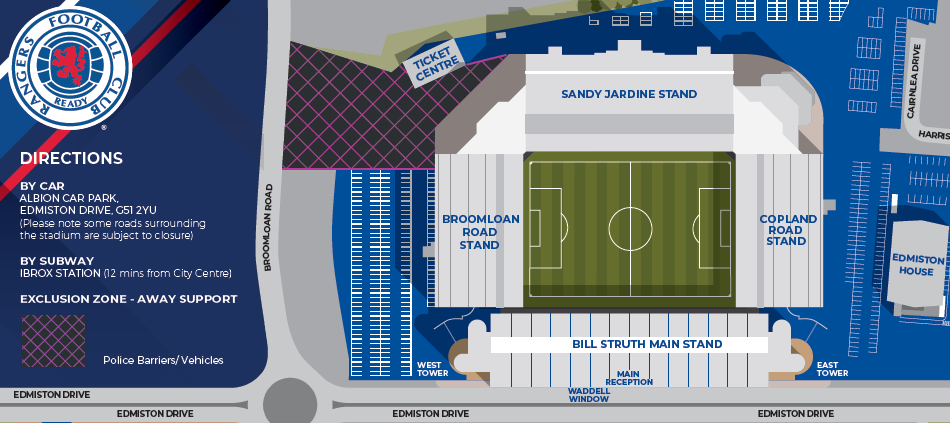 Please note that Supporters are encouraged to enter the stadium earlier than usual.  We have a number of supporters who will be in unfamiliar seats and using paper tickets and as a result we are expecting increased queueing times at the turnstiles.
Particularly those in the Broomloan Stand should arrive as early as possible.
All Supporters in the Broomloan Rear will have to enter the stadium via Turnstiles 57-60 which are located in the south of the Broomloan Road Stand.  Please arrive as early as possible to aid access to the stadium.
Supporters who are in the Broomloan Front should enter the stadium via Turnstiles 61-66.  Please note Turnstiles will be closed 67-68.  Again please arrive as early as possible
The half-time smoking area will not be available in the Broomloan Stand for this fixture.
As a result of the partial stadium closure, Rangers has been provided with the opportunity to fill one of the closed sections of the stadium with Juveniles aged 14 and under.  The Club has taken this opportunity and CD1 will host children from local Schools, our academy and soccer schools.
The Ticket Centre will be open from 9am and will close shortly after kick-off.  The Ticket Centre will not be open after the match.