THE Rangers Youth Development Company has donated a further £20,000 from recent Rangers Pools profits to the club for work in the first-team dressing room area at Ibrox.
RYDC re-launched Rangers Pools at the start of last season – in partnership with the Football Pools – with all profits going to the club specifically for the upkeep and maintenance of the stadium.
Former Light Blues striker Michael Mols was back in Scotland last weekend and was delighted to lend his support to RYDC.
Colin Stewart, Director of Operations at RYDC, commented: "The Rangers Youth Development Company is delighted to donate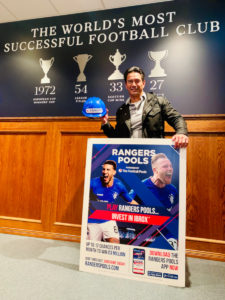 another £20,000 to the club from Rangers Pools profits.
"I thank all the fans who have signed up for Rangers Pools so far, your participation has allowed us to give the club this generous sum and we have now donated £40,000 to the club for essential work at Ibrox.
"Thanks also to Michael for showing his support."
Since 2002, RYDC profits have been directed to Rangers Football Club's youth programme – with almost £8 million provided so far.
For full details on RYDC's growing portfolio of products – the Rangers Pools, Rangers Lotto, Rising Stars, Scratchcards, Stadium Bricks and the new Union Jackpot half-time draw – visit www.rydc.co.uk or call 0141 427 4914.
Fans can sign up for Rangers Pools at www.rangerspools.com.