MAX ASHMORE lived the dream as Reserve team captain before leaving Rangers in 2017 and the former Light Blues midfielder has recently returned to his beloved club as a full-time Children's Academy and Scouting Assistant.
The 21-year-old enjoyed spells with Ross County, Stirling Albion and Stranraer before embarking on a life-changing adventure to America where he signed for Ventura County Fusion but he is now back in Scotland working with the Rangers Academy in a role he relishes.
Max played in youth cup finals, trained with the first-team and travelled the world with Rangers when he was a youth player and he is determined to use his in-depth knowledge and experiences to help the academy in any way he can.
He was delighted to receive a call from Head of Academy Craig Mulholland while he was in America last year and had no hesitation in accepting the offer to return to his boyhood heroes.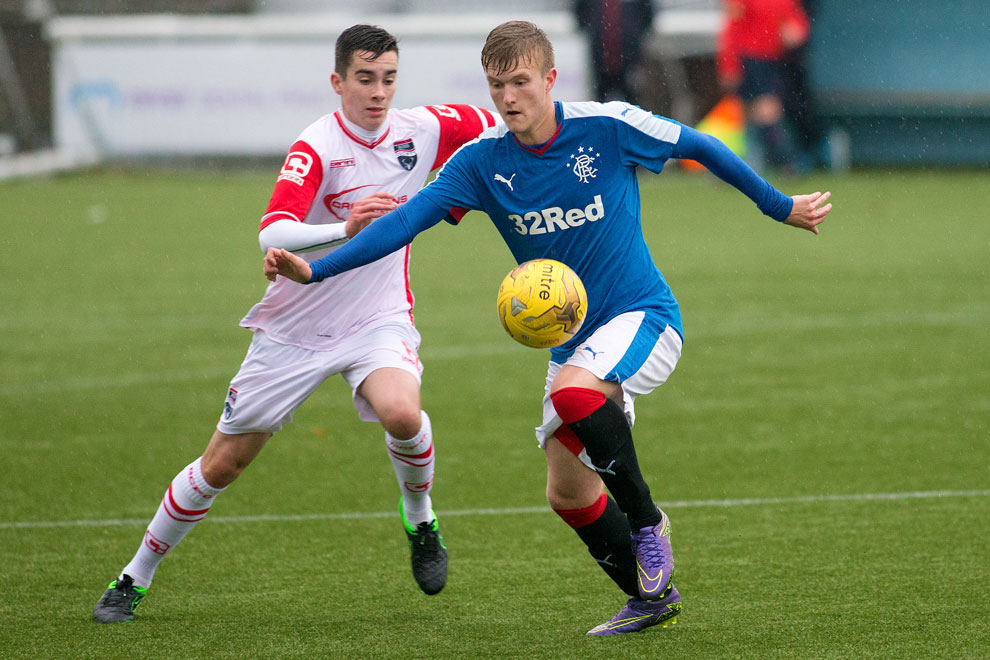 Max, who is pictured promoting the Rangers Youth Development Company, explained: "Around this time last year I was playing in America and Craig phoned me and made me an offer that I couldn't refuse.
"To be given the opportunity to return to a club like Rangers, having been here for so long as an academy player, was great for me and a no-brainer to accept.
"My main role is in academy scouting. David Stevenson is my line manager and I try to assist him as best I can. He has been fantastic for me to learn and develop under.
"We work with the club's scouting network to try and get the best players from around Scotland at under 11s to under 16s, right up to the 18s and Reserves. We also look at cross-border players at older age groups and players around Europe.
"I've also been doing a bit of coaching and I am learning from guys like Graeme Murty and Alan Boyd and Greg Statt – who were my coaches when I was younger.
"I'm trying to learn as much as I can from all the different academy departments and I'm enjoying seeing how it all works.
"In a recent webinar, Sporting Director Ross Wilson said the best thing to do is to try and learn all aspects of a club. Learn everything you can. That's what he did at Falkirk and he knows how a football club works.
"I am enjoying the free role the club has given me at the moment but my main focus at the moment is academy scouting.
"The club has come on so much since I left. Things were improving before I moved on and Graeme Murty was a huge influence on me and he really improved me as a player.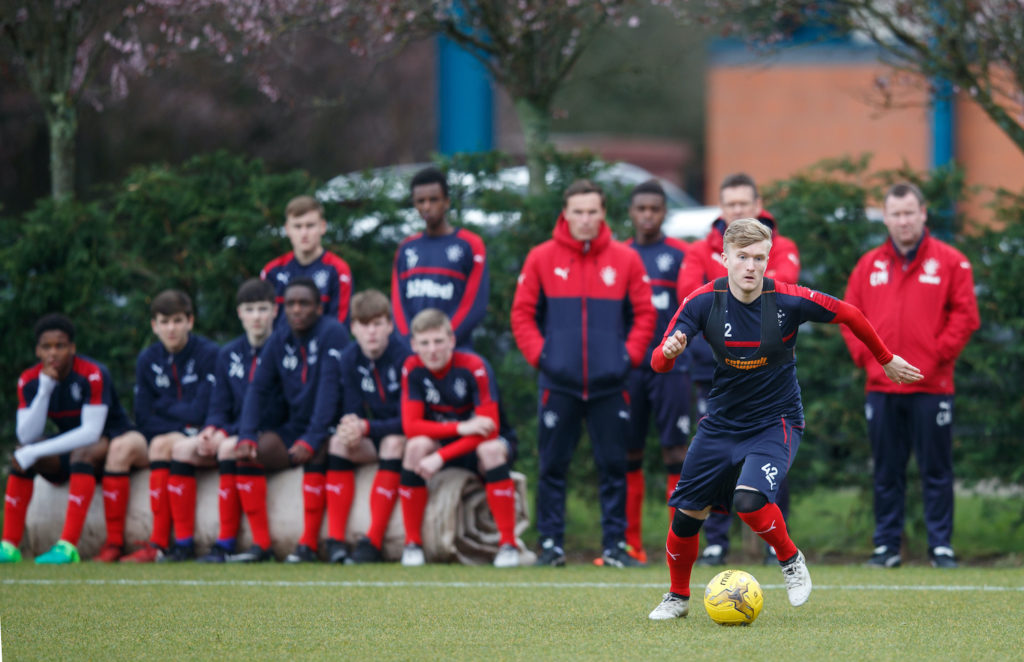 "Craig's long-term academy plan was also just starting with things like the European Games Programme which has been massive for the players and staff.
"It's like night and day coming back now as the academy has come on so much in the three years I have been away.
"It is such a professional operation and the players are looked after so well. It makes me so proud, as a Rangers fan, to see the work that goes on here.
"When I was a player it was a privilege to go in and train full time every day but the training ground has developed even more and is one of the best facilities in Europe.
"The education side is so important too and the boys are leaving school with great grades on top of their football education.
"That's something we can highlight to parents when we are recruiting, it's not just the coaching on the training pitch. It is so much more the academy can offer.
"My mum and dad were big on education as well as football so I know the importance of it and we can offer a great support network through the education team at the club.
"I can relate to the academy players and pass on my experience to them too.
"When I was a player here I was involved in the first-team set up so I have knowledge to pass on. I did it as an 18 year old so I can give them tips and information that they can use for the benefit of their own careers.
"When you are at Rangers the experience stays with you forever and people at other clubs still remember me as Reserve captain. It shows you how big the club is.
"I am lucky to be asked back and I say this to kids, always leave on good terms as you never know where your football journey will take you.
"When I was told I would be leaving I accepted it, thanked the staff for the opportunity and shook hands with everyone. Now I am back and delighted to be involved.
"I've always had a good relationship with Craig and Graeme and I am grateful for the opportunity to be back.
"I will never take it for granted, I know I am lucky to be here and I will work as hard as I can for the club. What a place to go and work. I am loving every minute of it."
Max, who still plays part-time football for Cumbernauld Colts at Broadwood, has nothing but fond memories of his previous spell at Rangers and he has also praised the academy for the support they have given to young players during this extremely difficult lockdown period.
He continued: "Rangers gave me great memories and I have now played football in four different continents. Rangers are a massive part of my life and I can tell parents about my experiences of playing at the club and the quality coaching and education programmes that are available here.
"The last six months as Reserve captain under Graeme Murty was some of the best football I had played and I really enjoyed it.
"The biggest thing in football for me has been the people you meet along the way and I met so many great people at Rangers who are lifelong friends. It is one club, one family and the support the academy is giving players during this lockdown period is unbelievable and a credit to all the staff.
"I've spoken to so many parents recently and they are all delighted with the support.
"It is hard times for everyone but for Rangers to still engage with the kids and offer webinars with academy staff, Steven Gerrard and Ross Wilson plus the online coaching sessions is quite something.
"Every player in the academy from under 11s up has the opportunity to keep learning and developing.
"This season we have seen youth players like Kai Kennedy and Nathan Patterson feature in the first team and it is great for the younger players at the academy to see them progress and get their chance.
"They started with Rangers at the age groups I'm involved with now so it shows the pathway is there. Nathan and Kai have come all the way up and are so good at the basics of football, and those qualities were instilled when they were just kids at the academy.
"When we are looking to recruit younger age group players they can see for themselves that players like Kai, Nathan, Dapo Mebude and James Maxwell have progressed all the way to first-team level. It was the same with Ross McCrorie when I was at the club and I use examples of what I seen him doing – his work ethic and willingness to learn and push himself – to help the current group.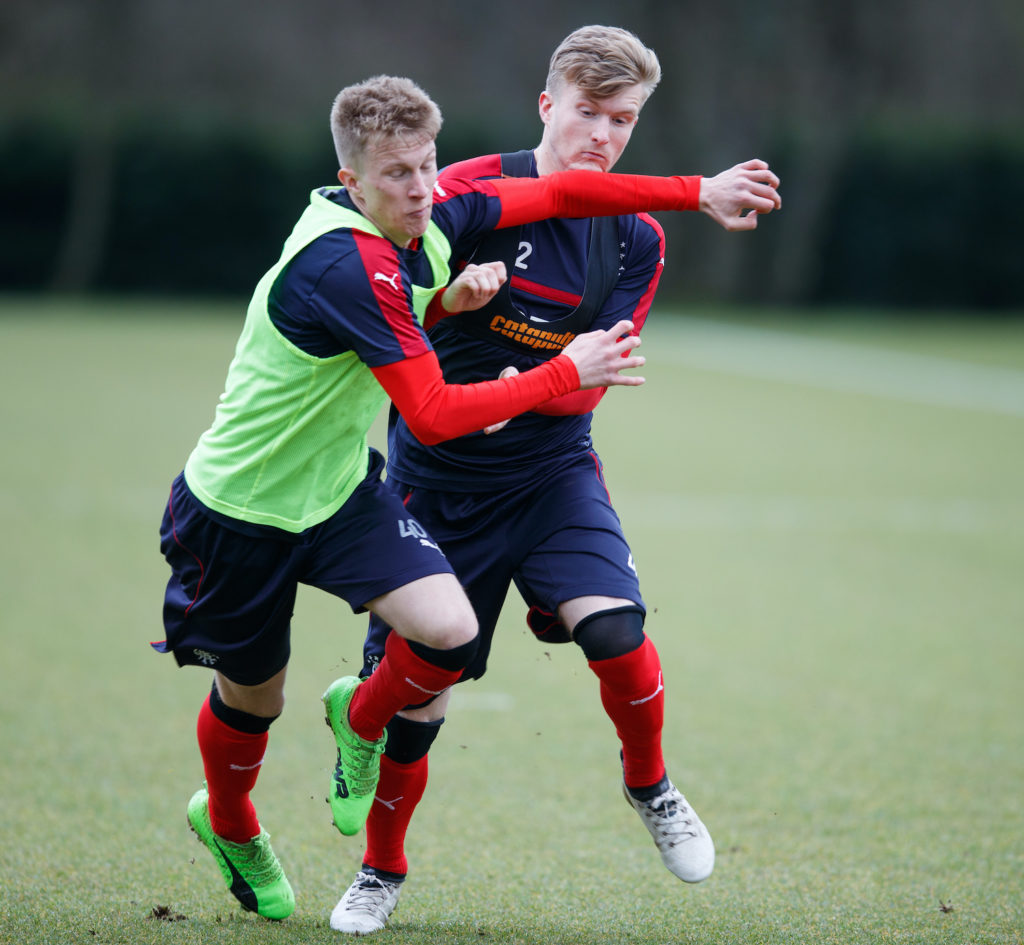 "You want to see homegrown players progressing and players like Ross, Kai and Nathan have been able to do that. Youth players also get the chance to regularly train with the first-team squad here and Steven Gerrard and his coaching staff inspire the academy players.
"It will be a dream for academy players to earn the chance to train and play under him.
"But you have to work hard earn the right to get round there and with the right academy guidance and a strong work ethic I think there are a few that could push through.
"I still play in the lower league for Cumbernauld Colts. I trained with different teams when I came back from America and I have a love for football back for sure.
"I left the club three years ago and it doesn't really feel like that.
"When I think back I remember sitting down with Craig and Graeme and they told me they wanted me to have another role at the club in the future and here I am.
"The life Rangers gave me when I was younger was a positive one. My family were proud I was a player here.
"I look back on the memories Rangers gave me and I am proud. I now want to make more memories in my new role.
"I found football away from Rangers very different. I went to Ross County first and it was a change from living in Glasgow and near my friends and family.
"I was there for a year and it was a totally different experience. I also had a short spell playing in Malta but wanted to be at home playing football so I had spells at Stranraer and Stirling Albion.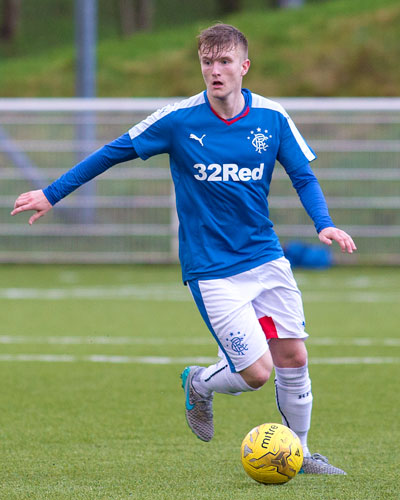 "I then had the opportunity to go and play in America and it was one of the best things I have ever done. It was a great experience and I rediscovered my love for football there.
"It was unbelievable but when Craig called me at the end of Ventura's season it was the perfect time for me and I was delighted to come home."
RYDC has provided more than £8.5 million to the Rangers Academy since 2002 with profit from their portfolio of products.
For full details on RYDC, Rangers Lotto, Rangers Pools, The Union Jackpot, Scratchcards and Stadium Bricks visit www.rydc.co.uk or call 0141 427 4914.