RANGERS take on Dundee this afternoon and we've pulled together everything about the fixture in one handy place.
CLUB INFO:
FORMED: 1893
NICKNAME: The Dark Blues, The Dees
STADIUM: Dens Park
GROUND CAPACITY: 11,506
MANAGER: Neil McCann
MATCH INFO:
REFEREE: Greg Aitken
ASSISTANTS: Gary Hilland, Willie Conquer, Kevin Graham
KICK OFF: 15:00
VENUE: Ibrox Stadium
COMPETITION: Ladbrokes Premiership
MATCH STATS:
ALL #RFCDFC MATCHES
PLAYED: 269
WON: 158
DRAWN: 54
LOST: 57
FOR: 570
AGAINST: 292
LEAGUE #RFCDFC MATCHES:
PLAYED: 224
WON: 128
DRAWN: 46
LOST: 50
FOR: 470
AGAINST: 246
HOME #RFCDFC MATCHES:
PLAYED: 132
WON: 92
DRAWN: 22
LOST: 18
FOR: 320
AGAINST: 117
DUNDEE PLAYER PREVIEW:
Glen Kamara: "We feel confident that we can get a win at Ibrox," said Kamara. "Definitely. It's 90 minutes and we're going into it with belief.
"If we can repeat the standard of the performance at Celtic then we can definitely get some points against Rangers. Celtic are the best team in the league."
The three-at-the-back formation has served Dundee well since being thrashed by St Johnstone and Kamara doesn't expect any tinkering with it in the near future. It's certainly been working well so I guess we'll keep going with it."
LAST 5 RESULTS
DUNDEE
D 04/04/2018 CELTIC AWAY PREMIERSHIP 0-0
D 01/04/2018 HEARTS HOME PREMIERSHIP 1-1
L 17/03/2018 ABERDEEN AWAY PREMIERSHIP 0-1
L 10/03/2018 ST JOHNSTONE HOME PREMIERSHIP 0-4 
L 24/02/2018 MOTHERWELL HOME PREMIERSHIP 0-1
RANGERS
D 31/03/2018 MOTHERWELL AWAY PREMIERSHIP 2-2
L 23/12/2018 KILMARNOCK HOME PREMIERSHIP 0-1
L 11/03/2018 CELTIC HOME PREMIERSHIP 2-3
W 27/02/2018 ST JOHNSTONE AWAY PREMIERSHIP 4-1
W 24/02/2018 HEARTS HOME PREMIERSHIP 2-0

FAST FACTS
Rangers have played Dundee on 111 occasions in the league at Ibrox, starting with a 7-2 victory at the First Ibrox Park on 10 March 1884. Rangers have accrued 77 wins, while Dundee have left with the points on 14 occasions and 20 matches have been drawn. Rangers have scored 265 goals and conceded 95.
Rangers have lost two of the last three league meetings with Dundee, both at Dens Park, but have won the last nine encounters at Ibrox, starting with a 3-0 win in April 2000 where current Dens boss Neil McCann was amongst the goalscorers.
Scoring first in this fixture has proved important in recent times. In the last 15 encounters the team that has scored first has won 14 times with the other match ending in a 2-2 draw. The last time the team who scored first lost was in February 2002 when goals from Shota Arveladze and Craig Moore gave Rangers a 2-1 victory after Gavin Rae had given Dundee the lead.
Hat-tricks have been rare in the past few years in matches between the sides, the last treble coming in February 2000 when Rod Wallace took home the match ball after a 7-1 victory at Dens Park. Prior to that, Jorg Albertz had scored three the previous February in a 6-1 win at Ibrox. The last Dundee player to score a hat-trick in the fixture was John Brown, in a 3-2 victory at Dens Park, in November 1985.
Ally McCoist is the top scorer in the fixture with 27 league goals between March 1985 and November 1993. His tally was taken to 30 with a League Cup strike and a double in the Scottish Cup in March 1998. Remarkably, despite scoring so many goals against the Dens Park side, McCoist recorded only one hat-trick, coming in a 5-0 victory in January 1986.
Read more Fast Facts and the latest stats, appearances, goals and much more in the match programme tomorrow. 
LAST 5 MEETINGS
L 24/11/2017 PREMIERSHIP AWAY 1-2
W 09/09/2017 PREMIERSHIP HOME 4-1
L 19/02/2017 PREMIERSHIP AWAY 1-2
W 19/11/2016 PREMIERSHIP HOME 1-0
W 13/08/2016 PREMIERSHIP AWAY 2-1
TOP SCORERS
DUNDEE
Moussa (10)
Leitch-Smith (6)
El Bakhtaoui (5)
O'Hara (5)
Waddell (3)
RANGERS
Morelos (15)
Windass (12)
Tavernier (8)
Candeias (6)
Dorrans (5)
LAST TIME
The last time the sides met at Ibrox Alfredo Morelos scored a second successive double to help Rangers to a 4-1 win over Dundee at Ibrox in the SPFL Ladbrokes Premiership.
Carlos Pena bagged his first goal for the club and Josh Windass got the other, while Dundee scored a late consolation
GERS PLAYER PREVIEW
GERS MANAGER PREVIEW
CAN'T MAKE THE GAME?
WATCH THE GAME LIVE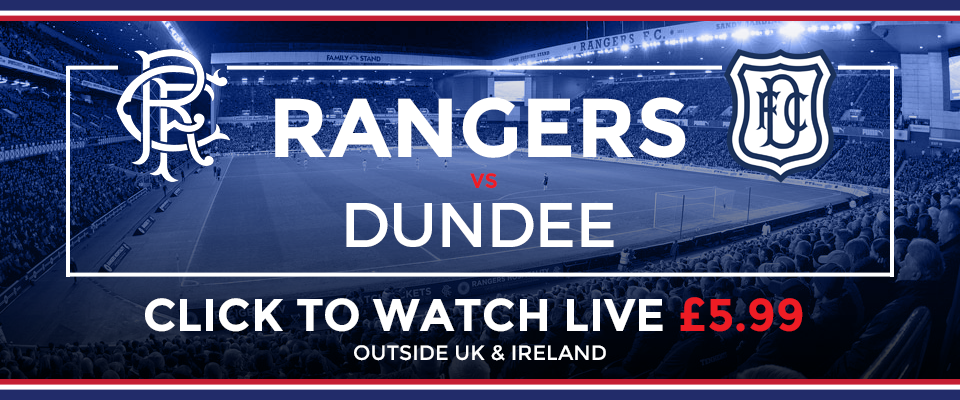 IF you're outside the UK you can watch tomorrow's Ladbrokes Premiership match against Dundee at Ibrox LIVE.
Tom Miller will bring you full commentary throughout the 90 minutes with former Gers player Kevin Thomson on co-commentary.
Before the match, we have an exclusive interview Graeme Murty previewing the game. We also have the next episode of On The Spot where Jamie Murphy answers your (sometimes bizarre!) questions. Then there's previous highlights from the games against Dundee this season before we remember Ray Wilkins who sadly passed away this week.
At half time Kevin and Tom will review the first forty-five minutes of action before we watch Walter Smith speaking about the match against Sporting from the UEFA Cup run of 2008.
To purchase the game for £5.99 click here, or sign up for a RangersTV Unlimited subscription here to enjoy every game live. If you're based in the UK/ROI you can watch the full match and highlights from midnight on Saturday.
To watch every competitive match this season on-demand you can subscribe from as little as £5 per month by clicking here
With packages available from starting at £5 per month you can get closer to your club than ever with a subscription that will give you exclusive features, our extensive archive, behind the scenes access and all the best match action.
Click on the links below to subscribe today to one of our package types:
Click HERE to find out more about what is included in the different packages and click on the following links for different series:
BUY THE MATCHDAY PROGRAMME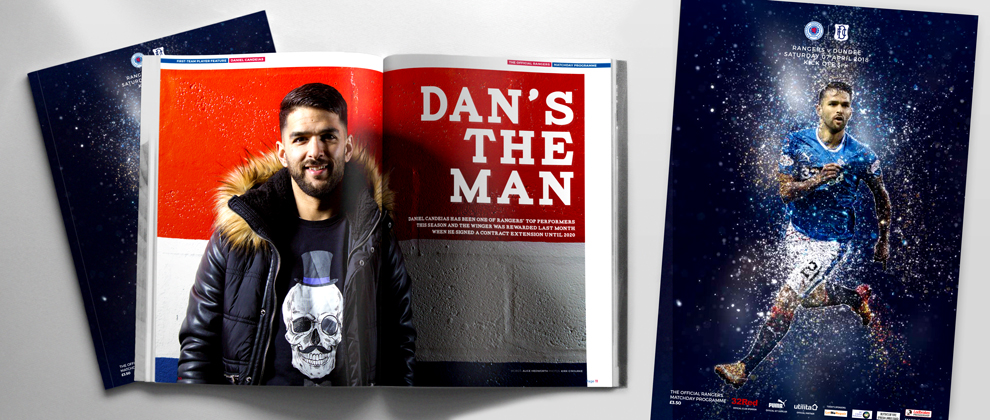 TOMORROW'S Dundee matchday programme is packed with exclusive interviews and will be available at Ibrox in print and in digital form.
The cover star and main feature for the clash Neil McCann's men is Portuguese right winger Daniel Candeias, who speaks about life at the Gers in his first full season in Glasgow.
Few Rangers fans would have heard of Portuguese winger Daniel Candeias when he pitched up in Glasgow last summer.
Now, nine months on from his signing in June 2017, everyone knows the pacey wide man's name at Ibrox.
The 30-year-old has been a stand out in his first season with the Gers and he capped it off in March with a contract extension and an Old Firm goal.
Candeias is leading the line for most assists in the Premiership, alongside teammates Josh Windass and James Tavernier, and the trio have made their competition, to come out on top, public across their Twitter feeds.
It is an example of the fun Candeias, a player who prior to Rangers had played for 11 clubs, is having with his new "family" – his words not ours. He said:  "I wanted to commit to Rangers because it is a great club and the people are very good – it is like a family here."
You can read the full story in tomorrow's programme. But that's not all, in this issue you will also find the following:
Programme notes from Gers boss Graeme Murty and captain Lee Wallace
An exclusive interview with former Gers left back David Robertson
An exclusive interview the man who played on the opposite flank to Robertson, Gary Stevens.
Jamie Murphy answers your questions in our 'On The Spot' series
The Last Word with Russell Martin speaking about Declan John playing for Wales
The latest in the A To Z of Stadiums, looking at the Veltins Arena
A look back at 'Mayhem In Seville 1962' within our archive section
Craig Moore answering fans questions via Rangers Youth Development Company
We also remember another Great Goal – this time it's Paolo Vanoli against Dundee in 2003
PLUS there is a tricky quiz to test your football knowledge, Fast Facts , On This Day, Andy Cameron, Snapshot, Junior Gers and much more.
All this and so much more is in the official Old Firm matchday programme, price just £3.50. Don't miss it!
DIGITAL PROGRAMME DOWNLOAD
You can purchase the programme online now on your chosen mobile platform from the following links: