STEVEN Gerrard rebuffed claims he had delivered some "home truths" to his squad after Saturday's draw and instead told the media he was merely honest with his players.
Gerrard spoke to his squad in the dressing room after dropping points against St Johnstone and admits he may need to have individual conversations ahead of the visit of Kilmarnock.
The Gers boss says he has praised his players when they deserved it but favours an honest approach to management, which is the tact he has taken following the weekend's result.
Speaking in his pre-match press conference Gerrard said: "You are hoping this is not going to be a regular thing but I have told the players in a very honest and truthful way that it's not acceptable.
"If you're a Rangers player you have to accept the challenge and expect teams to come here and not make it easy for you.
"On evidence of what has gone before I don't think it was brutal, I think it was honest. I think 99 out of one hundred managers would probably tell them the same thing if they saw what I saw on Saturday.
"Maybe I put it across in a more honest way but I am not going to change, I don't want to lie to the players or mislead them or tell them stuff that I don't believe in.
"The reaction can't be for me, it has to be for the fans and the club. St Johnstone had 150 supporters at that game and we had 49,000.
"They are the ones who deserve the standards and level of performance, it is my job to just tell the players and be truthful and honest with them.
"It's not a threat, I am not going to sit here and threaten my players, I have a lot of belief and trust in my players.

I love them to bits and they have gone to places for me, for the team and the fans on many occasions where they have gone above and beyond.
"They have been heavily praised for that and that is what I do, I am not one of these managers that is just permanently in their faces.
"There has got to be times when you tell players certain things and you give them the evidence and sometimes it hurts players in the short term but you are hoping in the long term it benefits them then it benefits the team.
"I suppose that is what management is about, that is how I liked it and that is what I benefitted from so that is what I believe in."
Gerrard says he wants to see his squad return to their principles on Wednesday night and deliver a display that fans have come to expect at Ibrox.
He continued: "I expect a level of performance at home and I expect teams to come to Ibrox and feel Rangers.
"It is more going back to what we tried to put in place at the beginning in terms of standards and how we need to play and how it needs to look as a Rangers player and a Rangers team when opposition come.
"I didn't seen individuals going above and beyond and that is the concern for me. I speak to those individuals and tell them and if I see anyone getting comfortable or think they can just walk into the team and stay in the team then I will remove them.
"I just think sometimes you just start going into cruise control and you get a bit complacent. It is my job to maybe spot it before it happens and we get performances like St Johnstone.
"I think in the main we have a fantastic group of players here, players who are desperate for success but going back to it again, we are inexperienced in terms of winning.
"We are a new group; there has been a lot of change so even though we all want it yesterday we might have to be a bit more patient."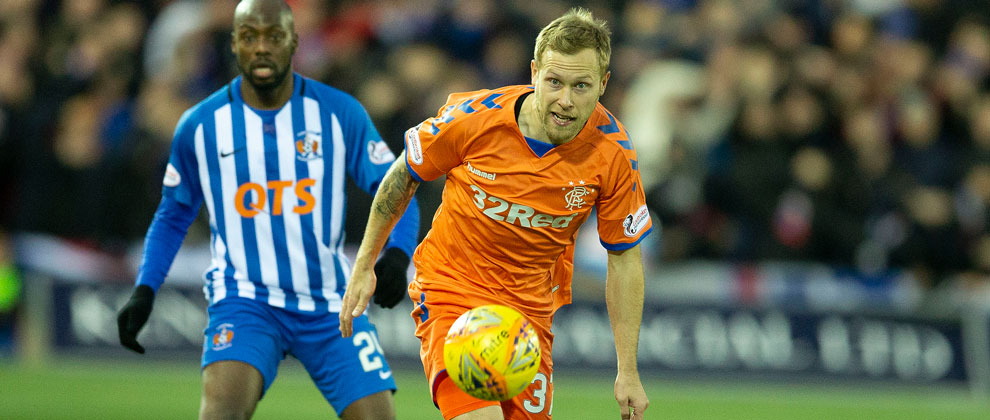 RANGERS welcome Kilmarnock to Ibrox tomorrow evening (KO 19:45) and if you don't have your ticket then you can pay at the gate!
Ticket prices for this fixture are priced at £27, for adults, £19 for concessions and £10 for juniors with pay at the gate available in the Copland Rear.  Gates open at 18:15.
With a large number of ticket collections expected on the night, supporters are encouraged to arrive early to avoid delay.
Ibrox Stadium will be the only place to see tomorrow's crunch tie.
You can still purchase tickets online HERE, by calling 0871 702 1872* or in person at the Rangers Ticket Centre.
*calls cost 13p per minute plus network extras