RANGERS FOOTBALL CLUB is a name that resonates around the world with a remarkable history of success, innovation, great players and glory.
The club can rightly be classed as one of the most important anywhere given the achievements of the great teams throughout the decades and the impact it has on hundreds of thousands of people every day. It is incredible, therefore, that this institution of Scottish life began in the mind of a 16-year-old student who, like many in the Victorian era, had become excited by the new sport of Association Football.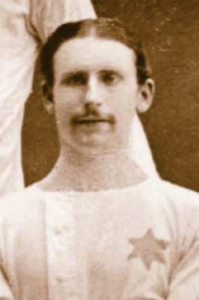 Moses McNeil, his brother Peter and their friends William McBeath and Peter Campbell were walking in a park, now no longer in existence, in the Kelvinbridge area of Glasgow in the spring of 1872 when Moses suggested starting a football team. He had become excited by the game, pioneered in Scotland by Queen's Park, and was eager to be a part of it all. He had seen the name 'Rangers' in an English rugby football annual and suggested he and his friends adopt it. In a carefree moment, the teenager with the biblical name had given birth to a club which would have an impact of biblical proportions on so many in the years to come.
Football was rough and ready to say the least in those early days and clubs played 'friendly' matches that regularly featured fist fights and other such rough house activity. There were no goal nets, those watching regularly impinged on to the playing area and tactics were as rudimentary as those used by primary school kids kicking a tennis ball about a playground.
The details are not completely clear, but it is thought that Rangers played their first ever match in May 1872 at Flesher's Haugh on Glasgow Green where they played out a goalless draw with a team called Callendar. Moses was in that first line-up along with Peter and two other brothers, William and Harry, the latter already a successful player with Queen's Park who was `borrowed' for the occasion. In that first match Moses, his brothers and friends simply played in their street clothes. However, in their second game against Clyde — not the Clyde FC we know today — Rangers wore their famous light blue for the first time and won the match 11-0.
The first two years of Rangers' existence are lacking in documented detail but it is generally accepted they played a team called the Rovers on at least three occasions and beat them each time, but lost 1-0 to sides known as Havelock and Star of Leven, both long gone.
Perhaps indicative of the pioneering age, Rangers had failed to join the fledgling Scottish Football Association, formed in 1867, in time to play in the 1873/74 Scottish Cup. So it was the following season that they played their first competitive match in the same competition. On 12 October 1874 Rangers took on Oxford at the Queen's Park recreation ground and beat them 2-0. Moses, a small but powerful winger who liked to tackle back, scored the second goal in that historic match with David Gibb scoring the first. Sadly, they were knocked out in the next round by Dumbarton, a team with whom they were to have a great rivalry in the future.
Rangers, who had to compete with other teams to play on the public park at Glasgow Green, moved to their first 'home' at Burnbank near Kelvinbridge in 1875. But they were on the move again within a year, this time to Kinning Park on the south side of the River Clyde, taking over from Clydesdale Football and Cricket Club who moved to Titwood where they still play cricket to this day.
By this point Moses and Peter Campbell had become the first Rangers players to gain representative honours when they played for Glasgow in a 2-0 win against Sheffield at Bramall Lane. Then on 25 March 1876 Moses became Rangers' first international player when he lined up beside his brother Harry in the Scotland team that beat Wales 4-0 in front of 17,000 fans at Hamilton Crescent in Glasgow. He played for a second time in 1880 when Scotland defeated England 5-4 at the first Hampden Park.
McNeil was also a key protagonist for Rangers on the club's march to its first-ever Scottish Cup final in 1877. En route they knocked out Queen's Park Juniors, Towerhill, Maunchline and Lennox and faced Vale of Leven in a highly controversial final that took three matches to decide.
The first game on March 17 at Hamilton Crescent ended in a 1-1 draw. They replayed the game on April 7 and produced the same scoreline. It was agreed that 30 minutes of extra time would be played – thought to be the first time this had happened in world football — and Rangers scored what they thought was a legitimate goal. They claimed the ball had crossed the line, hit a spectator — there were no nets in those days – and bounced back into the hands of the Vale keeper. But the referee, James Kerr of Hamilton, disagreed and when spectators spilled on to the field during the incident, he terminated the match.
Rangers led 2-1 in the third match on April 13 – this time played at Hampden – with Moses scoring the second goal, but the experienced Vale of Leven proved to be too strong and they scored twice more to deny Rangers their first major honour.
McNeil was also heavily involved when Rangers played in England for the first time on 16 February 1878 when he scored twice in a 4-2 win over Nottingham Forest and then played in the 2-1 win over The Wednesday, as they were known then, in Sheffield two days later.
There was more controversy in 1879 when Rangers reached the Scottish Cup final for the second time. Again it was Vale of Leven who were the opponents. With Moses at the heart of the action, Rangers were leading 1-0 thanks to a Willie Struthers goal when they thought they had scored a second goal through a Willie Dunlop header, but it was ruled offside. To make matters worse Vale of Leven equalised near the end.
Rangers lodged a protest on the grounds that their second goal should have stood but the SFA ordered a replay. In protest Rangers refused to turn up. The players were actually at the Ayr Races when the match was due to kick-off and Vale of Leven were awarded the trophy — the third time they had won it in three years.
Revenge, however, was sweet. A month later Moses was in the Rangers team that won their first-ever trophy —the Glasgow Merchants' Charity Cup — when Vale were defeated 2-1 in the final at Hampden. It was to be his only honour and he retired from playing in 1882 to pursue his profession as a commercial traveller.
His last appearance for Rangers was in a goalless draw with South Western on 5 April 1882 – almost ten years to the day that he brought Rangers to life. The young man from Rhu had little idea at the time, but he had set the wheels in motion for one of the greatest stories in world football. He no doubt looked on with pride as Rangers became the best team in the country in the 1920s and 1930s.
McNeil died of heart disease at the age of 82 in 1938 and he is buried at Rosneath. His place in Rangers' history is, of course, assured forever.