GRADO says he won't be shy in pulling out some wrestling moves in this weekend's Legends Return game, if someone gets on the wrong side of him.
The professional wrestler admits his dreams will come true when he runs out at Ibrox, as a special guest in the match, with his boyhood heroes.
He hit the headlines when he wrestled with current Rangers striker Jason Cummings at Hibernian's training ground but the 29-year-old says he won't go as easy on pitch this time around .
Grado said: "I cannot believe it, this is an absolute dream come true that I am getting to play at Ibrox.
"When I was a wee boy it was always my dream to play for Rangers and get the chance to run out here.
"I practised running out of the Ibrox tunnel out my back door wearing the full strip and kidding on there was 50,000 folk out my back door.
"I am sure I wasn't the only one to do that so getting the opportunity to do that for real is a dream come true.
"You know what happens in these kinds of things and I always say don't try this at home but if someone gets the wrong side of me and tries to get wide then I will burst out a suplex on the park – I am not scared to do that. 
"Don't get me wrong because I have let Cumdog (Jason Cummings) drag me about before but I will not be letting that happen again.
"When you just say the names of some of the players who are playing to me, it gives me goosebumps thinking about it.
"Ally McCoist is my ultimate hero, he is the first Rangers player I remember as a wee boy and when he was Walter Smith's assistant he was always my hero.
"These are guys I looked up to and absolute icons so to get the chance to be in the dressing room with them is making me a bit nervous!
"I have a bit of fear about it all, I think it might be a bit intimidating but at the same time it's something I have dreamt about all my life."
Grado confesses there is a reason he is better known for his moves in the ring than on the football pitch.
He also has a side-line in acting and will be lining up alongside his former River City co-star Jordan Young.
He joked: "Jordan Young is a lot better a player than me; he plays fives so will probably have an edge over me.
"I am going to say I will have a bigger heart than Jordan though, it will be 11 men versus 11 men but I will have more of a hunger to win.
"I was a goalie up until I was about 14 when I took up wrestling but I will play anywhere. They will probably say stick the fat guy up front himself for a couple of minutes.
"I have had a couple of run outs before playing with former Rangers players and usually they only bring me on for about 90 seconds then because I'm rubbish they end up kicking me off!
---
The Rangers Charity Foundation and the Rangers Youth Development Company will share the proceeds from the game.
The Rangers Youth Development Company profits are directed to the Clubs' Youth Department to provide the support for the many exciting youth initiatives being introduced by our Academy, while the donation to the Foundation will help it continue to be a force for good on behalf of the Rangers Family supporting a range of charities and life changing programmes in the community.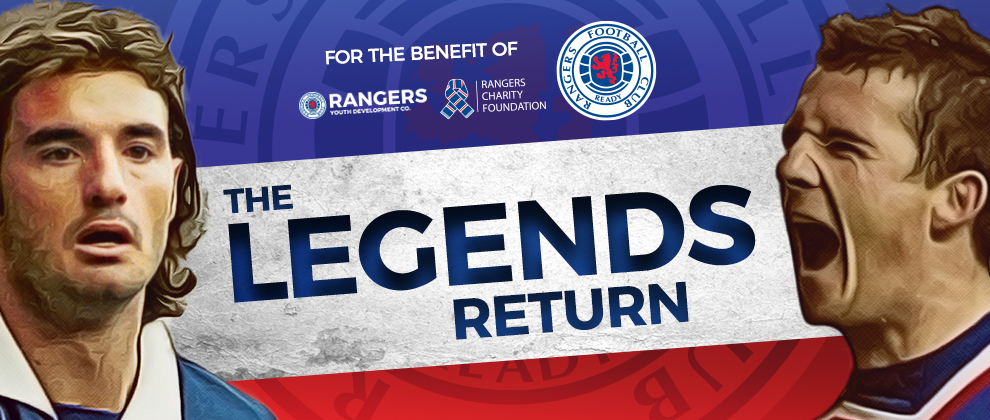 Tickets are priced at £12 for adults, £8 for concessions and £6 for juveniles. A family package is also available for 2 adults and 2 children for £32*.  Supporters can buy tickets online at www.rangers.co.uk, by calling 0871 702 1972 or visiting the Rangers Ticket Centre. *Family package not available online.  
Hospitality will be available and may be purchased via the Club website or by contacting the Hospitality office. Call the sales team for further information on 0871 702 1972* or email [email protected] *Calls cost 13p per minute plus network extras. 
There are a number of different sponsorship opportunities for this game, ranging from event sponsorship to match day sponsorship packages. To discuss a package to benefit you and your business please get in touch with the Rangers Commercial Department by emailing [email protected]uk.