RANGERSTV subscribers can now watch the full length interview with Steven Gerrard as the manager assesses his first season in charge at Ibrox.
The England legend has been pleased with the progress that has been made on and off the pitch in 2018/19 but is frustrated his players didn't get their hands on silverware having put so much effort in throughout the campaign.
Speaking at the Hummel Training Centre, here is a taste of what the gaffer had to say about the positive steps forward the club has taken over the past 12 months.
He said: "We've come in and tried to freshen things up, so we've tried to improve the training ground in the important areas.
"We're trying to create an elite environment and with all due respect the place had become a little bit tired in certain areas.
I think when we're trying to attract players and sign players and also remotivate the players that we inherited, it's important that they see we are trying to make the place better.
"We have put in a brand new canteen and eating facilities, we've improved the gym so the fitness side of it as well.
"We've put a full-time doctor in, more physio and more masseurs. We've also introduced cryotherapy which helps with recovery. So the sports science department and the fitness and physio areas all got better.
"In the summer we'll improve other areas of the training ground. There's obviously a Desso pitch in now and we've made it more private so we can train in peace.
"So there's a lot of work gone on here and there's work about to start at Ibrox to make that a better place and to freshen it up and re-energise it. I'm really happy and pleased with the progress off the pitch.
"There's a board meeting on the horizon as well, so we'll get a flavour of how we've done from a financial point of view, but that's not really my concern. Mine is to worry about what happens on the pitch.
"In terms of that, I think the squad is better and the team is better. We have made some progress and we have improved.
I'm satisfied at the moment but at the same time I'm disappointed that we haven't rewarded the supporters with a trophy.
"So from the trophy side of it we fell short and we have to be honest and open about that and analyse it. But in terms of where the team and the squad is now, 12 months in, I'm actually quietly pleased.
"When I came in I was hopeful, now I'm confident and really looking forward to producing."
On his time as the Rangers manager, he continued: "You can only ever envisage what you think it's going to be like.
"I knew the club was huge and I knew about the history and the tradition. I'm very respectful of the managers that have gone before.
"Some have been a major success, who I am in awe of, and for some it maybe hasn't worked out the same. But that is normally the case at every big football club.
"For me, I was in no doubt about the size of the challenge and the magnitude of what I was coming into. That hasn't surprised me and I've really enjoyed the ride.
There have been some incredible highs and there have been some bumps and bruises and cruel lows along the way as well. I expected that.
"But the buzz I've got, the adrenaline and the confidence and hunger to go and make it better and build on the progress we've made, I'm sitting here really excited."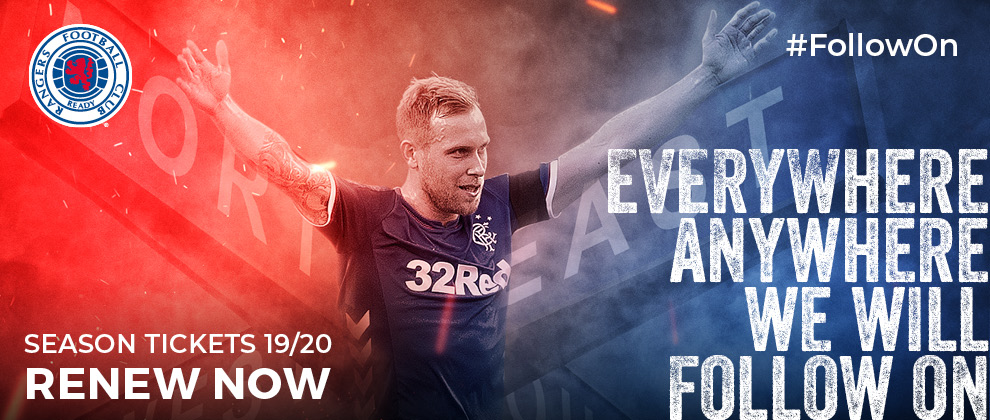 SEASON tickets for season 2019/20 are now available for renewal.
There are four easy ways for season ticket holders to renew for 2019/20. The deadline to renew your season ticket is Monday 20 May.
Website:

 

rangers.co.uk/renew
Rangers Ticket Centre
Phone: 0871 702 1972 (Option 1) Calls cost 13p per minute plus network extras
By Post:

 

Rangers Ticket Centre, Ibrox Stadium, 150 Edmiston Drive, Glasgow, G51 2XD
HELP & FAQS
 *calls cost 13p per minute plus network extras. Booking fees apply.