Reverend Stuart MacQuarrie has praised Rangers for taking the initiative and launching their high-profile, ground-breaking diversity and inclusion campaign 'Everyone Anyone'  and says he considers it an honour to be asked to take part in such a worthy and positive enterprise.
The lifelong Rangers supporter, who has played a leading role in the Chaplaincy of the University of Glasgow for the past 18 years, is extremely proud of his association with the club. An association that began in the late 1980s and has seen him regularly conduct weddings at the stadium and ceremonies marking the anniversary of the 1971 Ibrox Disaster.
A duty he performed again on January 2 this year at the John Greig Statue as Rangers paid tribute to the 66 supporters who lost their lives at the Old Firm game that fateful day.
The service always has added poignancy as it was a match he had attended with his friends as an 18-year-old so it should come as no surprise to learn that Stuart was thrilled to assist the club by taking part in an Everyone Anyone photoshoot with a host of other fans last summer.
His brother Findlay and nephew Craig also generously donated their time for the campaign photography and he joined Steven Gerrard, James Tavernier, Andy Halliday, club legends Derek Johnstone and Mark Hateley and fellow fans for the media launch at the stadium in July .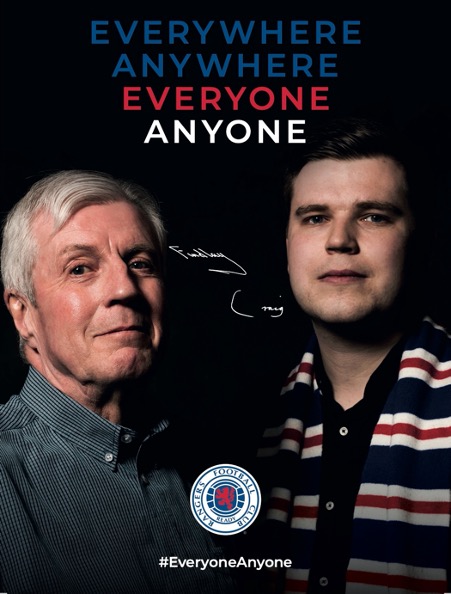 The campaign has been rightly backed by supporters, politicians, football authorities and the wider community and Stuart has been delighted with the response and impact Everyone Anyone has made so far.
He said: "I think the campaign has won the overwhelming backing from the majority of Rangers supporters.
"Over the years there have been negative images and representations of Rangers fans but from an equality and diversity perspective this campaign shows football and Rangers in its best light .
"I think people, over the past 20 odd years, have been more concerned with having a good Rangers team on the pitch.
"I think some of the negative stuff has been a societal problem that has attached to football.
"One of the things I think that is really brilliant about this campaign is that it reinforces what we already know. Rangers is our club. It belongs to all of us. This is what we are about. We don't want to just be the best football team. We want to show who we are.
"We now have a focus. The campaign says 'this is who we are'. We are all Rangers and we can celebrate our diversity. I think that is a tremendous thing.
"The world has moved on and the Everyone Anyone campaign gives us the chance to focus on the positive parts of being a Rangers supporter.
"Nobody had to be persuaded to take part in this campaign. People wanted involved from the very beginning and that says a lot about Rangers and the fanbase.
"The main factor is we are all Rangers supporters. I have been a Rangers supporter all my life – through difficult times and positive times where we were winning everything to the darker days from 2012 but it is a shared experience by all fans.
"Rangers was always my club. My parents, my brother and I all grew up supporting Rangers and it is in our blood.
"We have been through a lot of great times and some not so good times. My brother is there every week with his two sons and they enjoy it.
"I don't sit with them as often as I once did but there is still the bond there and we phone each other several times a week and speak about the football.
"The things I have been able to do in my life gives me a different perspective as a Rangers supporter. I see how much people literally do invest their lives in Rangers.
"This campaign is so important. We want people to feel proud to be a Rangers supporter and that they belong. We go through the same things as supporters. And to paraphrase the words of Bill Struth, we came through adversity and struggle all the stronger.
"This campaign captures the essence of that – what it is to be a Rangers supporter.
"We want good people to be attracted to Rangers. It is a great club to belong to and be associated with.
"It doesn't matter what religion people follow or their sexual identity is or their ethnic background. The message is together we are Rangers.
"I regularly go to the training centre and see coaches work with young players from 7 up to 16, 17 and 18 and it is fascinating as the work going on there is not just about football ability. It is about creating good citizens and instilling the right values. Craig Mulholland and the coaches, medical and wellbeing teams have created one of the best youth training centres in Europe – which has been recognised by UEFA.
"Being a Ranger is about more than playing ability alone. It is, for both players and supporters, a way of life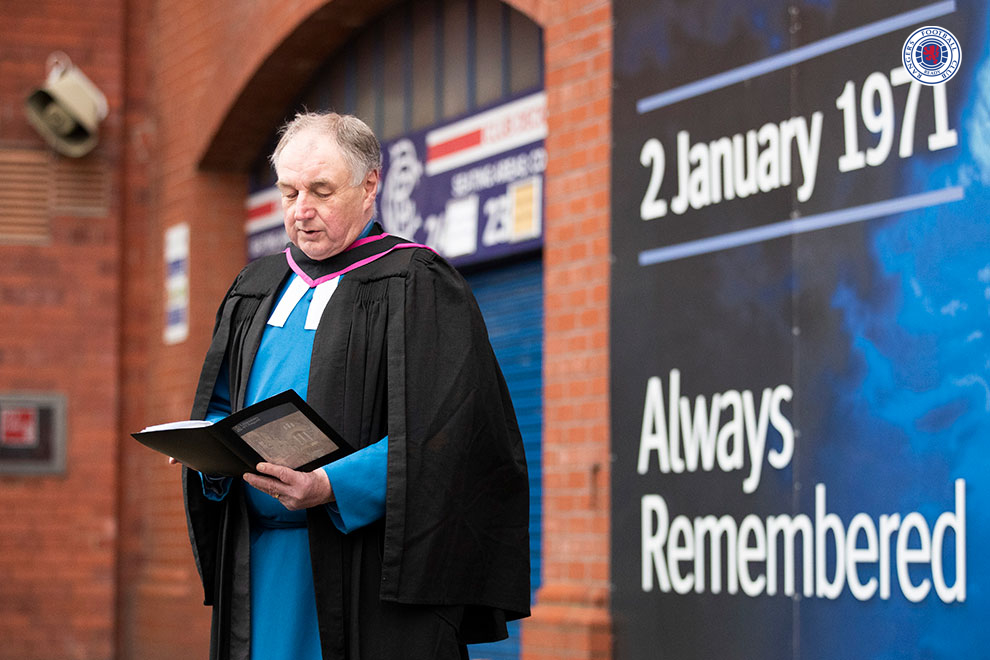 "The coaches and support staff work so well with the young players on subjects like bullying, and the standards expected of Rangers players on and off the park. It is very clear that there are strong, positive values that run right through the club at every level.
"I am very proud to be associated with Rangers. It began way back in the late 80s. I was asked to conduct a wedding at the stadium just after Argyle House had been opened and it all started there.
"Sadly I have also conducted funerals of former players – people who were absolute legends to me like Bobby Shearer and Jim Baxter and also Fernando Ricksen's recent funeral.
"It is a pleasure to help support the friends and families of ex-players and I must pay tribute to Colin Stewart from the Rangers Youth Development Company and Former Rangers Players Benevolent Club for the excellent backing he gives to players young and old.
"His organisations help look after our former players so well in times of need and he also helps shape the Rangers players of the future, equipping them with the right values and standards.
"And, of course, I have been asked to conduct the services in memory of those who lost their lives in the Ibrox Disaster.
"From the 30th anniversary onwards the club began to mark that more – historically the club believed the stadium was the tribute. And it is. But the fans wanted something more so it began from there.
"I was actually at the game in 1971 and I remember coming home about 7pm that night completely oblivious to what had gone on.
"I didn't know the magnitude of what had happened. My parents were worried, they were anxious I wasn't home.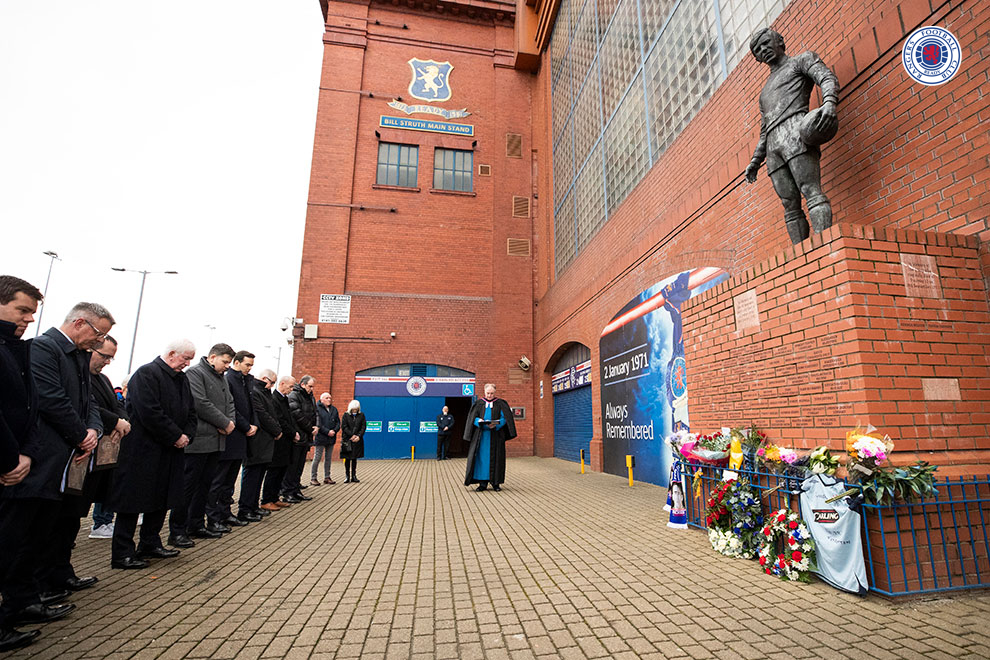 "I was just 18 then and watched the game right behind the goal. Normally I would be in what they called 'the old coo shed' across from the main stand but it was jam packed that day so we ended up behind the goal.
"It was always busy at Stairway 13 and I remember climbing over a fence and sliding down the grass and I can remember seeing a seething mass of people.
"When I got on the bus to go home we heard some people had died and then the full magnitude of what had happened became apparent. A very sad day indeed for our football club."
Stuart is also extremely proud to work with the Chaplaincy team at the University of Glasgow. A place, he says, that echoes the values and core messages of the Everyone Anyone campaign.
He reflected: "I had several jobs before I became a minister. I was a sales rep and a company buyer before I went to university to become a minister.
"I did have a strong sense of calling and I have been fortunate to have good people around me so I have been able to see great diversity all over the world.
"I have been at the university for 18 years now.
"They have the same values of compassion, inclusivity,  being welcoming and providing support to people who have gone through all sorts of things in their lives.
"It is a tremendous place and the university is very inclusive in its approach. We have had same-sex marriages for six years and we were the first university in Britain to have a secular humanist as part of the chaplaincy team
"To me it is all about being inclusive and welcoming and recognising that not everyone shares the same view of the world.
"I have met lots of people who have struggled to even study at all and to see them graduate is incredible. The graduation ceremonies we hold are a real sense of occasion so it is a tremendous place to be.
"The university also has a great supporters' club named in honour of one of our earliest players – the RC Hamilton RSC."
Stuart, who is also an active member of Rangers Football Club's Diversity and Inclusion Working Group and is on the board of Club 1872, has enjoyed many highlights on and off the field and has been privileged to see some of the greatest ever players grace the hallowed Ibrox turf. Including the late Sandy Jardine, whose passing is still felt by all who knew him.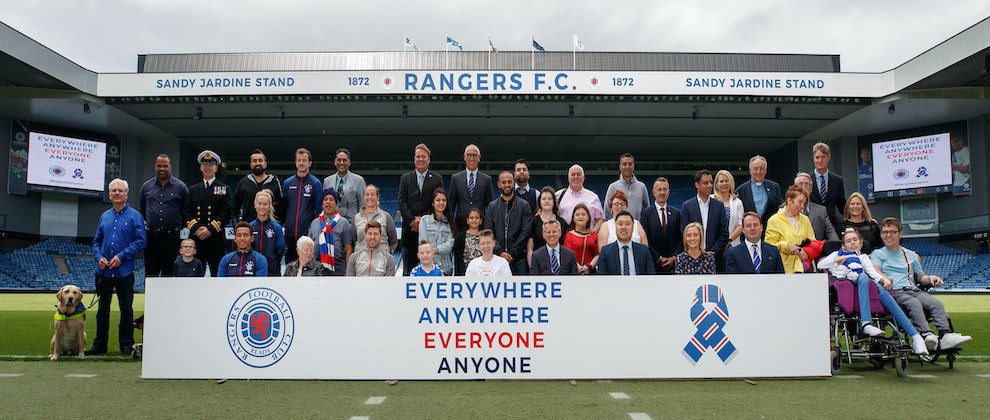 He continued: "Sandy was one of the loveliest, most self-effacing people I have ever known associated with football.
"One of the most poignant moments in my life was when he took me out to meet Jim Baxter. We all knew Jim was dying and didn't have long to live and for me it was a huge moment of trust that Rangers wanted me to conduct a funeral service that was worthy of him.
"Listening to Sandy talking about 'Jimmy' as he called him was one of those deep moments of life that stay with you forever.
"The night at Ibrox when we beat Bayern Munich to reach the Cup Winners' Cup Final and the 1972 Final itself are also highlights for me.
"It was shown later on TV that night. It was absurd it wasn't live thinking back. It came on about 11pm that night and everyone was glued to their radio before that
"Other highlights for me include being in Marseille for the Champions League match when Ian Durrant scored that tremendous goal.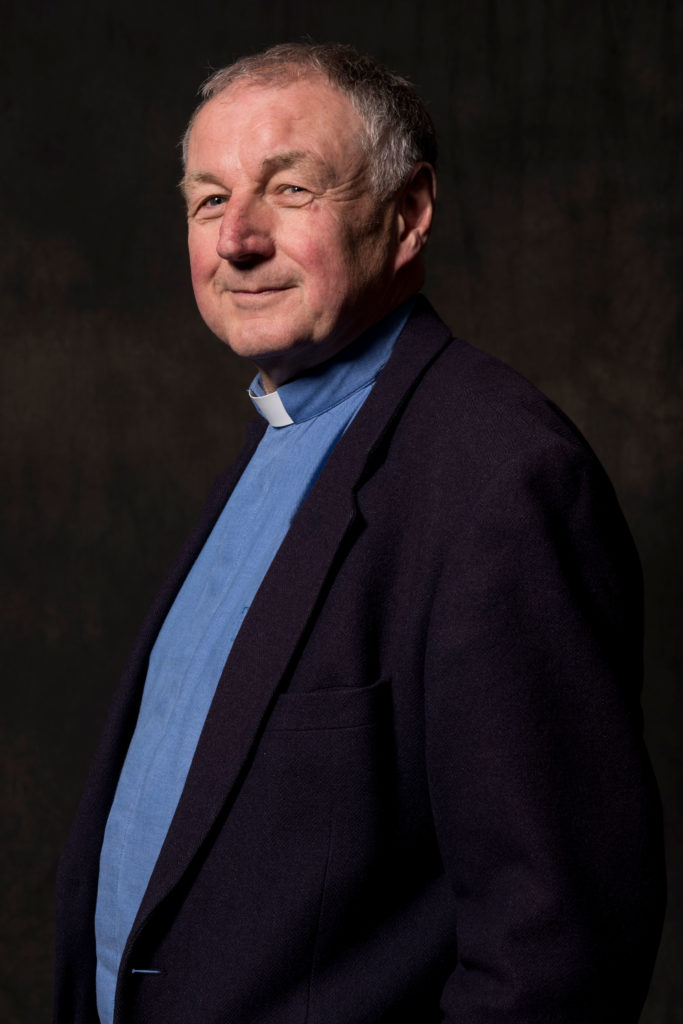 "And I once conducted a wedding the day before the Scottish Cup Final against Dundee during Alex McLeish's time as manager. The players had gathered in the main reception at Ibrox waiting on the coach to take them to the team hotel and I remember I was talking to Alex and Barry Ferguson still in my clerical robes.
"Then the bride came along, newly married, to go trackside to get photographs and saw Lorenzo Amoruso. She screamed 'Lorenzo' and ran up and gave him a big kiss! She then started going round kissing all the players and was only ten minutes married.
"She was trying to get the players to sign her wedding dress too. It was just so funny.
"Seeing people that happy because of Rangers is just great.
"Every time I go in to Ibrox and go up the marble staircase I always remind myself of growing up in Easterhouse and being desperate to see Rangers play.
"Getting out to Ibrox, getting lifted over the turnstile then scrounging a lift home on a supporter's bus was very special and I have seen just how wonderfully happy Rangers can make people.
"When we win league title number 55 that will be a great day too. That would be one of the happiest days of my life."
CLICK HERE for more information on the Everyone Anyone campaign.
CLICK HERE for more information on the new Rangers Fans Charter.