LIKE all Rangers fans, Scott Cunningham enjoyed Ian Durrant's stunning volley against Marseille in the Velodrome in 1993 but sadly it would be the last goal the lifelong Rangers fan would witness.
Scott tragically lost his sight a short time later due to a rare condition but he has shown tremendous courage in the face of such adversity and the support of the Rangers family is something he cherishes.
He went to his first Rangers game as a young man in 1980 and couldn't have known that just 13 years later he wouldn't be able to see his Light Blue heroes again.
The reality is, Scott is the real hero. He embraced his new situation with incredible bravery and resolve and is proud to follow his team with other members of the blind community.
The 49-year-old, who was also delighted to lend his support to the club's Everyone Anyone diversity and inclusion campaign, said: "Like everyone in my family, I was born a Rangers supporter and it's something I regard as an honour, although some would say that being a native from Larkhall it's a prerequisite.
"I remember vividly attending my first ever game on 1 March 1980, I remember every single minute of the experience.
"I attended the game with my dad and my uncle Stewart and climbing up those stairs to the wooden seats in the main stand, seeing the green grass on our beloved Ibrox Park for the first time was a moment I'll never ever forget.
"George Best was playing for Hibs and he was given a standing ovation from the full stadium. Derek Johnstone scored the only goal that day. I also remember Atomic from Blondie being played through the old PA system at half time, what a day it was!!
"I was presented with a copy of the match programme by a friend a few years ago, back then it cost a whopping 25pence lol!
"As the years progressed, from paying at the gate to buying single tickets to having my season ticket for many years in the Copland Road Rear brown section before the stadium became all blue seating, Rangers became a way of life for me.
"My first European away game was Bayern Munich in 1988 and the buzz of following our team abroad was incredible and lead to many, many more memorable trips. Great trips like visiting Florence to play Fiorentina and of course the UEFA Cup Final in Manchester.
"But when I think back, 1992/93 was such a memorable season for all of us. I travelled to Marseille by bus to watch Rangers and what a game it was for me personally. It was to be the last game that I was to witness abroad as a sighted fan.
"I lost my sight due  to a very rare condition in late September of that year after a three- week stay in the Southern General hospital with severe headaches. I was lying in that hospital bed dreading not seeing my beloved Rangers beat Celtic again.
"After adjusting to life as a member of the blind community I returned to Rangers games with friends or taking a seat in the fantastic blind section.
"I am very very proud to be a blind Rangers supporter, it sure has its benefits as I have never seen us been beat since September 1993, even better, I've not seen Celtic score against us!!
"The commentary from friends of the commentators in the Rex Blind Section is sensational and something I am so thankful for.
"I have travelled to many countries following the greatest club in the world as a blind supporter, but I get treated no differently to the sighted bluenoses and that is something special.
"As a blind supporter and a campaigner for equality and disability rights I am very proud of the Everyone Anyone campaign and privileged to have played a part in it.
"I thank the club for the invitation to do so. I was formerly the disability officer in the PCS union when I was a civil servant but I am still very active in advocating rights for the disabled community.
"Our club gains a vast amount of negative and incorrect media attention, but highlighting the inclusive way we, as a fan base, embraces anyone and everyone to our Rangers family is something that should be applauded the world over.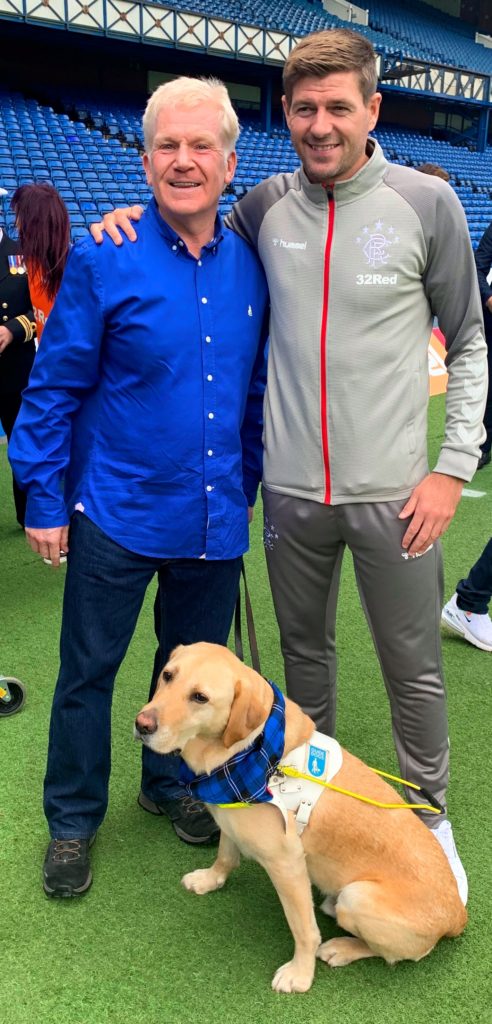 "The campaign is ground-breaking in the football world and shows that we are not only world record breakers for the titles we have won but we are welcoming to everyone.
"The launch of the campaign was exceptional, meeting the manager and captain on the pitch was a special moment. I'm sure the gaffer was more impressed with my guide dog Milo rather than my advice on us bagging title 55!
"I would like to applaud the club for the campaign and leading from the front once again."
Scott has strong links with the Rangers Charity Foundation and has undertaken a series of personal challenges to raise funds for the organisation. His selfless acts really do make a positive difference and he is delighted to do so under the Rangers banner.
He continued: "Over the years I have taken part in various events organised by the Rangers Charity Foundation, and they have also been very supportive of events that I have organised in aid of the charity.
"I was humbled to have been awarded an MBE in 2011 for my fundraising endeavours and it was thanks to the support from the club, the Rangers Charity Foundation and the worldwide Rangers family.
"The support from the club and legends over the period on treks on the West Highland Way was incredible. I also took up running four years ago. Running with a sighted guide is rather special, but it was even more special taking part in the Manchester Marathon with the Charity Foundation colours on my chest was incredible and exactly 10 years after being part of 250k fans in the city at the UEFA Cup Final.
"During the long lonely miles on marathons I can vividly recall Ray Wilkins scoring that magnificent strike in the 5-1 demolition of Celtic from my seat in the Copland Road Stand. That sight would bring a smile to any bluenose and it's a sight that I will never lose!!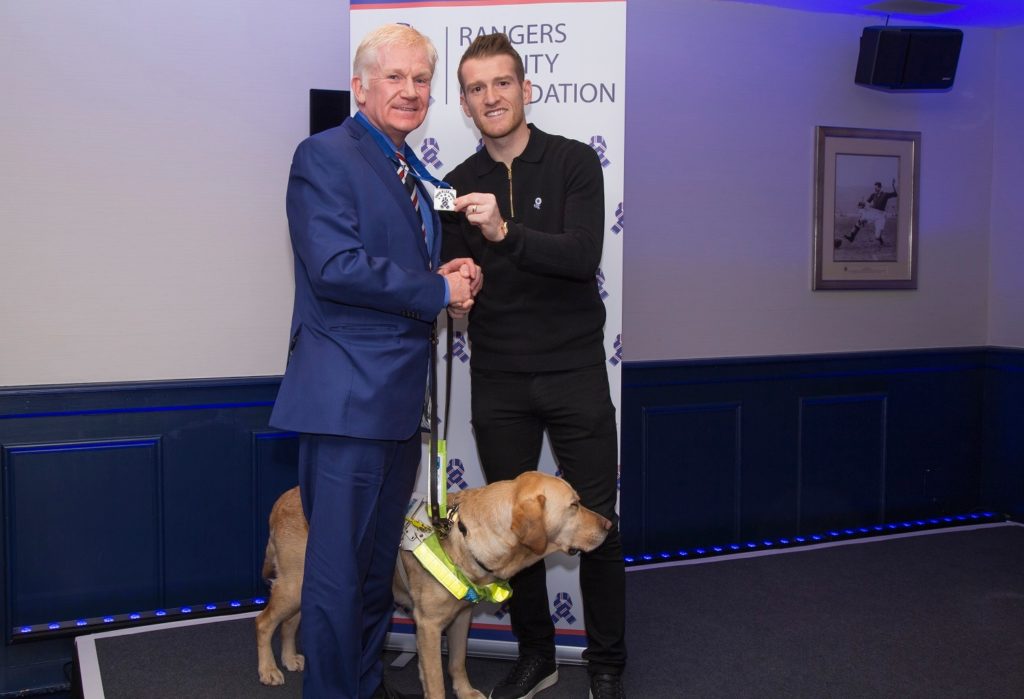 "55 is going to be the biggest party ever for the Rangers family and it will be an occasion to savour the world over and it will be an opportunity to highlight we are simply the best.
"Over the years I have been very lucky to have travelled to many far off European cities to follow follow our club. Many friendship have been created with the locals who are not only fascinated about me being a blind Gers fan but delighted to be taught about our unique history.
"The hand of friendship we extend to every culture we meet does not go unnoticed and is very evident. We are so good at welcoming every disability, creed, colour and religion to our famous stadium.
"I may be a totally blind bluenose but Rangers are and always will be a way of life for me it is not just a football club – it is everything.
"We, the Rangers fans, should be applauded for the welcome we extend to anyone and everyone. There are no barriers to following the greatest football club the world has seen."
CLICK HERE for more information on the Everyone Anyone campaign.
CLICK HERE for more information on the new Rangers Fans Charter.
CLICK HERE for more information on the Rangers Charity Foundation.