FIAZ KHAN is Business Development Manager for CEMVO – the ethnic minority voluntary organisation – and he plays an important role in their partnership with Rangers and the Rangers Charity Foundation.
For the past few years, Fiaz has forged positive links with the Foundation and club and was a keynote speaker as Ibrox hosted a number of productive workshops with CEMVO and members of the ME community before lockdown.
Fiaz works closely with the Rangers Charity Foundation and club staff and is an important voice on the Diversity and Inclusion Working Group, which was set up by Rangers in 2017 and features external members from a wide range of groups and communities.
The 57-year-old, who moved to Scotland from Pakistan in 1971 and has been an avid follower of Rangers ever since, was also thrilled to take part in the club's ground-breaking diversity and inclusion campaign 'Everyone Anyone' from the beginning.
Tolerance, diversity and equality for all – which are the key messages of the initiative – resonate with Fiaz and he has applauded Rangers for taking a lead role in this area.
He said: "The Everyone Anyone campaign was a great idea and it has allowed Rangers Football Club and its fans to project an image of a family club which is open to all.
"The campaign shows Rangers understands that communities are diverse and their support base is also diverse. Appearing in the campaign has given me a great sense of pride but more importantly it has allowed me to directly engage with the club.
"Every fan who took part shares a love for Rangers, regardless of faith, age, gender or ethnicity and that has been key to its success so far
"I have read all the other fan stories so far and it is great to see the sentiments are the same for all participating. The all have a great sense of pride supporting Rangers. I do too.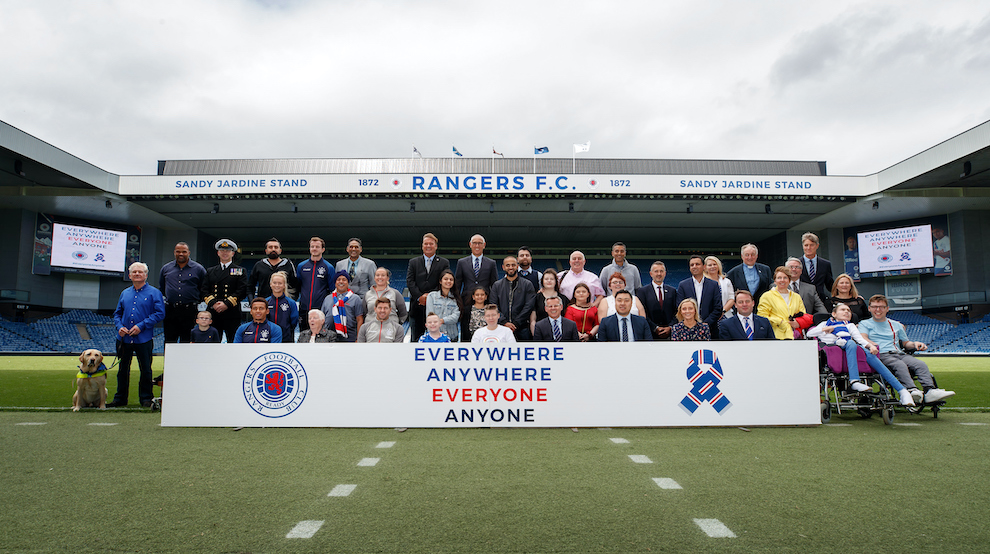 "The campaign images were fantastic and my final advert was excellent. It was great to see it being shown on matchdays at Ibrox and I received many messages from friends who saw me in the launch film. I wish Rangers continued success with the initiative."
Fiaz is also supporting the new Rangers Fans Charter – a fresh code of conduct for all fans which was launched in February and is the latest strand in the Everyone Anyone campaign.
Rangers is proud to be a diverse football club where people from all backgrounds, cultures and communities are welcome and the Charter was signed by Managing Director Stewart Robertson, Manager Steven Gerrard, Captain James Tavernier, Charity Foundation Director Connal Cochrane and a broad range of supporters who took part in EA campaign at the training ground earlier this year.
Khan continued: "The Fans Charter is a great idea and I hope it can get the buy in from supporter's clubs. Direct work with supporter's clubs in terms of capacity building around Equality and Diversity would also be a positive step. This will go hand in hand in with them signing the charter.
"We all have a shared love and that is Rangers and I think CEMVO's partnership with the club and the Rangers Charity Foundation has worked really well. CEMVO was able to assist Rangers directly engage with ME communities across Glasgow.
"The workshops gave a great insight into the club's commitment to equality and diversity, but more importantly it allowed ME Rangers fans to engage with their club.
"The sessions hosted by Rangers were a fantastic idea as it allowed the opportunity for open dialogue between ethnic minority fans and the club. This dialogue also gave everyone the opportunity to raise issues of concern by EM communities and Rangers to get a better understanding of people's experiences.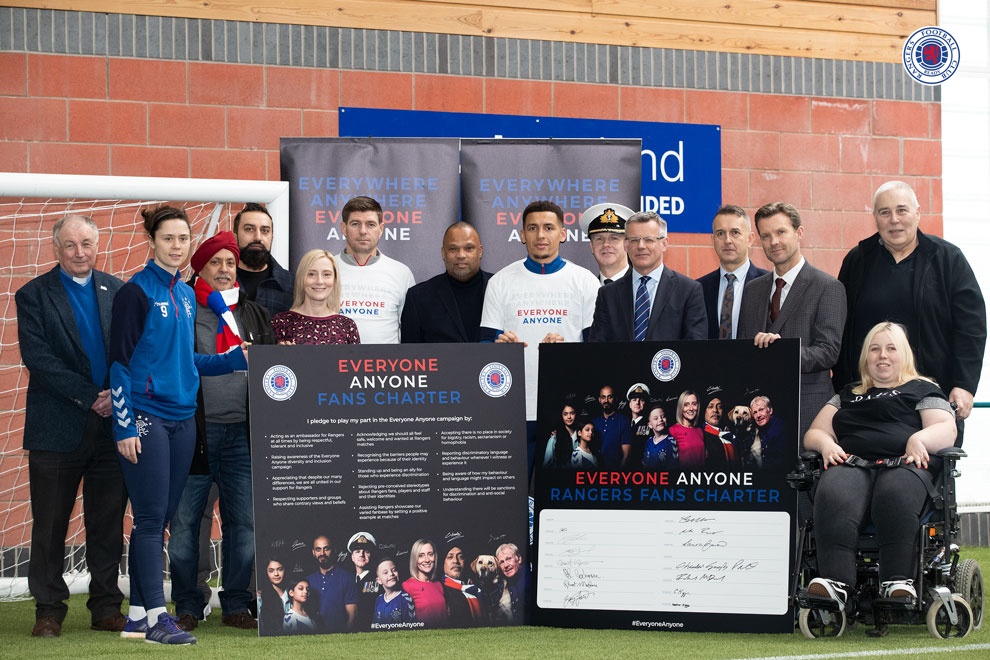 "CEMVO also carried out data analysis of ME communities which I believe will be a great tool for future work with such communities across Glasgow."
Fiaz has great memories of supporting Rangers down the years and, like many fans, his love for the club was passed down by his family.
He recalled:
"My dear father was a Jim Baxter fan and when I came to this country in 1971 I followed on from that moment.
"There have been so many highlights for me. Big Mark Hateley scoring the goal against Leeds at Elland Road to help us qualify for the group stages of the first Champions League is a good memory.
"Davie Cooper's free kick against Aberdeen in the League Cup Final at Hampden is another, I also enjoyed Paul Gascoigne's goal to complete his hat-trick against Aberdeen to win the league.
"Also Rangers beating Celtic at Parkhead after 12 years was a fantastic memory too but there are so many.
"We have been blessed with so many great players down the years – Ally McCoist our greatest goal scorer, Mark Hateley for his commitment and drive, Brian Laudrup for his skill and imagination and Davie Cooper who was just a magician.
"John Greig was also a rock at the back, Tom Forsyth AKA Jaws who took no prisoners and Derek Johnstone who was great at heading the ball. I love the mighty Glasgow Rangers!!!"
CLICK HERE for more information on the Everyone Anyone campaign.
CLICK HERE for more information on the new Rangers Fans Charter.
CLICK HERE for more information on the Rangers Charity Foundation
CLICK HERE for more information on CEMVO