LIFELONG Rangers fan David Smith only took up serious running in 2014 but he has already raised close to £8,000 for the Rangers Charity Foundation by undertaking a series of personal challenges.
The 53-year-old, who is delighted to play his part in Rangers Football Club's ground-breaking Everyone Anyone diversity and inclusion campaign, completed a gruelling Glasgow to Dingwall run in early March when the Light Blues played Ross County and his epic journey saw him run a staggering marathon a day for seven days.
Unsurprisingly, he received great support from fellow fans, staff and current and former players along the way and summer signing Ryan Kent met David at the training ground as he began his grand adventure.
He also met Barcelona Bear Alex MacDonald and strike star Kris Boyd en route and was thrilled to raise almost £3000 for the Foundation, an organisation that is close to his heart.
Now David, who also completed a Glasgow to Aberdeen run in the past for charity, has set his sights firmly on new challenge in 2022 which would see him travel from Glasgow to Barcelona to help celebrate the 50th anniversary of the 1972 Cup Winners' Cup triumph.
He explained: "What would be better than running to the Camp Nou in Barcelona in 2022 to celebrate the anniversary of our victory in the Cup Winners' Cup?
"I've started looking at a route already. I might be dreaming but if we put a team together of maybe five runners we could do it and raise at least £50,000.
"I feel like I am just starting to be honest. I'm only 53 and feel as if I have another seven years of serious running in me. The training is fine, I don't mind it but I like an end goal so running to Barcelona by May 24th 2022 would be fantastic.
"I like to run with an end goal. It's the mental side of running I enjoy rather than the physical. I like to be going somewhere so running to Spain for the Rangers Charity Foundation is something I'm looking at seriously.
"I lived in England for 22 years and was there at the beginning when we formed the Bournemouth and Poole Rangers Supporter's Club – which is still going to this day.
"I decided I was wasting away my life by drinking and smoking too much so I just decided to take up running.
"I started in April 2014 and by mid-December I was still having a glass of wine but reaching 18 miles. So I decided to cut out alcohol completely and by June 2015 I was able to go much further. That's when I did my first 50k. I was in Majorca with my mate staying at an all-inclusive place so I knew it would be difficult to keep up the routine but I managed to do it in the heat.
"Eventually I ended up running from Bournemouth to Glasgow. I took the long way via Kinross and Balloch and ran for a number of children's hospices – it was 644 miles over 22 days.
"And there was a bit of romance thrown in too as I was up for my mate's 50th birthday and was promoting the run and that's when I met my partner Jennie.
"I ran to Glasgow to George Square as part of the run and met her at the finish line. Two years later we got married there. Rangers has brought us together.
"When I moved back to Scotland I wanted to go back to the games at Ibrox so I came up with the season ticket marathon challenge – which was a half marathon to the game and back.
"I called Linda from the Charity Foundation who thought I was nuts obviously but it started from there.
"I told her I would run to home games for a season leaving from the Kirkintilloch RSC and that's how we started.
"I was just dipping my toe in the water really. But on one of the runs, somewhere between the Forth Canal and Kelvingrove Park, which was my route to Ibrox, I came up with the Aberdeen run and when I did the Aberdeen run that I came up with the Dingwall one.
"I also came up with the Barcelona run idea when running to Dingwall. It's the perfect storm for me. I am a solo runner but I want to do it with a team.
"We can do it all properly and take a support vehicle etc so there is a lot to plan but I've had so much support along the way and I'm grateful to everyone who has donated to any of my challenges."
Rangers has always been a huge part of David's life, even when he was living in England, and he has fond memories of seeing his heroes in action for the first time in the 70s.
He continued:
"It's hereditary supporting Rangers isn't it? It all started with my grandfather then my father then me.
"I remember winning the league in 1978. I was 12 going on 13 and watched the game from the Enclosure and then I started to go to the games my with mates.
"Tom Forsyth was my hero. I just loved how he played the game and of course that tackle against Mick Shannon against England at Hampden in 1976 when Scotland won 2-1.
"He could play football as well Big Tam. And of course we all remember his winning goal against Celtic in 1973.
"The 92/93 season was the best team for me. That was my last year in Scotland and we played some amazing football. We had guys like Ally McCoist, Mark Hateley and Richard Gough – it was some team and so successful.
"When I was in England I would still watch all the games at the supporters club and I took my boy to the games. I remember Helicopter Sunday in 2005 and everyone was throwing beer everywhere. When I took him home his mum was not happy but days like that are what make football great.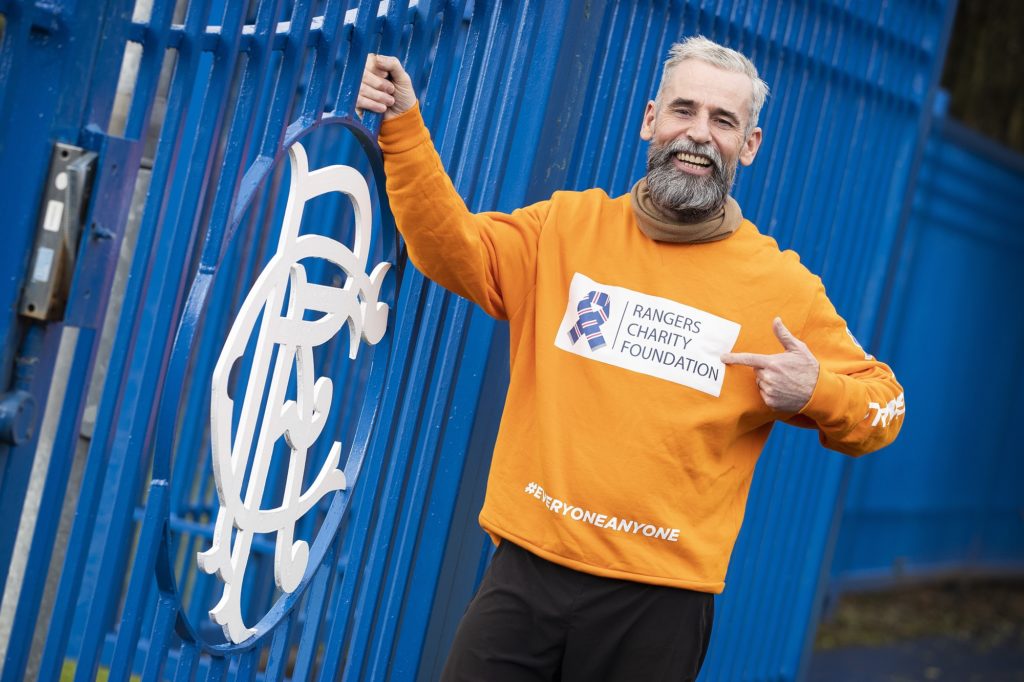 "Being part of Rangers is like being part of a family. I met Graeme Souness once and he talked to my dad Jimmy about that 92/93 team. I met him in England and told him my dad was just out of hospital and he phoned him up. That was a nice touch.
"In the past Rangers fans stood together and stood by their club in testing times and that's what it's all about.
"And I am so happy to be involved with the Everyone Anyone campaign. It's an amazing initiative and the way forward for the club. I am not religious but being a Rangers fan is not about religion. It's about supporting your football club and cheering on your team.
"The Everyone Anyone initiative is a brilliant move and really forward thinking and I am so proud to be a part of it.
"Fans from all ages, backgrounds, ethnicities coming together – it's really, really good."
CLICK HERE for more information on the Everyone Anyone campaign.
CLICK HERE for more information on the new Rangers Fans Charter.
CLICK HERE for more information on the Rangers Charity Foundation.