RYDC hosted a Twitter Q&A with Rangers legend Derek Parlane this week.
The King of Ibrox Park and Rangers Hall of Famer won three league titles, three Scottish Cups, three League Cups and was part of the 1972 Cup Winners' Cup winning Rangers squad during his spell in Light Blue.
He was delighted to take a trip down Memory Lane with supporters and here are the highlights of his session…
Q – Colin – Best memory of Big Jock Wallace please Derek?
A – I have so many great memories of Jock. I loved him. I can remember my first ever pre-season with Rangers, we were training at Ibrox and I had never seen anything like it.
We were doing laps of the track and had been running for ages without stopping and I had to fall out to be sick. He ran over, grabbed me and pulled me up by the scruff of the neck and said 'hey son if you are going to be sick be sick running. Keep going!'
That's a fond memory and typifies Jock Wallace. Another one I must say, and I have not shared this with many people.
When my dad died many years ago after I had left Rangers. I had been in the house  for two or three weeks as I hadn't felt like going out as I was very down.
I was literally going out the door for the first time in weeks – and was feeling a bit guilty about going out – and the phone goes and it was Big Jock.
And in his big gruff voice he said 'Listen son I'm sorry it's taken me so long to call but I just heard your dad passed away. You go out tonight and celebrate your dad because he's always going to be looking down on you.'
Again, that typifies for me what Jock was all about. If you were needing a cuddle he put his arm around you and if you needed a boot up the backside he would certainly give you that. But he was a great man.
Q – Ian Wright – Can you ask Derek who was the best Rangers player he played with?
A – I've got a massive choice to make because that squad of players in the 70s mostly ended up in the Rangers Hall of Fame. I'm very proud to have played with that squad of players.
But for me, probably the most skillful player was Davie Cooper and I know a lot of people say that.
Coop was very different in many ways. He was very quiet. He was quite shy actually and always shunned any publicity and didn't want to do any interviews.
But I tell you what, on a Saturday when he was on that field – what a player! He was magnificent. I loved Davie to bits and thought he was a great Ranger.  He passed way too quickly as we know but I would say Coop was the best.
Q –  And who was the best player he played against?
A –That's a simple one. We played Ajax in the Super Cup after we won the Cup Winners' Cup in 1972. I had the pleasure of playing against Johan Cruyff and a lot of other great Dutch internationals in that iconic Ajax team.
I had never seen anything like it. They played Total Football with the full backs up the pitch crossing balls for the forward players and someone would fill in their defensive position until the defender got back.
We had never seen football like that before and Johan Cruyff was a massive part of that team. He was magnificent and was one of the finest players that I ever had the pleasure of playing against.
Q – D4Steven – Was at the Rangers do in Jersey last year. It was a superb speaker's weekend. Had the pleasure of your company the full weekend as Jimmy is my best mate who runs it. How did the speakers do compared to others you've been too?
A – I remember it well. It was a great weekend. Jorg Albertz and I were guests of honour at a Rangers Supporter's Club event in St Helier and it was brilliant. I can honestly say it was one of the best. The weather was beautiful, it was a lovely weekend and funnily enough the first time I had ever met Jorg.
Although I was a Rangers player for 10 years, and once you are a Ranger you are always a Ranger, I was excited like a wee boy waiting to meet Jorg for the first time. It was a pleasure to meet him, what a lovely lad. He smokes too much but he was the perfect gentleman. It was one of the best weekends I had ever had and I'm looking forward to an invitation to come back.
Q – TFTB –How did you end up at centre forward?
A – To this day I don't know how I ended up a centre forward because I joined the club at 16 and a half as a midfielder and sometimes played at centre half.
In the big game against Bayern Munich in the semi-final of the Cup Winners' Cup early in my Rangers career I played a man marking job in the middle of the park against one of their players.
But then the following season when Colin Stein left, Jock Wallace called me into his office and I'll never forget this. He threw a Rangers jersey at me and said 'have a look at that Derek'. I held the shirt up and it had number 9 on the back. He said 'we are selling Colin and you will be wearing his jersey this season'.
I thought he was having a laugh. Colin was my hero, my idol and a great centre forward for Rangers and I was getting his number 9 shirt.
But off I went and ended up scoring 27 goals that season and it worked out really well for me.
Q – And how confident were you going into that season to replace Colin Stein?
A – I was 18 and a half nearly 19 and I didn't suffer from nerves. I'm not being big headed when I say that. I was young and was given an opportunity, so I had to grasp it.
I didn't lose any sleep over it. I just got on with it and went and played. A big turning point for me was around Christmas time that year.
I had only scored about 7 or 8 goals by then and I can remember playing against East Fife in Methil two days before Christmas in 1972. I scored the fourth goal in a 4-0 win and the Rangers fans starting singing Parlane Parlane Born Was the King of Ibrox Park to the tune of Noel Noel.
I thought well I have been accepted and the song gave me massive confidence. In the second part of the season I scored over 20 goals.
So, I didn't really suffer nerves. I just rolled my sleeves up and got tore in. Remember I was playing with great players round about me so they made it easy.
Q – Alex Rodger – Hi good to see you, you are my childhood hero. How does it still feel after 48 years winning your ECWC medal?
A – It was fantastic it really was. I made my European debut in the semi-final against Bayern Munich because John Greig was injured. Greigy was back for the final so I had to sit on the bench and I understood that obviously.
But to be there that night was very special. Unfortunately, it was ruined at the end as I still think the Spanish police over-reacted after the game and didn't allow the trophy to be presented where it should have been in front of our fans. But it was marvellous and I put a post on my Instagram the other day marking the anniversary and I can't believe it was 48 years ago.
Every one of those players are legends and in the Hall of Fame and it's written in stone in Rangers history and it was a fantastic honour for me to be involved in that.
Q – Lee Quinn – Who was your biggest influence in the Ibrox changing room coming through as a youngster ?
A – Hi Lee. I would say John Greig was my greatest influence. The dressing room was a difficult place to grow up in there is no doubt about that. I joined at 16 and a half and it can be aggressive and threatening and all sorts of stuff.
If you don't give as good as you get in a dressing room you can fall by the wayside. A few times I was maybe struggling a little bit with it all but Greigy would pull me aside and take me under his wing in the dressing room and he certainly did that on the field as well as I was growing up to be a Ranger.
So Greigy was a great influence and someone I admired and respected very much.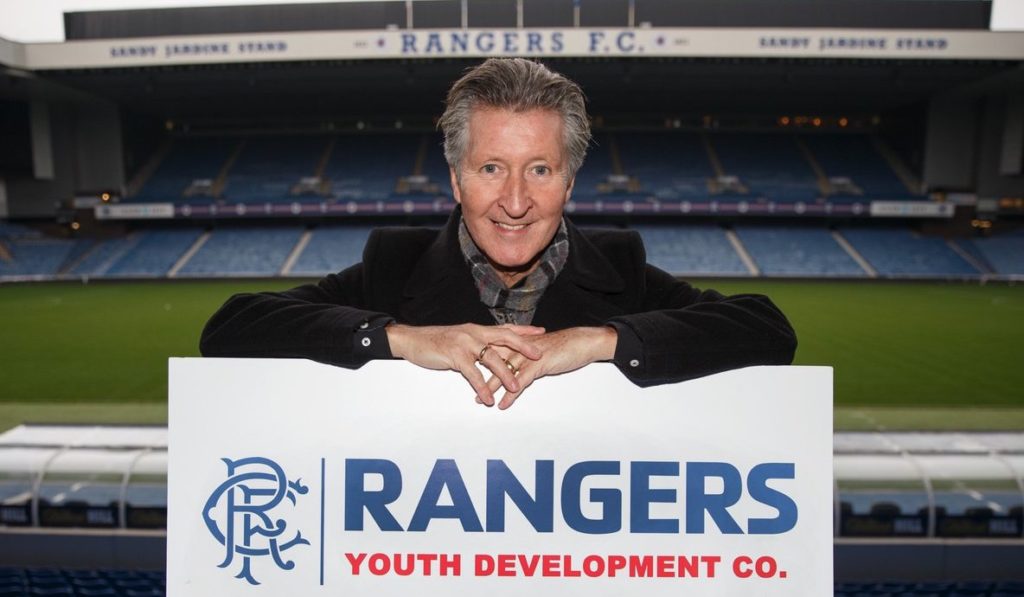 Q – 4LadsHadADream – Derek, Favourite Ibrox moment?
A – I've got to pick my Bayern Munich goal in the semi-final of the European Cup Winners' Cup. I didn't even think I was going to be playing that night. I thought I might have been lucky to get a place on the bench because John Greig was injured.
I thought maybe somebody like Alfie Conn would have gone in and worn his shirt that night. But when I was picked to play and the team sheet was read out I nearly fell off the seat in the dressing room I can tell you that. But that goal that night has got to be my highlight at Ibrox for sure.
Q – That moment against Bayern, so young & a dream goal – can you talk us through it?
A – I could spend an hour talking through it. I remember Sandy Jardine – God love you Sandy, a great Ranger who left us far too early – scored in the first couple of minutes and settled us all down.
I can even tell you in the 21st minute we got a corner at the Broomloan Road end and Willie Johnston took it from the bottom left hand corner. He swung a great ball across and Sepp Maier the famous German goalkeeper was challenged by Colin Stein and punched the ball out.
I saw this ball looping in the air and I was a wee bit away but I thought if I sprint  towards this I thought I had a wee chance of getting to it. And if I get to it first I'm just going to hit it as hard as I can. And I hit it with my left foot ,which was normally the foot I stood on and wasn't my best, and it flew up into the top left hand corner of the goal.
The hairs have just come up on the back of my neck again as I am talking about it.
I will never forget the noise 80,000 Rangers fans made in the ground that night. They made a noise that will live me until the day I die. It was incredible.
I'm going to be dramatic and I didn't know it until further down the line but my world changed that night.
My whole world changed. That was the goal that launched me, no doubt about it. That's the goal that made people aware of me and put me in the public eye.
I wasn't to know until the beginning of next season when I was given the opportunity to wear the number 9 jersey but that goal definitely changed my whole life.
Q – Fleshers Haugh – If you had to pick one of these players as the perfect strike partner who would you choose ? Big DJ, Super Ally, Mark Hateley, Colin Stein
A – What a strike force – I would play all four, one could play on the wing and we could score some goals!
That's such a difficult question. Every one of those boys are magnificent. They have all done the badge justice over and over again.
Obviously, Ally has a great reputation and has scored the most goals and big Mark was a fantastic player but I'm going to be loyal to the boys I played with in the 70s.
Big DJ is going to give me pelters over this, sorry DJ, but I'm going to say Colin Stein. I thought he was a great striker. He could handle himself and he taught me a lot watching him as I grew up as a Rangers player as well.
Me and Steiny up front would score some goals.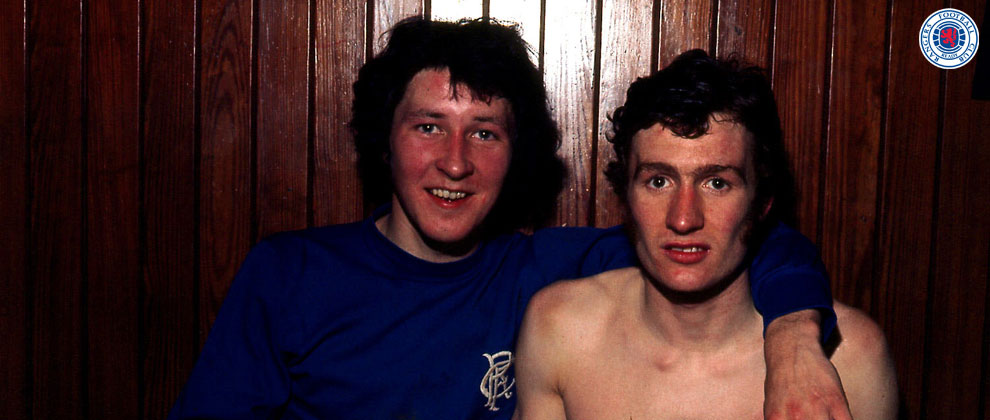 Q – Fleshers Haugh – Who was the quickest up the sand dunes at Gullane?
A – I get nightmares thinking about it now. We had a hill at Gullane, that was called Murder Hill, where we finished our sessions and it was so tall.
The first time I saw it I thought I would need rope and a harness to get up it as it was so tall. Wee Bud (Willie Johnston) was lightening and I wasn't so bad myself but it was horrendous.
I remember the first time we all went. We got a bus from Ibrox and thought this is great we were having a wee day out in Edinburgh. We stopped off for breakfast at a café outside Edinburgh then got back on the bus. An hour later we all saw the breakfasts again.
It was horrendous but we climbed Gullane Sands and what a feeling the next day and the weeks ahead. You felt as if you could run through anything. It was a fabulous exercise to get you fit but it was bloody horrendous at the time.
Q – Fleshers Haugh – How on earth did you find yourself in Hong Kong in 1983 and how was the experience?
A – It was quite simple. I was at Leeds Utd and Eddie Gray was the manager and I had been struggling with a bad ankle injury. I had been out and was struggling for fitness and couldn't get back in the team. Eddie called me in one day and said there was an opportunity to go to Hong Kong for three months to get my fitness.
This was the start of November until January. I thought he was having a laugh but he persuaded me to go and I went out and I was enjoying it so much they couldn't get me back!
He phoned me in mid-January to ask when I was coming back but I said I was staying for the rest of the season. I scored goals for fun there and it was good for me to get my fitness. The weather was very hot and humid and I came back really fit and my ankle injury was healed. That was Hong Kong and I enjoyed it. it was good for my career.
Q – Swigalot – What's the best goal you have seen scored at Ibrox?
A – I'm not sure if many supporters would remember this goal but we played Arsenal in 1973 in front of a full house and I scored a goal which was probably the best I ever scored.
Wee Tommy McLean crossed and I had my back to goal and I hit it on the drop with my back to goal and Bob Wilson the famous Arsenal goalkeeper was playing and it went over him and into the far corner of the net. That was certainly one of my finest goals.
And any goal against Celtic would be the best goals scored.
Q – Charlie – Derek, do you still consider yourself King of Ibrox Park? #legend
A – Once you get called the King of Ibrox Park it never leaves you and I love it.
From a young lad at 16 and a half who was a Rangers supporter & dreamed of playing for Rangers to breaking into the team, scoring against Bayern Munich, getting the number 9 shirt, scoring 27 goals in the first season and hearing the fans sing Parlane Born Was The King of Ibrox Park.
Of course I will keep that. It's something that will never leave me and I love it. It's something that I'm not blasé about. I'm very proud of it and I love it to bits.
Q – BattleFeverPod – Derek who was the best player you played with at Rangers?
A – Davie Cooper as I said before but it is a hard one as I played with so many Rangers Hall of Famers like John Greig, Sandy Jardine, Alex MacDonald, Dave Smith etc. All great players but it has to be Coop.
Q – And what's the secret to the hair? #AKingsBarnet
A – I take it off at night, give it a brush in the morning and put it back on! I don't know I have just been blessed with a good head of hair. My dad – God love you dad – was the same so I have probably taken it after him.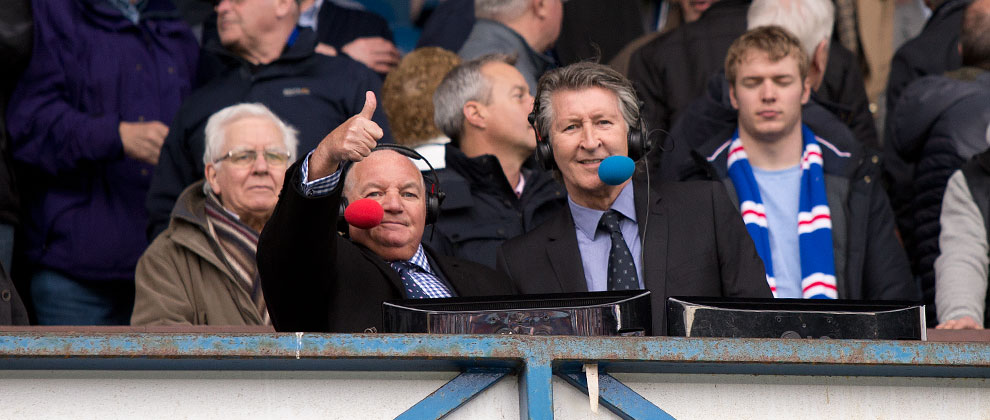 Q – Andy – Will you ever do more co-commentary on Rangers TV?
A – Aye, I did enjoy it. I would probably do a lot more if I lived in Scotland but I live south of the border. I'd probably be involved in more things at Ibrox if I lived in Scotland but I did enjoy it and if asked in the future then of course I would consider it.
Q – This is Ibrox – Derek, what influence did your father have on your career? Did you manage to watch any of his games for Rangers?
A – I never saw any of my dad's games as I wasn't born but he had a massive influence on my career. Something I am really proud of though is the fact we both played and scored goals for Rangers against Celtic. My dad's debut was against Celtic and he scored and I scored a load against Celtic so I am very proud of that.
We are the only father and son to do so.  I'm so chuffed with that and it gets a few cheers at Rangers Supporter's Clubs.
My dad was brilliant for me. My dad and Jock Wallace were great mentors through my Rangers career but my dad was my everything really.
Q –  Also, what was it like to play for William Waddell, Jock Wallace and John Greig during your time at Rangers?
A – Not a bad list. Willie Waddell and Willie Thornton came down to the village of Rhu to sign me and then after Willie it was Jock. The big man was brilliant and I loved him to bits. I'm very proud to have played under him.
And then Greigy at the end of my career. He had a bit of a hard time as manager and didn't get the success he would have wanted but I still admired him greatly. I am very fortunate to play under three great Rangers people.
Q – Wilf Marshall – Hi Derek. Having done a few functions with a number of former players from more recent times how do their dressing room tales compare to what you guys got up?
A – Hi Wilf, nice to hear from you. I don't think dressing rooms change. It's part and parcel of football and the character of footballers and camaraderie and mischief that goes on.
Some of it I can't even tell as I would be censored of course but it's all about building up camaraderie. I was pulled aside early in my career and told I would need to get involved. I came back from training one day and my clothes were floating in the bath and my shoes were nailed to the floor.
As a 16 year old I had never been involved in mixing with adults and mixing with men like that but we had a great bunch of lads. You hear stories about what Gazza got up to and we were probably up to the same sort of thing.
We had some comedians. Colin Stein was one of the best and the worst and he was a blinking nuisance to be honest with you!
He was always doing silly things around us but it all added up to the team spirit, character and camaraderie we had in the 10 years I was there.
Q – Jamie – Hello Derek, Bayern Munich apart what's your best memories as a Rangers player?
A – Every goal I scored against Celtic was a great memory. But that first day walking into the dressing room was a great memory.
I was a Rangers supporter and I had colour posters of all the Rangers players up on my bedroom wall – along with world stars like Pele, Cruyff and Beckenbauer.
So to go up that day to Ibrox. I remember my dad seeing me off. I had packed my own little bag with my boots and socks as I didn't know I was getting training kit.
I got the bus from Rhu to Helensburgh then the train up to Glasgow then the underground to the Copland Road and I walked round to the front door.
Then being told to go to the first-team dressing room and opening the door and seeing all the players I had up on my bedroom wall right in front of me. You can imagine how I felt.
Sitting beside Colin Stein and Willie Johnston and wee Willie Henderson. I should have brought my autograph book!
That for me was such a great memory. Walking into that dressing room for the first time and seeing all these lads that I idolised.
You can't take that away from me.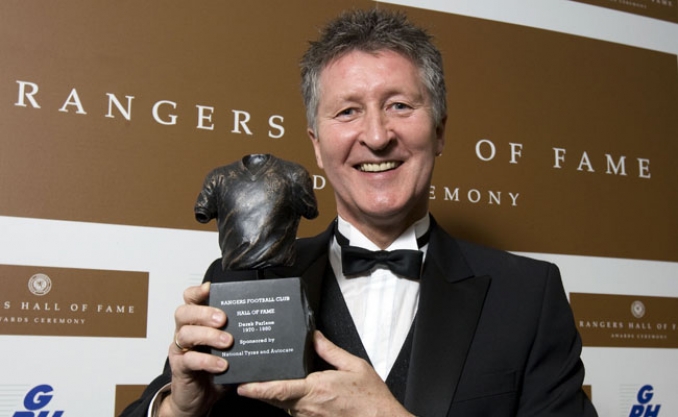 Q – Who were your heroes growing up?
A – My dad was my everything. He used to take me to Ibrox, mainly midweek games, to see Rangers and I would see John Greig and Willie Henderson. I still love seeing Willie about Ibrox he was one of my idols.
Also guys like Davie Wilson, Ralph Brand, Jimmy Millar and Bobby Shearer. Just to see these boys was phenomenal. And to one day be involved in it all was just a dream.
Q – John Gracie – Hi Colin, had Derek at our restaurant in Spain with big John and Heather , gave me a signed picture for my Dad. What was his favourite goal scored? Cheers Johnny
A – Very close to my Bayern Munich goal was my goal against Celtic in the Centenery Scottish Cup Final and was attended by royalty. It was on my 20th birthday and I scored the first goal which was my 27th of that season.
Q – Tom Miller – Derek, what would be your 5 a-side team be from your former Rangers team-mates?
A – Hi Tom I hope you are well mate but that's such a difficult question.
Right here we go. I have to say big Peter McCloy in goals, nobody is scoring past him at 5 a sides. No chance. Sandy Jardine has got to be in that team. Davie Cooper has got to be in that team. Alex MacDonald too. If you cut Wee Doddy he would bleed blue blood so I am putting him in my team. I am going in that team too, I have to be scoring the goals Tom.
But I have left out so many great players. Greigy, DJ, Steiny but that's my team.
That's me finished – thank you for all the support and wonderful memories. I really enjoyed talking about them. As I said before once a Ranger, always a Ranger. Stay safe and well and thanks again for sending in your questions.
RYDC is proud to have provided more than £8.5 million to the Rangers Academy since 2002 – with profit from their portfolio of products.
For full details on RYDC, Rangers Lotto, Rangers Pools, The Union Jackpot, Scratchcards and Stadium Bricks visit www.rydc.co.uk or call 0141 427 4914.
RYDC will have further Q&As in the weeks ahead.