BRIAN LAUDRUP celebrates his 50th birthday today and is regarded as one of the greatest players ever to play for the club.
The Great Dane was inducted into the Rangers Hall of Fame and you can read his profile below:
Some consider him the greatest talent to have played for Rangers.
Astonishing close control, vision and pinpoint accuracy meant that Laudrup took Rangers to another level.
He could score with either foot – he scored 45 goals – and it was his header that clinched 9 in a row. A true genius with a football.
He was the complete master, terrifying defences any time he was near the ball. Premier League opponents had no answer to his skills.
His close control was extraordinary. The ball just obeyed his wishes. And because he had such electrifying acceleration, he could tear through midfield, release a pass and have time to reach an entirely different area of the pitch to be in for the kill.
Flicks here, deft touches there, were rounded off by a shot of amazing power. And before he left, yes, he proved he could head a ball, too!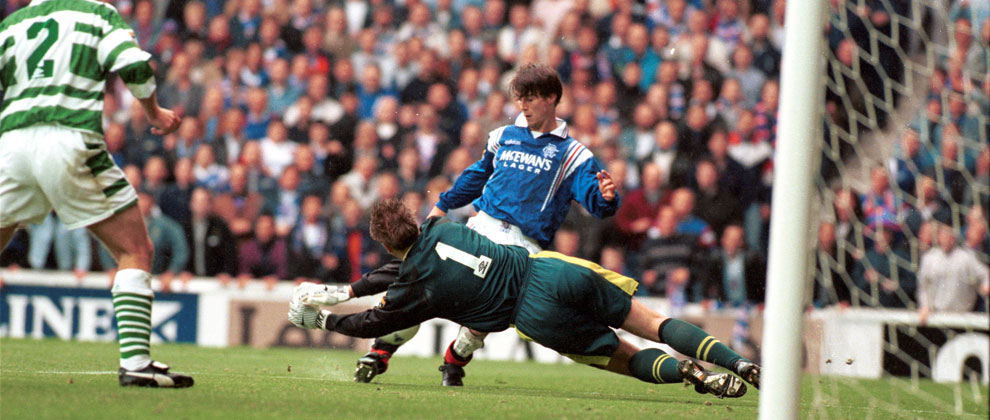 Laudrup, though Danish, was born in Vienna on February 22 1969. He grew up in a football family, his father Finn was a Danish international and his elder brother Michael was also a world class player, starring for, among others, Juventus, Barcelona and Real Madrid.
By the time he arrived at Ibrox, Laudrup had been an important member of the Danish team that caused such an upset by winning the 1992 European Championship.
The Danes hadn't even qualified for the tournament and were allowed in only as a last minute substitute for Yugoslavia who had to withdraw because of the civil war in that country.
Denmark stunned the football world by reaching the Final where they beat red hot favourites Germany.
Brian Laudrup Big Interview – Part 1 Part 2
Laudrup's professional career began at Brondby where he played in the same team as Peter Schmeichel. He remained there three years before being transferred to Uerdingen in Germany for £650,000.
After one season, Bayern Munich paid £2 million for his signature and his reputation continued to grow. It prompted Italian giants Fiorentina to equal that amount to make him their player.
Laudrup, however, was not happy in Serie A. Fiorentina were relegated and Laudrup was loaned out to AC Milan.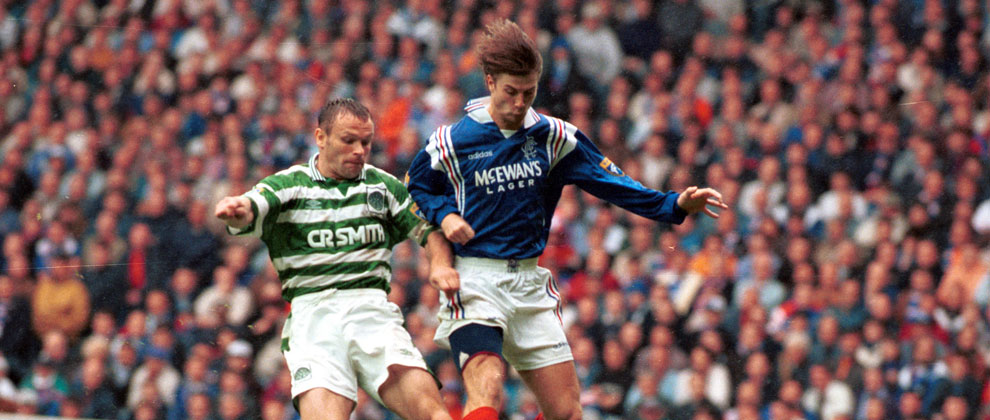 In July 1994 Rangers, already with six League titles in a row, tabled a bid of £2.3 million for him. The deal turned out to be a snip. From his first game it was clear that the 25-year-old Laudrup was a sensational capture, one who could elevate Rangers' play to a higher level than previously seen.
He was a technical wizard and he was wearing the light blue jersey.
That first League game against Motherwell was a revelation. First he supplied the inch-perfect cross for Mark Hateley to score with a header.
Then in an audacious move he collected a clearance from a corner on the edge of his own box and ran diagonally through midfield before releasing a pass for Duncan Ferguson to get the second.
[ooyala code="dteGV4dDqJmkObcHmiaK69ILX-P1qH2f" player_id="YzM1ZWNjZDM3ZWM0YjFlOTNhYWRmOTU1″ auto="true" width="640″ height="360″]
It was stunning stuff and it was obvious that Laudrup was capable of destroying teams on his own. Even in five-a-side practice games, his team-mates couldn't get the ball off him.
Laudrup, wearing the No.11 shirt, was given a free role by manager Walter Smith. It paid off. The Scottish game was more physical than Laudrup had been used to, but first they had to catch him!
He scored 10 goals in 33 League games and made many more as Rangers won their seventh consecutive Championship in 1994-95. Laudrup was named Player of the Year, both by the football writers and the footballers' association.
Laudrup missed a run of nine League games in the autumn of 1995 because of an injury he picked up with Denmark. His comeback was against Celtic in November and it was some return, Laudrup getting Rangers' first in a pulsating 3-3 draw.
This, of course, was the season Laudrup was joined in midfield by Paul Gascoigne. To have two such inventive, creative playmakers in one team proved too much for Rangers' opponents. There was no way they could contain both players for 90 minutes of a match.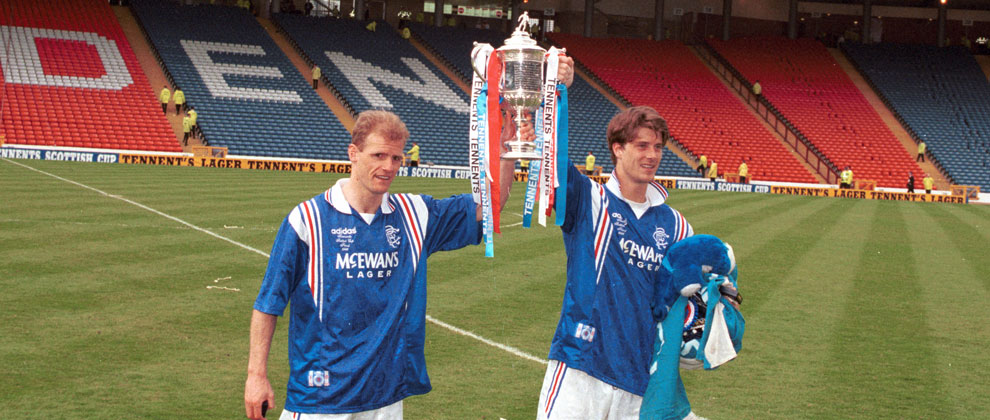 Rangers won their eighth successive Championship, but it was in the Scottish Cup that Laudrup scored the goal of the season.
It was the Cup semi-final against Celtic. The score was 1-1. Laudrup collected the ball in midfield, flicked it to Gordon Durie on the right wing and raced into space for the return.
The ball came from behind and, while running, he brought it under instant control with his chest before chipping it over the keeper with the outside of his right boot for the winner.
The Cup Final was a Laudrup virtuoso performance as Hearts were hammered 5-1. Durie got a hat-trick – the first Rangers player to do so in the Final – but it was Laudrup who grabbed the headlines.
[ooyala code="9vb25vajrrceNKSAvthlaqQHcGfpANIc" player_id="905a3f19de441d8a01ab317e89a8d3d" auto="true" width="640″ height="360″]
He made all three of Durie's goals and scored two himself, the first with a beautiful right foot drive and the second through the keeper's legs.
If Laudrup was a star in 1995-96, then in the year of Nine-In-A-Row he was a hero. For much of the Spring, in the title run-in, Laudrup had to shoulder the burden in attack as Rangers' strikers were beset by injuries and he bagged 16 goals in his 33 League games.
Earlier in the season he had scored a wonderful individual goal against Aberdeen. Then he got the winner in November's 1-0 defeat of Celtic with a thunderbolt from 25 yards.
But it was in the title crunch game at Tannadice against Dundee United that Laudrup got the sweetest goal of all.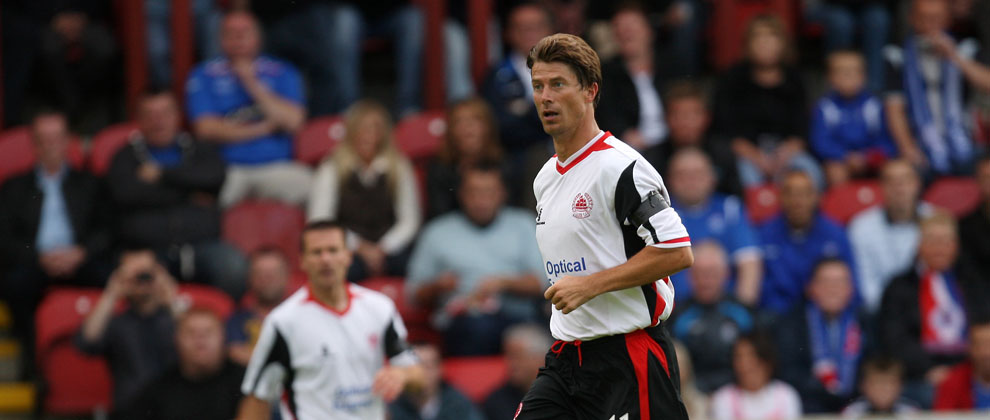 There were those who said that Brian Laudrup couldn't head. But that day he ran into the box, rose to meet Charlie Miller's cross and the ball hit the net like a bullet.
It was the goal that won Nine-In-A-Row – and there could have been no more fitting player to score it. Once again, Laudrup was the Football Writers' Player of the Year.
John Greig and Sandy Jardine had both won the honour twice – but Laudrup had achieved his double in the space of only three seasons.
Season 1997-98 was an anti-climax, however. Laudrup felt it was time to move on. After playing for Denmark in the 1998 World Cup he joined Chelsea. But his stay was brief and he returned to Denmark with FC Copenhagen.
[ooyala code="xidXhmaDrkRW82BxWHyQXjz7etdDiL-W" player_id="905a3f19de441d8a01ab317e89a8d3d" auto="true" width="640″ height="360″]
Laudrup had been a true club man at Rangers in an age when many question the loyalty of superstars.
He scored 45 goals in his 151 appearances for Rangers, winning three Championships, a Scottish Cup and a League Cup.
In his four seasons at Ibrox, Laudrup had given a sublime demonstration of a true genius at the peak of his powers.
He had been one of the most gifted and talented entertainers in the club's history and few players have brought so much joy to Rangers' supporters in such a short period of time.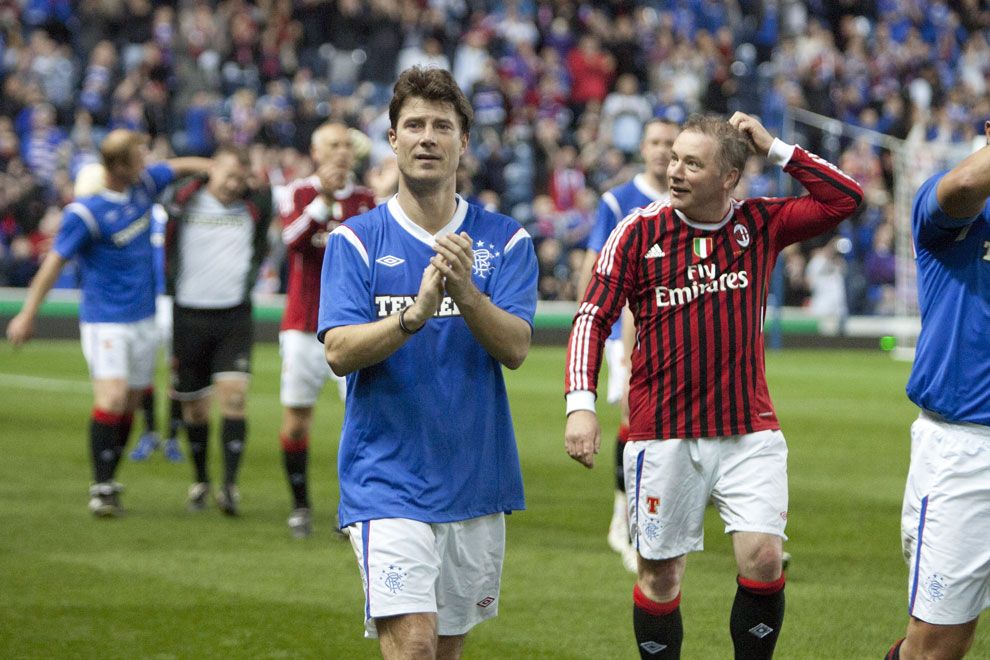 MORE RANGERS FEATURE ARTICLES
TEN OF THE BEST: 
COLIN STEIN
JIM STEWART
RICHARD GOUGH
MICHAEL MOLS
PETER LOVENKRANDS
ALEX RAE
NACHO NOVO
BIG INTERVIEW:
BILLY SIMPSON
DAVID ROBERTSON
DEREK FERGUSON
WILLIE HENDERSON
RAY WILKINS
JOHN BROWN
TED MCMINN
LORENZO AMORUSO
CLASSIC MATCH:
ABERDEEN 1991
CELTIC 2000
KILLIE 2003
DUNDEE 2004
MOTHERWELL 1999
PSV 1999
HEARTS 2003
BORUSSIA MGB 1960
ABERDEEN 1996
THE TOP TEN:
TOP TEN: SAVES
TOP TEN: LAST MINUTE GOALS
TOP TEN: OVERHEAD KICKS
TOP TEN: SCOTTISH CUP GOALS
TOP TEN: EURO STRIKES
TOP TEN: MOST CAPPED GERS
TOP TEN: CHEEKY GOALS
TOP TEN: GOAL CELEBRATIONS
TOP TEN: FREE KICKS