RANGERSTV subscribers can now watch a full length interview with Director of Football Mark Allen as he assesses the 2018/19 season and looks ahead to the new campaign.
The 2019/20 season will be Allen's third in charge and while the main focus on his job comes around player recruitment his remit is all encompassing.
The former head of Manchester City's academy believes the club have made great strides on and off the pitch in his first season working with Steven Gerrard and his team.
Speaking at the Hummel Training Centre to RangersTV, here is a taste of what Allen had to say in his exclusive interview.
He said: "Overall I'm relatively pleased. It's not over yet and we'll go right to the end but I think from a progress perspective I'm quite satisfied.
"Certainly from an overall performance perspective, obviously the major aim is to win trophies but we're well on our way to fulfilling that.
"Internally you always set yourself a high standard – you have to. I think we've got quite close, but you make your own luck in football.
"Overall I think we're very, very close to hitting certain targets. Certainly if you look at our goals scored and our goals against – they are far more favourable than last year.
"Our home record has improved significantly. We've maybe been a bit unlucky and a bit frustrated with some results, that we've not turned some draws into victories, which ultimately will tell at the end of the season.
"We've spoken on many occasions about this role and there seems to be a fixation with it being purely and sorely around recruitment, which we all know is part of it but it's not all of it.
"So I think off the field we've made significant changes in terms of the environment, the training ground itself in terms of the canteen and the pitch renovation.
"There's further things planned for the summer to just finish those internal works off and I think for me having an elite environment is absolutely critical to success.
"I'm very comfortable now that when people walk through the door here it's closer in line to what I would expect to find in an elite environment which is what we are trying to build.
"There's been further refurb of the training centre in terms of the dressing room facilities and some of the sports science investments that will bring us up to what I believe is that elite level, both in terms of pre-activation in terms of recovery and in terms of general training and the environment.
"By the end of this summer, I'd like to think that the training centre is right up to speed with the best environments we've found."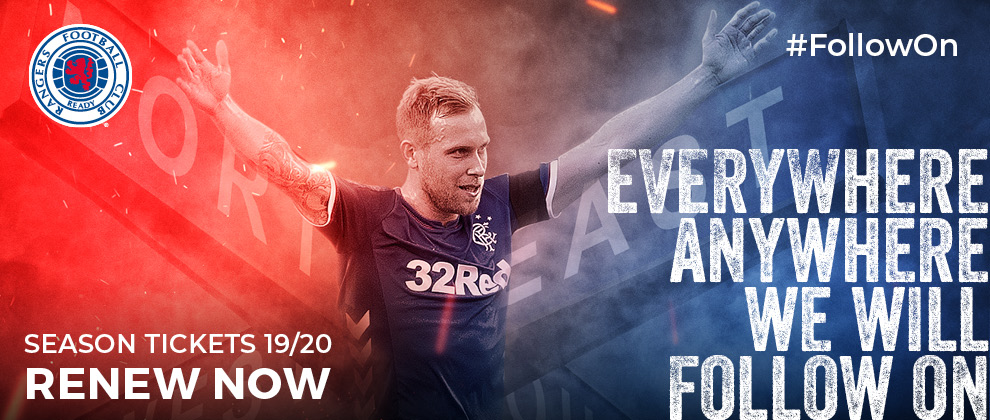 SEASON tickets for season 2019/20 are now available for renewal.
There are four easy ways for season ticket holders to renew for 2019/20. The deadline to renew your season ticket is Monday 20 May.
Website:

 

rangers.co.uk/renew
Rangers Ticket Centre
Phone: 0871 702 1972 (Option 1) Calls cost 13p per minute plus network extras
By Post:

 

Rangers Ticket Centre, Ibrox Stadium, 150 Edmiston Drive, Glasgow, G51 2XD
HELP & FAQS
 *calls cost 13p per minute plus network extras. Booking fees apply.