#LetsGo: Scott Arfield
Scott Arfield became the first new player signed for 2018/19 by Steven Gerrard this summer
RANGERS are today delighted to confirm the signing of Scott Arfield from Burnley on a four year deal.
Arfield, 29, arrives with a wealth of Premier League experience under his belt with Sean Dyche's terrific Burnley team, while he also has top-flight Scottish experience with Falkirk, where he began his senior career.
Arfield broke through at the Bairns in 2007, playing 122 times there across three seasons, with his spell there including a run to the 2009 Scottish Cup Final, where they were defeated by the Gers.
His form earned him a move to England, and Huddersfield Town in League One. He was part of the side which saw the Terriers promoted to the Championship in 2012, before he switched to Burnley in 2013.
He spent five successful seasons there – three of which were in the Premier League – and played a part in helping the Clarets qualify for Europe for the first time in 51 years.
On the international front, he has been capped 12 times for Canada and has scored once.
Arfield is the first signing of the Steven Gerrard era at the club, and the new manager said:
"I am delighted to have added Scott Arfield to the squad for next season. He is a talented and competitive midfielder who has competed at a high level in the English Premiership and internationally for Canada.
"It's pleasing also that we have been able to start our rebuilding process so quickly after the end of the season. There is much more to be done of course as we look to build towards our Europa League campaign which will start in early July.
"Scott is the first one in and I look forward to working with him and the others who will be coming in to strengthen the squad."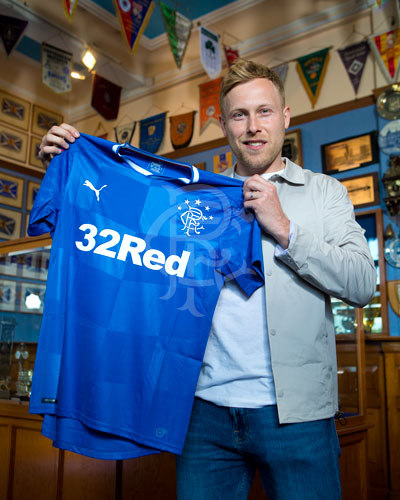 An Easy Decision
PLAYING for Steven Gerrard and Gary McAllister made joining Rangers an "easy decision" for Scott Arfield.
Arfield, who today signed a four year deal with the Light Blues, becomes the first new arrival of the Gerrard era.
And, while excited at the prospect of learning from one of his footballing idols, he also feels this is the right move for him at this stage in his career.
Speaking exclusively to RangersTV, Arfield said: "When you have a name like that, and also his number two Gary McAllister, it was quite an easy decision, and also an easy decision for me and my family to come back up the road and to come to a club this size is perfect for me at this time in my career.
"I was lucky enough to play against Steven when I was at Burnley and he was just finishing off at Liverpool.
"He's been every midfielder's inspiration I think and he was certainly mine. I'm incredibly lucky that in the next four years I'm going to work every day with him and hopefully learn a lot."
After leaving Falkirk in 2010, Arfield joined Huddersfield Town and then Burnley three years later, working his way through the leagues to eventually becoming a Premier League star.
He feels he has learned so much from every level he has played at, and hopes now to display that in the blue of Rangers.
"Even when I went down to England to League One," he continued, "it was a completely different environment to what I was used to when I left Falkirk.
"It's easy to go in the Premier League and you can play so many years and drop down, but I did it in  reverse going from League One up.
"It helped so much staying in a different place away from family, and now I am coming back here a completely different person, and I think the experiences of playing against those top players at Premier League level can only help."
Arfield can now look forward to playing in front of 50,000 at Ibrox as a Ranger, having previously experienced it as a visiting player for Falkirk and Burnley.
"[At Burnley] It's only the away games really that you play against those sort of crowds," he added. "We were 25,000 for the last eight years there, but that is what this club is all about.
"If you can't handle the expectation and you don't want to take responsibility then you shouldn't walk through the front door. I'm at a time in my life where I can take that.
"I remember the pre-season game that I managed to score in and the boys came off the bus and before the final whistle there was 22,000 in a pre-season game. I remember getting back on the bus after the game and the boys down there don't know anything like it.
"It is normally 200 people at a pre-season game and nobody really cares but up here it is completely different. That whetted my appetite to come back up the road and thankfully, three years later, I'm back here sat in this chair."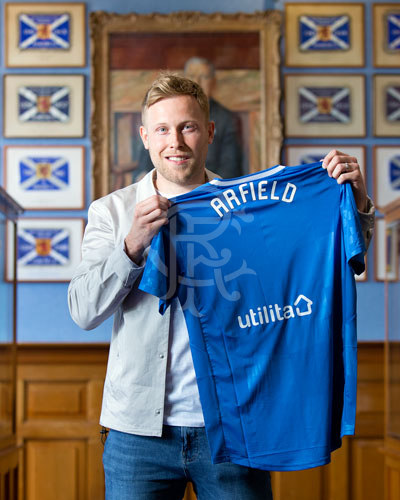 Exclusive RangersTV Interview
Europe Is Such A Draw
THE prospect of playing in Europe for Rangers was another reason behind Scott Arfield signing a four year deal with the club today.
Arfield has previously had a taste of continental competition with Falkirk, and despite crashing out after just one tie, it left him hungry for more.
Of course, Burnley, the club he has departed, also qualified for the Europa League, and he reckons it's written in the stars for the Gers to face the Clarets this season.
"I think it's inevitable we are going to draw them, isn't it?" smiled Arfield. "So I am looking forward to that. I managed to play in the first round when I was at Falkirk. We got to the Scottish Cup Final and went into it the next year, so the getting the taste for it was invaluable for me to want to go back there again.
"We managed to get there with Burnley and it was completely out the odds that we got there. Thankfully I'm coming up here to a club that the boys have put in the hard work and have managed to consolidate a Europa  place, but I don't think we should be happy just going out in the qualifiers, we need to look forward and see where this takes us."
Arfield's spell at Burnley was a massive success, and he reflected on what, for him, was a massively enjoyable time for him.
He continued: "I think over the five years that I've been there, it's been my most successful, my happiest probably on a football pitch. The three years in the Premier League, two in the Championship, one coming second, one winning it and promoted, and then the three seasons in the Premier League.
"Even the relegation helps you because you get a taste for that league against those players at those stadiums. You can only benefit from them as a player and the experiences I have had through those five years, especially at a club like Burnley, it's fantastic what I can go back at, take the experiences and take it into here now.
"I've been down in England for so long – I left when I was 21 and now I'm back at 29, and I feel in those eight years I have experienced so much as a man, as a player, and I feel as if I am coming back a far better player than I was when I left, both on and off the pitch.
"The experiences I've had down south have been fantastic for me, and the mental aspect of the game I feel as if I have developed incredibly, and that is what I am looking to do here.
"The expectation of the crowd is massive, but I feel as if I can handle that expectation and I want to take responsibility and take the club forward.
"It's been a long way coming, but I am extremely excited for the times ahead. I firmly believe we are going to be so successful in the years going forward."
Arfield now can't wait to get started, and he added: "I'm buzzing, absolutely buzzing. The season only finished yesterday but I've been out with a calf injury for so long and I've been chomping at the bit.
"I've only managed to train about two weeks or three weeks and the games I was going to be involved in, and the deal was overtaking them, so I couldn't be involved in the last three games.
So now I'm chomping at the bit and I genuinely believe and I genuinely think that we are going to be so successful here. It's exciting times."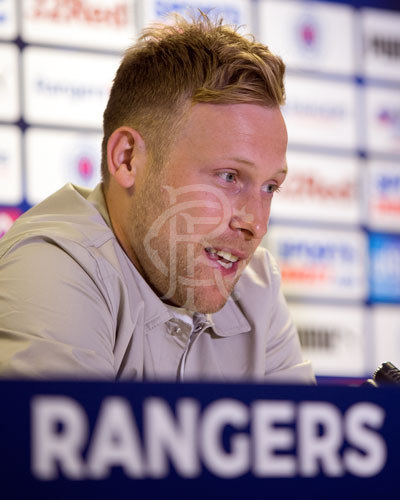 Scott Arfield Press Conference
Arfield spoke to the press along with Director of Football Mark Allen as he was confirmed as the first signing of the summer at Ibrox.
Get Closer Than Ever To Your Club
Subscribe To RangersTV From Just £5 A Month
It's a new season and a new era beginning at Rangers and you can keep up to date with all the best Rangers content at the links below:
#LetsGo: Steven Gerrard
#LetsGo: Scott Arfield
Click on the links below to subscribe today to one of our package types to get closer than ever to your club this summer as the work begins for 2018/19:
Click HERE to find out more about what is included in the different packages and click on the following links for different series: