#LetsGo: Steven Gerrard
Steven Gerrard was named as the next manager of Rangers from this summer.
RANGERS Football Club are delighted to confirm that Steven Gerrard has agreed to become the new manager of the Club.
The former Liverpool and England captain will join the club this summer on a four-year deal.
Steven Gerrard said: "I am honoured to become the next manager of Rangers. I have enormous respect for this football club, and its history and tradition.
"I can't wait to start this new journey at Rangers as we look to build on the many successes that this Club has achieved."
Details of the backroom staff who will join Gerrard at the Club will be announced in due course.
Chairman Dave King added: "We are delighted to confirm today that Steven Gerrard will become the next manager of Rangers.
"From the very beginning, talks have been extremely positive and we believe that Steven is the right man to drive Rangers forward.
"He was extremely impressive throughout our negotiations and we are convinced that he has the necessary knowledge and temperament to lead the Club to the success we all desire.
"This a special day for our Club, our fans and for Steven."
Managing Director Stewart Robertson said: "We believe we have appointed the perfect man to manage our Club at this time.
"He is an exciting appointment for the Club and I believe that the Rangers support will back him as only they can."
Director of Football Mark Allen: "From the moment we met with Steven to discuss this opportunity, we felt that his ambitions and desire to succeed equalled our own for the Club.
"Make no mistake, Steven fully understands the demands that come with managing a Club of this stature and we look forward to exciting times ahead."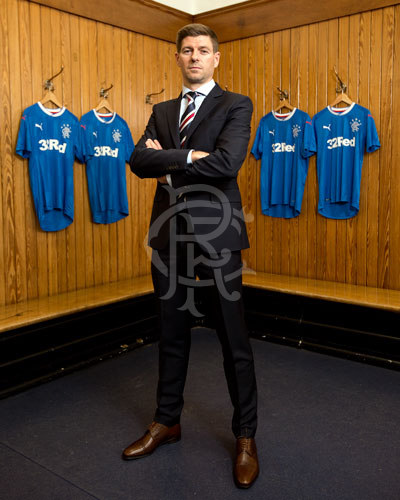 Exclusive RangersTV Interview
Steven Gerrard spoke exclusively to RangersTV to discuss his joy at becoming the new Rangers manager this summer.
Subscribe to RangersTV HERE to get closer than ever before.
It's A Big Big Honour
STEVEN GERRARD believes it's a "big, big honour" to have been confirmed as the new manager of Rangers Football Club.
Former Liverpool and England captain Gerrard will begin his new role on June 1, and despite tasting the pinnacle of club football as a Champions League winner, Gerrard revealed today's announcement is one of the proudest moments of his football career.
Speaking to RangersTV, Gerrard said: "I'm delighted and obviously very proud. It is a big, big honour, not just for me but for my family as well, and I am really looking forward to getting my teeth into this job.
"This is right up there. I am well aware of the history and the tradition of this football club. I know the size and I know what the supporters are all about.
"So yes, this is up there alongside all my biggest achievements."
Some have questioned Gerrard for taking on this job as his first in management, but he is up for the challenge, and believes his attitude will serve him well at Ibrox.
He continued: I have big confidence that I can improve the team, the results and opportunities like this don't come along very often.
"When they do, it is important you grab them and give them everything you have got.
"I love a big challenge and I loved a big challenge as a player. A big challenge always excited me and gets the juices flowing, and this is certainly one of them.
"I'm looking forward to it very much and I can't wait until June 1 to get started.
"I'm not afraid to face risk head-on and to confront it. I think it is good in life sometimes to take challenges on, and if there is a certain level of risk involved, then that's fine.
"It tells me as an ambitious person, I am in the right place and 'bring it on' is my type of attitude to the types of challenges that present themselves."
Fans Are Why I'm Here
STEVEN GERRARD has revealed the support of the Rangers fans are one of the main reasons behind him accepting the manager's job at Ibrox.
Some have questioned Gerrard for taking on the role here, and while not being worried by their opinions, he insists the way in which the club's supporters get behind their team was a major factor in him switching to Glasgow.
He told RangersTV: "First and foremost, I respect people's opinions from the outside. The supporters are one of the main reasons I took this job.
"I understand their loyalty, I understand their passion and their desire. They want to watch a winning team and they want a team that can compete and they can be proud of.
"That is certainly what I am going to try and provide. We have some very, very good footballers here and if we can give that playing squad a bit of help and a bit of guidance, and my team can come in and try and churn a little bit out of every one of them, we believe we can make these supporters proud of the team."
In order to prepare for next season, Gerrard will be making alterations to the playing squad, but he insists he is offering a "clean slate" to those who are already here.
He added: "We will have to wait and see on that, but that ball has already started rolling with myself, Mark [Allen] and Andy [Scoulding].
"There will be changes in personnel , of course there will as I think that is what you do when you come in to a new job. First and foremost, you see what you have got available. It is a clean slate for people when I walk in the door, they have a chance to impress and then we will see within the playing squad and the 11 we can strengthen and make us more competitive."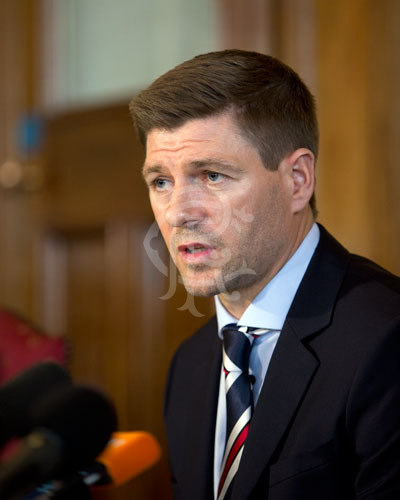 We'll Play Winning Football
STEVEN GERRARD was a winner throughout his remarkable football career at Liverpool and he insists he will demand the same from his Rangers players.
The new Light Blues boss, speaking exclusively to RangersTV this afternoon, admitted it was too early to say what style of football he will want to see from his side.
However, he knows the importance of winning week on, week out and that is something he will be drilling into his players when he takes charge at the club on June 1.
He said: "Winning football, I think the key is we have to win.
In terms of philosophies there will be a time when we'll need to go into more detail on how we play. But what I won't be one of those managers that goes on about a philosophy and talks and talks and talks; I think it's important to walk the walk.
"The supporters will see very clearly from the off what we are trying to get into the team and what we are trying to get out of the players.
"So there will be a time and a place to talk in detail about a philosophy, but the most important thing is that we win football matches. That's what you have to do when you are part of this football club."
Gerrard will now work closely with Director of Football Mark Allen and Head of Scouting Andy Scoulding so that he can bolster the squad for the 2018/19 campaign.
He added: "I think the important thing there is we're a team here. There is no ego, it's not just about me.
I'm a team player so myself, Mark and Andy will bang our heads together in the coming weeks and we'll identify players with the right qualities and the right values who we believe can handle the pressure and responsibility of being a Rangers player.
"Not players who just want to come and be a Rangers player, players who want to come and face the challenge and deliver under pressure. If we can identify players who fancy that we'll get them in."
Behind The Scenes With Steven Gerrard
Get closer than ever before as RangersTV followed Steven Gerrard on his first day as Rangers manager.
Subscribe to RangersTV HERE to get closer than ever before.
I Feel A Connection With This Club
STEVEN GERRARD admits he had a good feeling as soon as Rangers got in touch about the manager's position at the club.
The 37-year-old Liverpool and England legend had other job offers in the past but insists the history and tradition Rangers has made it an opportunity he was so proud and delighted to accept.
He said: "I feel a connection with this club. I've had quite a few job offers recently and with all due respect I never really got a feeling from those offers.
"Once Liverpool called me and said that Rangers would like the opportunity to speak to me I got a different feeling.
"I got a lovely feeling and that's when I knew that I wanted to really listen to what they had to say and try to progress it.
I totally respect this football club and understand the values, and now I'm the leader of this team I have to set the bar.
"I have to behave in a way which shows I'm the right character for the job and lead by example. Hopefully the people will follow me."
When asked who he spoke to for advice before making the decision to take up his first managerial role in football, Gerrard replied: "Close friends and family.
"I obviously spoke to my agent in great detail and I also knew quite a lot about the football club anyway.
"I've been over here and sampled the atmosphere on a few occasions and I've watched them from afar for many, many years.
"I respect the history and tradition and all that's gone before, but for me the important thing is what happens moving forward.
"How can we take this club forward and make it competitive? That's the challenge for me and that's the one I'm focused on.
Gary McAllister will be my assistant; I don't like the term number two because I think it's disrespectful to Gary, he's no number two.
"He's my partner now, he's my assistant, and he'll be a rock for me.
"He'll have a link, obviously. Being Scottish he knows what the club is all about, he's got that experience where maybe I'm a bit short where we stand right now.
"So I think it's a great partnership and hopefully we can help bring success."
In March, Gerrard was photographed in the Directors Box at Ibrox watching the Old Firm game and he was blown away by the noise created in the stadium.
He added: "I enjoyed the atmosphere. I didn't enjoy the result from a Rangers point of view but I've been here and sampled the atmosphere before.
I've been to I think three Old Firms now, so I was well aware of the passion that comes from the terraces and the noise and the electricity that comes from the people.
"We have to use that as a tool that's powerful and if we can get that behind us I think we'll thrive."
Gerrard & King Press Conference
Steven Gerrard, Dave King, Steward Robertson and Mark Allen all spoke to the media to welcome the new manager of Rangers from within the Ibrox Stadium Blue Room.
King: Steven Ticks So Many Boxes
DAVE KING believes Steven Gerrard ticks "virtually" every box after the Liverpool legend was unveiled as Rangers' new manager.
A delighted King, speaking to RangersTV yesterday afternoon, recognises Gerrard has no experience as a manager in his own right yet, however, he insists every other aspect was massively positive for him.
The Chairman explained: "He is obviously young and inexperienced as a manager. But if you look at all the boxes, he ticks virtually every box you can tick other than not having managed before.
"But the way he articulated his visions as a manager, he had clearly thought very carefully about the Rangers position.
"He admitted to me he has followed the whole thing and has been intrigued by Scottish football generally speaking.
"He certainly had in his own mind already what I regard as a very workable plan as to what he thought he needed to do to come and advance the football club on the pitch.
"That was very impressive in terms of the way he thought it through, but also it was very, very clear he saw this as a project that he could really buy into himself.
"When Mark [Allen] mentioned Steven Gerrard to me, I was really intrigued by it as it obviously ticks so many boxes.
"He is a truly global superstar in the world of sport, he is a leader, he is a winner and he knows what it takes to win.
"As soon as Mark said to me, 'would you be interested in Steven Gerrard if he is available', I got quite excited by that right away.
"I said to Mark I would be very, very happy if Liverpool would allow us to open discussions with him, and then it progressed to the point where I would be absolutely delighted to have someone of that stature joining the club with the commitment and ambition he is going to bring to the club.
"If you go back to the time where Pedro left us last year, you will remember we took a decision at that moment in time, that rather than go out and appoint a manager, given we had a couple of mis-steps with managerial appointments over the last couple of years, and the consequences, we decided at that moment in time to take our time and look at the marketplace very carefully.
"We are very grateful that Graeme Murty stepped-in and took charge of the team until the end of the season, and that bought us enough time to try and see if we could get an ideal candidate for the position.
"Quite frankly, if you look at the number of candidates who were available to us over the last few months, there was a strong choice and some fairly big names, but there was nothing that we really felt was ideal for where the club is at this moment in time and where the project is at this point in time."
King also discussed his meeting with Gerrard in Liverpool last week, and how that convinced him he was the right man for the role.
He added: "I was totally convinced last week when Mark introduced the possibility to me, and one of the first things I wanted to do was meet him.
"We cleared that with Liverpool, and I then went to the Liverpool versus Roma game last Tuesday.
"I took the opportunity to go and meet with Steven and over a couple of hours, just listening to him articulating where is is in football and why he thinks Rangers is the right job for him at this moment in time, I was absolutely convinced.
"As soon as I left the meeting, i phoned Mark and said if you can get this deal across the line, I think it is going to be fantastic for this football club."
Exclusive Dave King Interview
Rangers Chairman Dave King spoke about the process of recruiting Steven Gerrard and much more in this wide ranging interview.
Subscribe to RangersTV HERE to get closer than ever before.
Money Will Be Available
THE Rangers board will make funds available to Steven Gerrard in order to strengthen his squad, according to Chairman Dave King.
King, who was speaking to RangersTV, will leave any decisions on ins and outs to Gerrard and Director of Football Mark Allen.
And, while believing there to have been a difference in the squad since the winter transfer window, King reckons at least another five players will be required.
Speaking to RangersTV, he said: "I think our view in our discussions with him is the same as it has been. We will continue to invest in the squad as we have done for the last couple of seasons and I think Steven understands and expects that that will continue with him as manager.
"It's really going to be up to Mark and the manager as to how they are feeling about the squad.
"But certainly I think that there have been improvements, albeit recent results haven't been the best, but I think the squad is a lot stronger than it was before the January transfer window and I would still think we probably need another five or six players to come in.
"But it's really going to be up to Steven and Mark to get together after today and work that out for themselves and then come back with recommendations."
King was delighted to be able to bring someone of the calibre of Gerrard to Ibrox, and believes his willingness to put pen to paper is testament to what has been done behind the scenes at the club.
He added: "I was thinking in the flight on the way over here last night and I was trying to think back to when Rangers had a bigger signing than Steven Gerrard.
"I think this is the biggest signing that this club has had for a long, long time.
"I think it also is an indication that the club and the work that we that we have been doing over the last couple of years is being recognised, where people of that calibre are willing to come and commit themselves to this club for four years."
King: We Want To Win
WHAT targets have Rangers set Steven Gerrard? According to Chairman Dave King it is first and foremost to win games of football.
That is all the Ibrox hierarchy require of their new man in charge to determine whether he is a success in Scotland.
King unveiled the new Gers boss in a press conference on Friday afternoon and he has confidence in the former Liverpool captain to deliver.
Speaking to RangersTV King said:"I think to simplify the issue it's about winning games. I think if we look at the team and my personal view is I think the team is better than they are playing.
"If you look at the way the team played when they came back from the Florida trip, they were playing really well, they were the best team in Scotland for that period, and then it kind of fell apart a little bit after the home game against Celtic, it lost its way a little bit.
"But I think Steven understands it's about winning games, he understands this club is about winning games.
"If we can get back to winning games, getting players on board with the right character to play for Rangers and who are not intimidated by playing in front of 50,000 people at Ibrox.
"If he starts to get that right with the playing squad and with some further additions coming in to the squad, then it's about winning games and if we keep on winning games then we will also win titles.
"I think commercial in the narrow sense of commercial. I think Steven is a genuine global footballing icon and has followers in Asia, China, Vietnam and Thailand.
"So I think the fact that this is his first management job I would imagine there would be a very strong global community will start watching and following Rangers' results just because of the presence of Steven Gerrard in the dugout."
Gary McAllister will join Gerrard at Ibrox as his Assistant Manager when he starts his job on June 1 and King is pleased with the backroom team he is assembling.
He continued: "I think it's very significant because as much as Steven is very clear on what he wants to be as a manager I think having someone like Gary, who has got greater experience in that area, who is someone that Steven obviously trusts, I think is a huge plus.
"I think for Steven to support him also for the football club as a whole, to have someone who is that committed to the club because Gary McAllister is someone who has always followed and had a great interest in this football club."
Get Closer Than Ever To Your Club
Subscribe To RangersTV From Just £5 A Month
Click on the links below to subscribe today to one of our package types to get closer than ever to your club this summer as the work begins for 2018/19:
Click HERE to find out more about what is included in the different packages and click on the following links for different series: