Gers At The World Cup: 1994 & 1998
Nobody makes it to 94, but all eyes are on a plethora of stars in 98
GIVEN the galaxy of stars Rangers were able to afford back in 1994, it is something of a surprise that not one player from the club made it to that summer's World Cup in the USA.
FIFA, determined to captialise on a 'new market', awarded the tournament to a nation not traditionally associated with football, and two nations who had become a fixture at recent tournaments – England and Scotland – failed to qualify.
The Scots were handed a horrendously tough group to make it to the States, and ended up finishing fourth behind Italy, Switzerland and Portugal. It was no real disgrace given the pedigree of those sides, however England were beaten to the tournament by Norway and the Netherlands, prompting some pretty distasteful abuse towards their manager, the late Graeme Taylor, from the English tabloid press.
To the tournament itself then, and a host of names who would go on to perform for Rangers in future years featured for a variety of different nations.
Of all of those, the one to have the biggest impact on the tournament was Oleg Salenko, the Russian who would spend the 1995/96 season in Glasgow.
To this day, he is the only player to win a World Cup Golden Boot despite his nation failing to make it beyond the group stages. Indeed, five of the six goals he notched came in the one game – a 6-1 win over Cameroon in their final game.
He too is the only player to ever hit that number of goals in a single World Cup game, but despite his heroics, Russia were knocked-out having not been one of the best third-place group sides.
Elsewhere, the tournament will always be remembered for the underdogs of Bulgaria and Sweden making it to the semi-finals. The Swedes, containing future Gers' Joachim Bjorklund (who started six of their seven games) and Jonas Thern, their captain, were eventually defeated by Brazil in the last four, with Romario scoring the only goal of the game with 10 minutes left to play. The Brazil defeat came after a Last 16 win over Saudi Arabia and a quarter-final win over a Romania side containing the late Daniel Prodan, who of course would later spend time with Gers.
Their tournament ended on a high though, with a 4-0 demolition of Bulgaria to claim the bronze medal.
Sweden's Scandinavian neighbours, Norway, fared not so well. Containing Henning Berg and Dan Eggen, who would arrive in Govan nine years later, they exited at the group stage despite gathering four points – the same as the other three teams in their group. Unfortunately, they only netted once in their matches, and were eliminated on goals scored.
The squad to contain the most future Rangers' was the Netherlands, with no-less than five going on to pull on the famous light blue shirt in the coming years. They were: Frank and Ronald de Boer, Arthur Numan, Peter Van Vossen and Theo Snelders. All bar Snelders played some part as they were eliminated at the quarter-final stage by Brazil following an unfortunate 3-2 reverse.
Barring penalty misses from Roberto Baggio in the final shootout to cost Italy against the winners Brazil, and from Diana Ross in the opening ceremony (it's on YouTube, go check it out) the biggest story from this World Cup would probably be Diego Maradona being sent home in disgrace following a failed drugs test for ephedrine.
That came prior to their final group game against Bulgaria, which they lost 2-0, before being dumped out in the last 16 by Romania. That they got that far is down in part to Claudio Caniggia, a Ger of the future, who grabbed both their goals in a 2-1 defeat of Nigeria.
1994 World Cup Final: Italy 0-0 Brazil (Brazil win 3-2 on penalties)
Top scorer: Oleg Salenko (6); Hristo Stoichkov (6).
Future Ranger Claudio Cannigia nets twice against Nigeria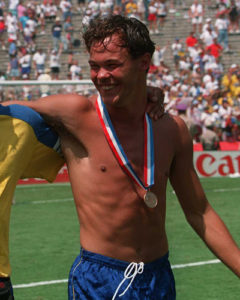 Jockey Bjorklund with his third-place medal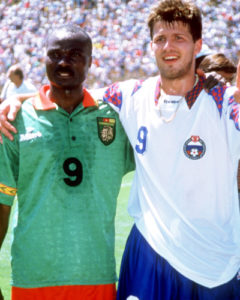 Record-breaker Oleg Salenko (right) with Roger Milla
France 98: Scotland's Last Stand
Scotland return to a World Cup, but they haven't been back since...
SCOTLAND made their return to the World Cup for the 1998 tournament in France, where for the first time, 32 nations would compete for the ultimate prize.
Their build-up to the tournament was dominated, however, not by who was in the squad, but rather, who wasn't. Just one Rangers player, Gordon Durie, made it to France, while there was surprisingly no place for Ally McCoist.
McCoist had ended the season almost single-handedly dragging Rangers to 10-in-a-Row. Having come in to the side in mid-March, his nine goals helped re-enter Gers into a race which they would ultimately lose, while he also netted in the Scottish Cup Final as they controversially lost 2-1 to Hearts.
Scotland boss Craig Brown recently admitted he'd got the decision wrong, saying: "It's with great regret with hindsight that I made that decision. It rankles with me.
"I spoke at a dinner and Alistair [McCoist] was there. I publicly apologised because I felt I'd done the wrong thing. He knows it and I know it. I've got to accept it and live with it I'm afraid."
Andy Goram was a Ranger to be included in Brown's squad, but he withdrew soon-after, citing personal reasons. The only one from Ibrox therefore to go to France from Ibrox was Gordon Durie, who started all three of the Scots' matches.
Their opening game, arguably, is the biggest they've ever played in given it was also the very first of the tournament against the reigning champions Brazil at the Stade de France.
The eyes of the world were on Scotland then as they walked out in front of a capacity crowd of 80,000, and promptly fell behind to a soft Cesar Sampaio opener inside five minutes. They rallied however, and after Kevin Gallacher was fouled in the box, John Collins leveled matters from the spot seven minutes before the break.
Brown's men more than held their own, but on 74 minutes, a calamitous Tom Boyd own-goal sealed a 2-1 win for the Brazilians.
From there, it was on to Bordeaux, and a Norway side containing future Gers' Henning Berg, Tore Andre Flo, Thomas Myhre, Dan Eggen and Egil Ostenstad. Again, Durie was in from the start, and Scotland had to come from behind to earn a 1-1 draw with Craig Burley grabbing the equaliser on 66 minutes.
In order to make it through to the Last 16, Scotland would have to defeat Morocco and hope Norway failed to defeat Brazil. In the end, neither happened, with the Scots being thrashed 3-0 while Norway won 2-1, and Scotland, contrary to their official "Don't Come Home Too Soon" song by Del Amitri, did exactly that.
Elsewhere in the tournament, many Rangers eyes were on the Netherlands, given Arthur Numan and later Giovanni van Bronckhorst were headed to Glasgow to join Dick Advocaat's revolution.
Indeed, the Dutch were excellent, and missed out only on a place in the final on penalties with a loss to Brazil in the semis with a certain Ronald de Boer missing the crucial kick. Numan played every game in the tournament bar the semi-final, having been red carded in their quarter-final win over Argentina.
Another nation to enjoy a great tournament were Brian Laudrup-inspired Denmark. Laudrup was leaving Ibrox for Chelsea by this point, but he showed his true class on the biggest stage of all with a wonderful quarter-final goal against Brazil in the quarter-final where they were narrowly defeated 3-2.
Laudrup also netted in their last 16, 4-1 demolition of Nigeria, with his brother Michael captaining the side to a very strong showing in France.
The stars of the tournament, of course, were the hosts and eventual winners France. Their humbling of Brazil in the final will live long in the memory, with Stephane Guivarc'h, who would sign for Rangers just a few months later, leading the line for them throughout the tournament.
Their substitute goalkeeper Lionel Charbonnier meanwhile would arrive in Glasgow just a few weeks later as a replacement for the outgoing Andy Goram.
1998 World Cup Final: France 3-0 Brazil
Top Scorer: Davor Suker (6)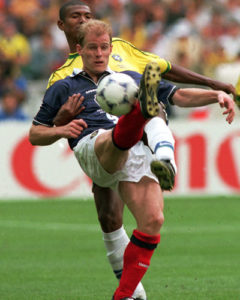 Gordon Durie of Rangers against Brazil
Scotland's World Cup song, "Don't Come Home Too Soon"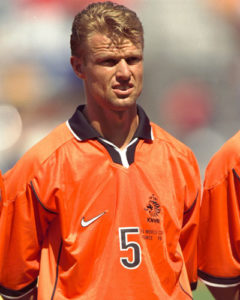 Ibrox-bound Arthur Numan lines-up for Holland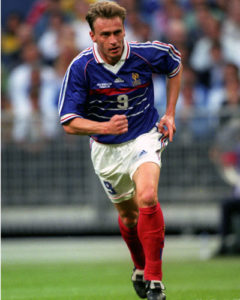 Stephane Guivarc'h in the World Cup Final