Classic Matches
Rangers 5-1 Hearts (May 1996)
RANGERS have played in many classic matches through the years and in this new series of features we'll remember some of the best.
WHEN a striker scores a hat-trick in a cup final and still doesn't receive all the plaudits then you know something special must have taken place to overshadow that achievement.
Gordon Durie was the man who walked off the Hampden pitch with the match ball under his arm but his wasn't the name on the lips of the Rangers supporters as they began their celebrations to mark the end of another double-winning season.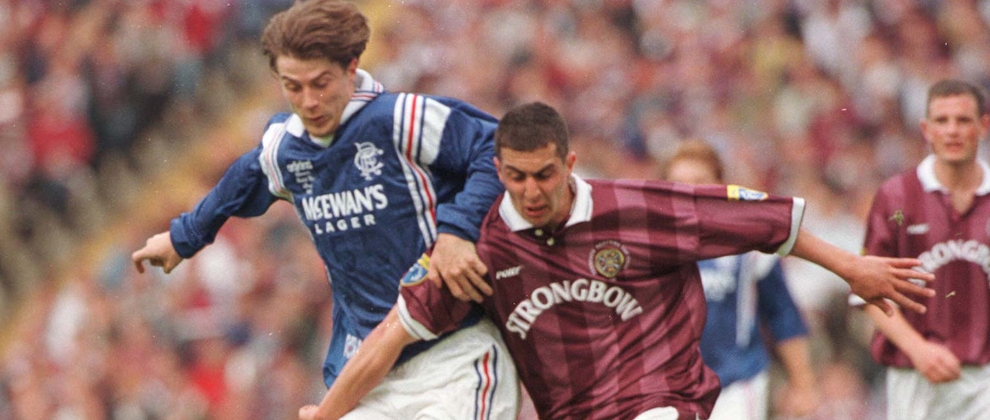 This was all about 90 minutes of genius from Brian Laudrup. Even Durie – a mild-mannered, unassuming man – was more than happy to be ushered out the spotlight to make way for the gifted Dane who tore Hearts apart with a dazzling display of his skills.
"To score in a cup final would have been good enough but to get a hat-trick was a bit special," Jukebox reflected.
"Brian Laudrup was fantastic that day and when you've got players like him around you then you've always got a chance of scoring goals."
Laudrup scored two and made all three of Durie's goals and even found time to delight the Rangers fans with his party pieces of ball juggling and close control.
The former Ajax midfielder left his mark all over Scottish football during four magical years but this final in particular served as a showcase for his unique talent.
Laudrup recalled: "The 1996 final is a great memory for me from my time at Rangers. It was one of those lucky games when everything seemed to go my way.
"It was a tremendous day and a great performance from everyone in the team, especially Jukebox."
Hearts' misery started after just seven minutes when they lost captain Gary Locke to injury and their day would go steadily downhill from there.
In a tightly-contested first half, Rangers finally broke the deadlock when Durie's lofted pass sent Laudrup scampering free and his fierce right-foot shot flew past Gilles Rousset.
If the keeper had been faultless for the opener, then he was clearly culpable when the Light Blues doubled their lead early in the second half.
Laudrup's cross from the right wing seemed a simple one for Rousset to collect but the ball somehow evaded his grasp and dribbled into the net.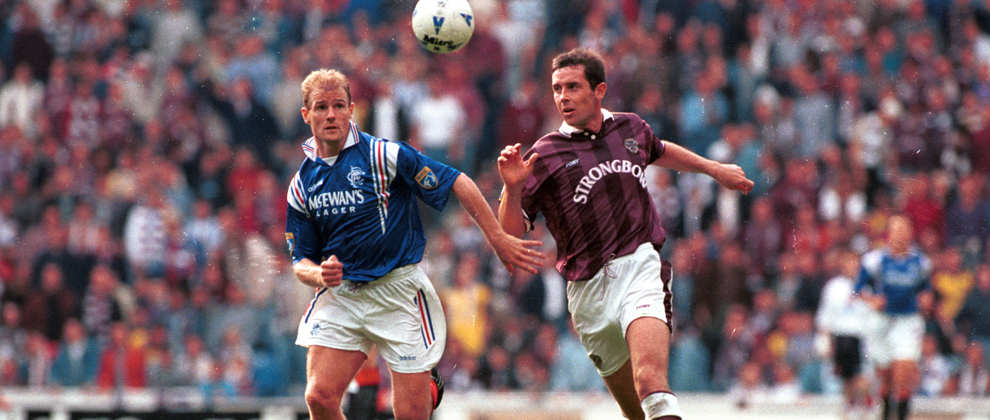 The goal turned the tie in Rangers' favour and Durie grabbed his first and Rangers' third goal when he expertly volleyed in Laudrup's left wing cross.
The Dane's strength – to hold off a challenge from Allan McManus – then set up Durie for a simple tap-in and the Scotland striker completed his hat-trick with a header after great work again from Laudrup to create the opening.
A John Colquhoun goal was all Hearts had to show for their efforts from an afternoon that belonged to Durie and Laudrup.
RANGERS: Goram, Cleland, Robertson, Gough, McLaren, Brown, Durie, Gascoigne, Ferguson (Durrant), McCall, Laudrup
HEARTS: Rousset, Locke (Lawrence), Ritchie, McManus, McPherson, Bruno (Robertson), Johnston, Mackay, Colquhoun, Fulton, Pointon
MORE RANGERS FEATURE ARTICLES
TEN OF THE BEST: 
COLIN STEIN
JIM STEWART
RICHARD GOUGH
MICHAEL MOLS
PETER LOVENKRANDS
ALEX RAE
NACHO NOVO
BIG INTERVIEW:
BILLY SIMPSON
DAVID ROBERTSON
DEREK FERGUSON
WILLIE HENDERSON
RAY WILKINS
JOHN BROWN
TED MCMINN
LORENZO AMORUSO
CLASSIC MATCH:
ABERDEEN 1991
CELTIC 2000
KILLIE 2003
DUNDEE 2004
MOTHERWELL 1999
PSV 1999
HEARTS 2003
BORUSSIA MGB 1960
ABERDEEN 1996
THE TOP TEN:
TOP TEN: SAVES
TOP TEN: LAST MINUTE GOALS
TOP TEN: OVERHEAD KICKS
TOP TEN: SCOTTISH CUP GOALS
TOP TEN: EURO STRIKES
TOP TEN: MOST CAPPED GERS
TOP TEN: CHEEKY GOALS
TOP TEN: GOAL CELEBRATIONS
TOP TEN: FREE KICKS
Rangers 5-1 Hearts
May 18, 1996
Hampden Park
Rangers XI:
Goram,
Cleland,
Robertson,
Gough,
McLaren,
Brown,
Durie,
Gascoigne,
Ferguson (Durrant),
McCall,
Laudrup