Classic Match
Dundee 2004
AFTER this captivating and controversial joust at Dens Park that saw Rangers earn three penalties but miss two of them, a defiant Alex McLeish emerged from the away dressing room to announce: "That may just be the point that wins us the league".
At the time McLeish's stoic statement sounded for all the world like someone putting a positive spin on an increasingly difficult situation.
Just three games later, however, and his words were to prove to be entirely prophetic as Rangers swept to their 50th league title by the narrowest of margins.
The Light Blues had journeyed to Dundee on that fateful Sunday afternoon as clear favourites to clinch the SPL championship title
Two points clear of nearest challengers Celtic and having already taken nine points from Jim Duffy's side that season, it looked a certainty that Rangers would chalk up another victory on their route to the title.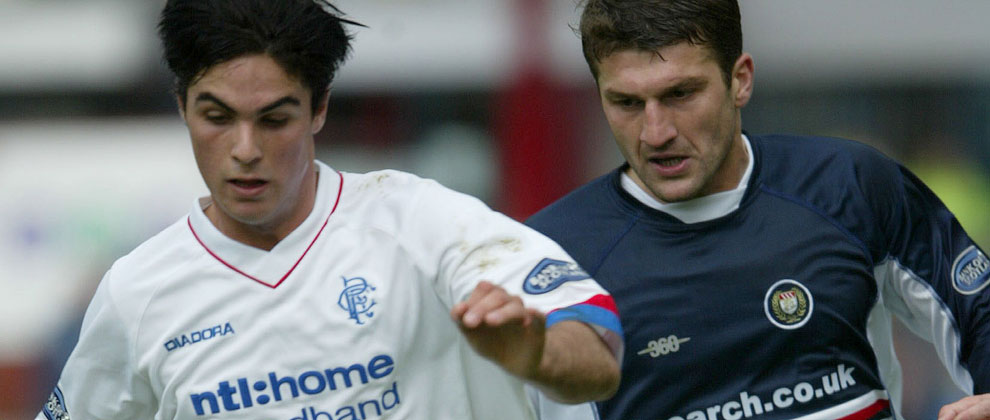 An astonishing start gave further credence to that argument when McLeish's men surged in front after only 34 seconds.
After keeping possession from kick-off, Mikel Arteta slid a pass into Arthur Numan whose cross was turned into his own net by the unfortunate Lee Wilkie.
It was a dream start for Rangers and they had several further chances to increase their lead throughout an incident-packed first half.
They were made to pay for their profligacy, however, after 17 minutes when Dundee equalised through Fabian Caballero, the Argentinian placing a perfect shot in the far left corner that gave Stefan Klos no chance.
Worse was to follow 11 minutes later. Fernando Ricksen's pass intended for Ferguson was intercepted by Zurab Khizanishvili – prior to his summer move to Ibrox – and his pass released Caballero.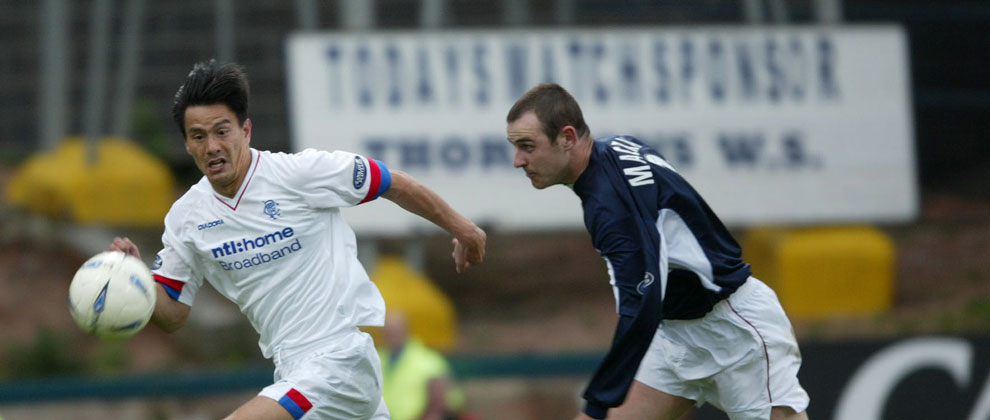 The striker was allowed a free run at goal from the halfway line and when he reached the penalty box he despatched another clinical finish to put Dundee in front.
An exhilarating match was to take two more dramatic turns just before the break when Rangers had a goal chopped off then missed a penalty just a minute later.
Ronald de Boer thought he had drawn the Light Blues level when he headed Lovenkrands' cross low past Speroni only for the assistant referee to halt the celebrations with his flag.
Sixty seconds later and Rangers had their first spot-kick of the match when Wilkie fouled Mols only for Ferguson to smack his free kick against the crossbar immediately before half-time.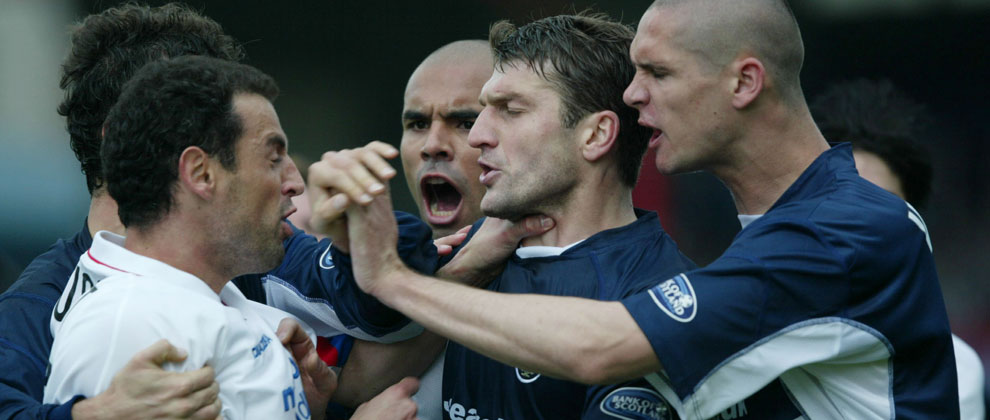 The second half was no less dramatic as play raged from end to end as Rangers chased the goals they needed for the title and Dundee tried to cling on to their lead.
The real drama, however, took place in the last 10 minutes when Rangers were awarded two further penalties.
Shota Arveladze – on for Lovenkrands – contested a hopeful long ball only for Wilkie to inexplicably barge him to the ground.
Skipper Ferguson again took responsibility but he was to be disappointed once more from the spot as Speroni guessed correctly and dived to his left to save the shot.
With Rangers' title hopes hanging by a thread, they were thrown yet another lifeline when they were awarded their third penalty of the match.
Ferguson's corner – as an immediate result of his saved penalty – was punched away by Dave Mackay giving the Light Blues their third chance to beat Speroni from 12 yards.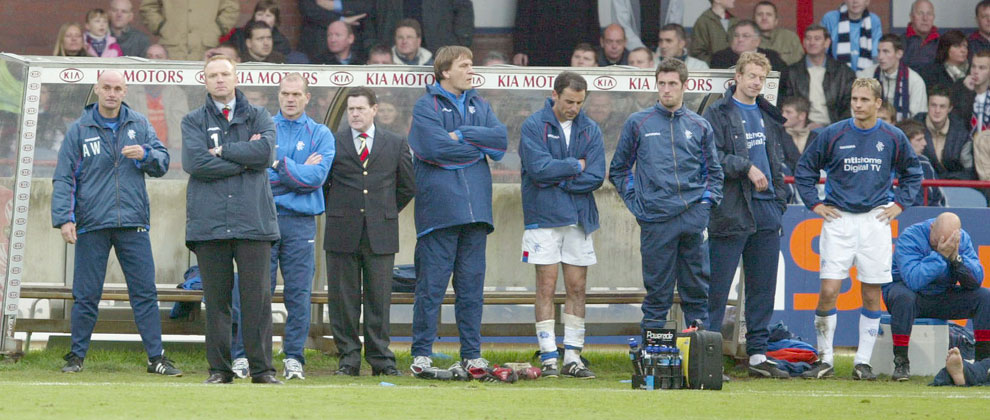 The Gers captain this time stood aside, allowing Arteta to coolly finish from the spot to haul his side back into the match.
Rangers threw everyone forward in the hope of scraping another goal to sneak the victory but could not fashion out a clear-cut opportunity and had to settle for a draw
It proved to a turning point in the season, as subsequent victories over Kilmarnock, Hearts and Dunfermline saw the league title return to Ibrox.
Michael Mols recalls the rollercoaster ride that he and his team-mates endured that eventful afternoon at Dens Park.
"At one point I thought it was all slipping away from us, especially after Barry missed the two penalties.
"We had dominated from the start and in the first 20 minutes we had a lot of chances to kill them off but didn't take them.
"We thought we had paid for it when Dundee went 2-1 up and it became a real hard match for us.
"Luckily at the end we got a third penalty that Mikel scored and that was enough to earn us a point.
"A few of the boys had volunteered to take it as everybody likes to get on the scoresheet.
"But Mikel felt confident and he took it – thankfully he scored. We were disappointed not to have won that game but a few weeks later it proved to be a very important point to win."
DUNDEE: Speroni, Mackay, Khizanishvili, Wilkie, Carranza (Milne 75), Rae, Smith, Nemsadze (Mair 89), Hernandez, Caballero, Lovell (Burchill 75)
RANGERS: Klos, Muscat (Hughes 81), Malcolm, Moore, Numan, Ricksen, Ferguson, Arteta, R de Boer (Arveladze 67), Mols, Lovenkrands (Caniggia 67)
Classic Matches Features: 
Hearts 2003
Borussia 1960
Kilmarnock 2003
Aberdeen 1991
Celtic 2000
Kilmarnock 2003
Aberdeen 1996
PSV 1999
Motherwell 1999
Dundee 2-2 Rangers
Dens Park
May 4, 2003
RANGERS:
Klos,
Muscat (Hughes 81),
Malcolm,
Moore,
Numan,
Ricksen,
Ferguson,
Arteta,
R de Boer (Arveladze 67),
Mols,
Lovenkrands (Caniggia 67)
Classic Matches Features: 
Hearts 2003
Borussia 1960
Kilmarnock 2003
Aberdeen 1991
Celtic 2000
Kilmarnock 2003
Aberdeen 1996
PSV 1999
Motherwell 1999