Big Interview
Mark Walters
On RangersTV supporters can watch in-depth one-to-ones with a lot of the club's greatest stars as they discuss their football careers and years at Ibrox.
MARK WALTERS was a quick, skilful winger who set Scottish football alight when he joined Rangers on New Year's Eve in 1987.
His ball skills were such that he could turn defenders inside out and while he set up so many goals for his team-mates during his three-and-a-half years at Rangers, he also scored 50 goals – seven against Celtic – in 144 competitive appearances.
A hugely popular player at Ibrox, Walters won three league titles in Scotland and on the dramatic final day of the 1990/91 season he provided the perfect cross for Mark Hateley to score his unforgettable header as Rangers beat Aberdeen 2-0 to make it three in a row.
The former England international – who earned one senior cap against New Zealand while a Rangers player – moved to Graeme Souness' Liverpool in the summer of 1991, despite having the middle name Everton!
In his five years at Anfield he became a League Cup and FA Cup winner and for the remainder of his career he stayed south of the border playing for Southampton, Swindon Town and Bristol Rovers.
Walters is a regular guest at Ibrox and he always receives a warm welcome from the supporters he entertained during his memorable spell in Glasgow.
WATCH FULL INTERVIEW ON RANGERSTV HERE
Name: Mark walters
DOB: 02-06-1964
Position: Winger
Rangers Appearances: 144 (1987-91)
Rangers Goals: 50
Rangers Honours:
League: 1988/89, 1989/90, 1990/91
League Cup: 1988/89, 1990/91
Teams played for:
Aston Villa, Rangers, Liverpool, Stoke (loan), Wolves (loan), Southampton, Swindon Town, Bristol Rovers
International:
1 Cap (England)
YOU MOVED TO RANGERS WHEN YOU WERE IN YOUR EARLY 20S, WAS IT A MOVE THAT CAPTURED YOUR IMAGINATION?
MW: "Yeah absolutely, at the time I'd gotten into a rut at Aston Villa.
"When I joined Villa we were in the European Cup, we'd just won the league and were going to be competing in the European Super Cup, everything was on the up. But in the last two or three years the team was broken up and became a sleeping giant.
"We got into a rut and weren't particularly successful in the league and we were suffering a bit from mediocrity.
"I had the chance then to join some really big English clubs and unfortunately at the time we were out of Europe. Then Glasgow Rangers came along out of the blue and offered me a deal.
"I travelled up to Glasgow and saw the stadium and Graeme (Souness), who was a legend down in England, sold me on the club and the rest as they say is history. It was a great move for me and things really went well."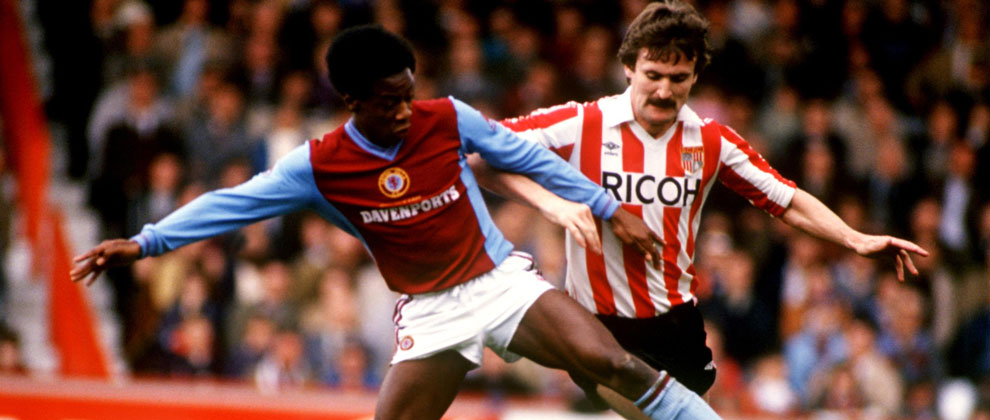 THERE WERE A LOT OF OTHER ENGLAND INTERNATIONALS AT RANGERS AT THAT TIME, HOW MUCH DID THAT INFLUENCE YOUR DECISION?
MW: "I knew that the team I was leaving compared to the team that I was joining didn't have the same quality of player and that playing with good players will only make you a better player yourself.
"Knowing that I would be playing with players like Terry Butcher, Chris Woods and Ray Wilkins had a big impact on me, along with the facilities themselves which were fantastic too.
"All of those factors combined to allow me to say that this is the club for me."
DID YOU KNOW MUCH ABOUT SCOTTISH FOOTBALL BEFORE YOU JOINED?
MW: "I knew about a few players before I joined and Davie Cooper was one of those, he was a great player.
"I remember him scoring a goal against Celtic where he knocked the ball over a couple of players' heads, it was fantastic.
"I was always an admirer of his and it was great to meet him and to play in the same team as him.
"When Graeme Souness joined Rangers that brought the spotlight back onto Scottish football.
"I had always been an admirer of the skill of the players that I'd seen in the Old Firm and I was also a big admirer of players like Richard Gough.
"I knew a little bit about it, but probably not as much as I should have."
YOU MADE YOUR DEBUT IN AN OLD FIRM MATCH WHICH YOU LOST 2-0 [ON 2 JANUARY 1988], HOW DISAPPOINTING WAS THAT?
MW: "I can remember the game, definitely, and I think that the night before the nerves had made me feel a bit ill.
"I didn't expect to play to be honest, but once I got to Celtic Park and I saw the atmosphere it was incredible.
"There had been a few things in the papers about me making my debut which I didn't like, but I knew that was going to be part of it when I joined and I was just really up for the game.
"I'd heard so much about it and seen things on the television and knew that to experience a big Old Firm game was definitely going to be the highlight of my career.
"I just remember thinking that it was going to be so exciting for me and hoping that the nerves  wouldn't get in my way.
"When the game started I remember a player being two or three metres away from me and I couldn't even hear them speak because of the atmosphere.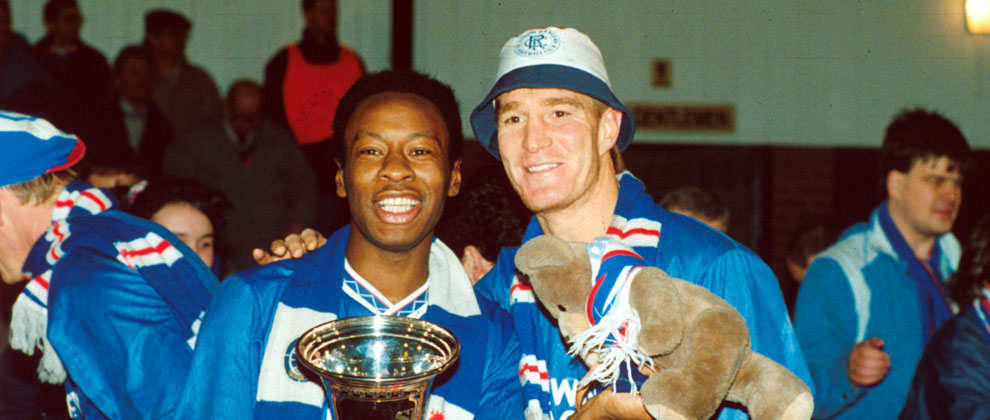 CAN YOU REMEMBER WHAT THE ATMOSPHERE WAS LIKE IN THE DRESSING ROOM BEFORE THE GAME WITH MANY OF THE BIG CHARACTERS LIKE IAN DURRANT AND ALLY MCCOIST?
MW: "Those two were funnily enough some of the quieter ones if you like, even though they are two of the more jokey people.
"When it came to the game they were very quiet, very solemn and getting ready and focused for the match.
"The louder ones were guys like Terry Butcher. He had a phrase that was something like "we're caged tigers" that he would always say and he used to always get us all going with words like that.
"It was always an unbelievable atmosphere within the dressing room and you just wanted to get out there and play there and then."
YOUR FIRST SEASON WAS A TERRIFIC ONE WITH ELEVEN GOALS, A LEAGUE WINNER'S MEDAL AND A LEAGUE CUP WINNER'S MEDAL, FALLING JUST SHORT OF DOING THE TREBLE?
MW: "Absolutely, missing out on the Treble was a great disappointment at the time as we felt that we could have cleaned up everything that season, but it was great to be involved with such great players and to be winning regularly.
"The camaraderie was great and we all got on with each other not only on the pitch but off it too.
"It was just a dream come true and I was living out my dream at the time, which was winning things and that is what I came to Rangers to do."
WHO DID YOU GET ON WITH BEST IN THE DRESSING ROOM?
MW: "I probably got on best with the guys who were around my age, like Ian Durrant, Derek Ferguson, Ian Ferguson and Ally McCoist.
"Particularly Ian at the time who took me into his flat and made me feel really welcome, taking me out into town to some
really nice places and he helped me to feel at home.
"I owe a lot to Ian for making me feel settled because it was a massive upheaval for me.
"I had never lived away from home and had maybe been molly-coddled a little at Aston Villa with my family being there.
"I have to thank Ian for welcoming me and also when my family came, the club and the players made my family feel
welcome too."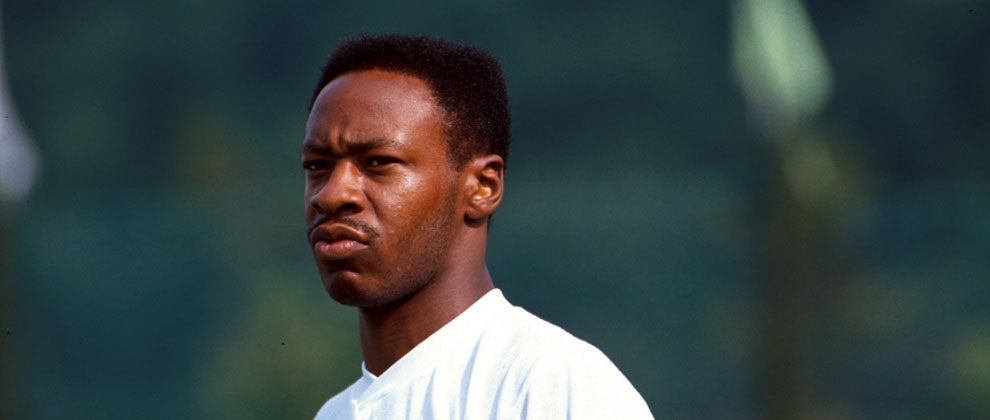 WHAT DO YOU REMEMBER ABOUT YOUR FIRST TROPHY SUCCESS, A LEAGUE CUP WIN OVER ABERDEEN IN OCTOBER 1988?
MW: "It was a fantastic atmosphere in front of what felt like a packed house.
"We didn't play as well as I think that we could have, wewere maybe a little complacent because we were odds on favourites to win it.
"It was a fantastic day for me as I hadn't won anything for a very long time and just to be able to say that I'd played in a Cup final and won a medal was a great achievement for me.
"I enjoyed the whole day and not just the match. It was fantastic for me and it was maybe the first part in a jigsaw of bonding us all together."
COULD YOU SENSE THAT THE TIDE WAS BEGINNING TO TURN AGAINST CELTIC AT THAT TIME AND IT WAS THE START OF SOMETHING SPECIAL?
MW: "You could tell from very early on when we were away on pre-season.
"You would look around the dressing room and you'd see the quality and you knew that you couldn't afford to be injured because if you were there was someone ready to take your place.
"That is one of the greatest motivators as a player, knowing that if you can't play that someone else is there ready to step in.
"We knew straight away that we were going to have a great season that year and that barring a disaster we were going to clean up."
HOW WAS GRAEME SOUNESS TO WORK UNDER?
MW: "I really enjoyed working under Graeme and obviously he had this reputation as being abrasive with people and so on, but it's like any other job, if you know who the boss is then you are going to get on fine.
"If anyone thought they were going to be the boss alongside the boss, then that's where there were going to be problems with Graeme.
"I knew my place and I didn't have any problems with him at all, he was really good for me and a great manager.
"I honestly believe that he really helped my game, without a doubt.
"He knew the game inside out as he was a world class player himself, some of the other managers that I've had had never experienced some of the things themselves, like knowing what it can be like to miss a penalty in front of 40,000 people or to miss a sitter.
"Graeme had done all of that before so it was always great to talk to him about things and it was one of the things that made him one of the better managers that I ever worked with."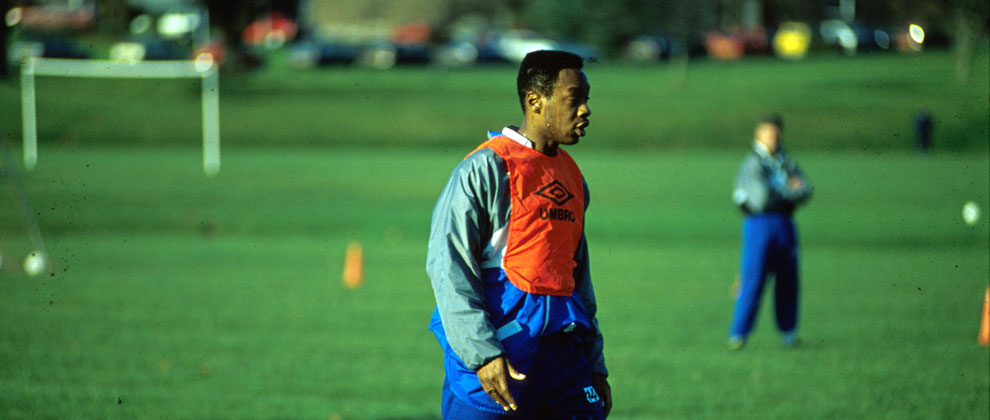 HOW WERE THE RANGERS FANS WITH YOU?
MW: "The Rangers fans were excellent with me, even to this day, and I can't ever thank them enough, they made me feel so very welcome.
"Maybe because of some of the problems I had they were even more behind me and maybe forgave a few bad performances because of that.
"They were fantastic for me, they really helped me and encouraged me and every one of them was fantastic."
YOU WERE KNOWN AS THE PERFECTOR OF THE DOUBLE SHUFFLE IN YOUR CAREER, WAS THAT SOMETHING THAT YOU PRACTICED AS A YOUNGSTER?
MW: "Absolutely, one of the first players that I saw doing it was Johan Cruyff.
"He had a few moves and of course had the Cruyff turn that was named after him. It's like what happens with
most youngsters, they see a player do a move and they try to copy it and practice it and practice it.
"I was fairly comfortable with both feet, so it worked fantastically for me as I could go either side – I really worked on it and felt that I perfected it."
YOU WERE A CROWD PLEASER BUT HOW HAPPY WERE YOU WITH THAT TAG?
MW: "Where I grew up that was how we enjoyed our game and the way that we all played in the playground.
"If we skilled someone up, that's what we could call it, it was neverseen as taking the mickey out of them because that's just the way that we played.
"Skilling someone up you always wanted to try to put someone on their backside, I suppose it was to please my peers at the time and that transpired to trying to please supporters.
"In the end it became a way to create a yard in order to get a shot away, or get a cross in."
YOU WEREN'T ONLY A CREATOR, YOU SCORED YOUR OWN FAIR SHARE OF GOALS TOO.
MW: "Yeah, I was fortunate enough to get the odd goal here and there.
"I'm like a frustrated centre forward, I've always wanted to play up front and it was when I was at Aston Villa that I moved into a wide position because there were quality England players ahead of me there.
"I ended up playing wider which always meant that I was a bit of a frustrated centre forward.
"A manager would give me into trouble for coming inside into a striker's position, but I'd sometimes get into a good position and grab a goal and it stood me in good stead."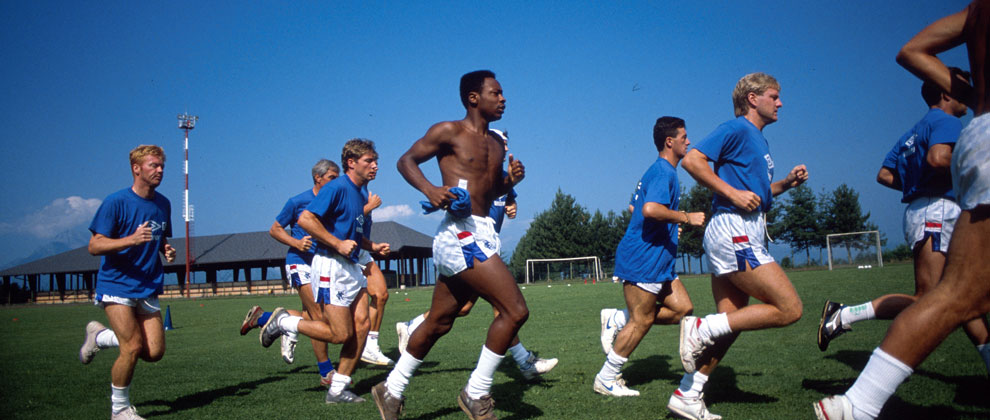 WAS THE LAST TITLE OF YOUR TIME AT THE CLUB PERHAPS THE BEST AS YOU WON IT AGAINST ABERDEEN RIGHT AT THE END?
MW: "Yes definitely, because it was a very hard fought one.
"It was a massive game with a lot riding on it and we were able to turn around what was a poor performance to get a result.
"That one definitely sticks out in my mind above the others and I crossed the ball for Mark Hateley (right) to score with the header to set us off."
HOW SPECIAL AN ACHIEVEMENT IS IT THAT YOU WERE PART OF NINE IN A ROW?
MW: "It was fantastic, something that will go down in history, and no one can take that away from you.
"It was a fantastic achievement because people don't realise, particularly down in England, how difficult it is to win that many championships in a row – it's an honour that I'll take to my grave.
"In 100 years' time, people will be able to look back and say that little Mark from Aston was able to help achieve that."
LOOKING BACK, HOW DOES YOUR TIME AT RANGERS RANK AMONGST THE OTHERS THAT YOU PLAYED?
MW: "I had great times at every club that I played at, right down to when I played for Wolves and Swindon Town, but without a doubt playing for Rangers was the pinnacle of my career.
"The supporters were fantastic, we won virtually everything that we went in for and I made some friends that I am still in touch with to this day.
"Without doubt, playing with Rangers was a massive part of my life.
"Someone said to me when I joined that playing for Rangers was like joining a special little club that you'll never forget and that you'll always want to be involved with, it's absolutely true."