Dundee Utd 0-1 Rangers
Laudrup Clinches Nine In A Row
RANGERS clinched nine in a row twenty years ago and here we look at the match report that featured in the Rangers News as the Gers defeated Dundee United 1-0 at Tannadice.
Walter Smith wrote his name into the history books at 9:15 pm at Tannadice.
The man who was raised a Ranger just one mile from Celtic Park clinched the club's ninth successive League Championship at Tayside.
And didn't he enjoy it!
Afterwards, the emotion was clear to see on the Gaffer's face as the cup was charged in front of 5,000 red, white and blue onlookers in the ground.
Like all Rangers supporters up and down the country, a huge weight had just been lifted from Smith's shoulders.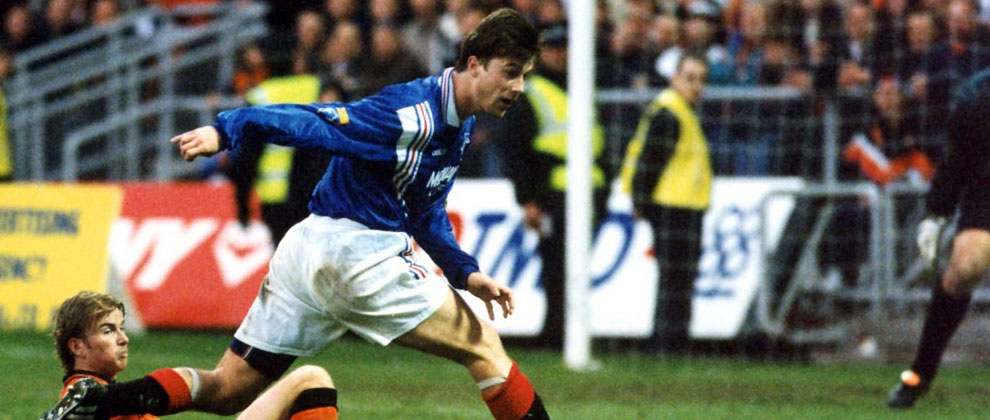 The game wasn't just about gaining that one point needed to secure the ninth successive Championship: it was a triumph over those who said it would never be possible.
For years pundits, former players and Parkhead personnel said it couldn't happen. Well, it has and how the Ibrox hordes are revelling in the fact!
The mock huddle at the end of the game proved how much this title means to everyone associated with the club.
It may have been a cheeky conclusion to a nerve-wracking 90 minutes but it signalled the end of a nail-biting season.
Chants in the name of Richard Gough rocked the stadium as the skipper saw his teammates clinch the title.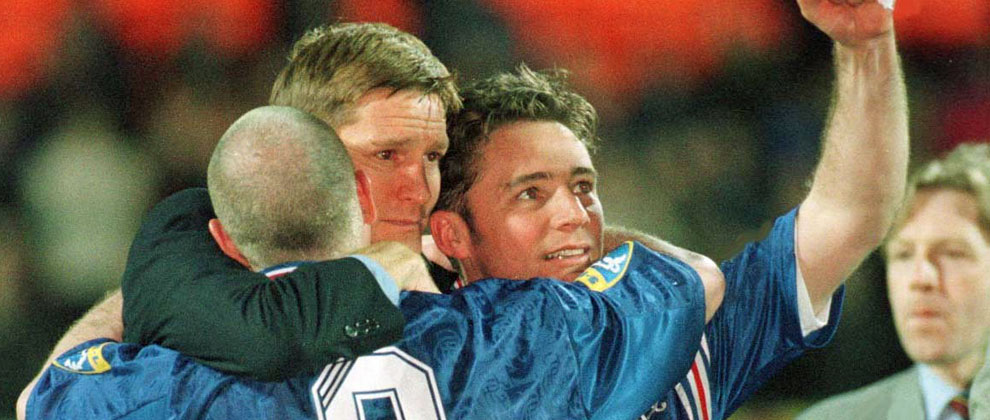 Gough didn't play – but he wanted to be there to see his dream come true.
His appearance on the pitch afterwards is the last Ibrox fans will see of the inspirational defender as he moved on to America to join Kansas City Wiz.
Finding a replacement captain with such enthusiasm for the club will be a tough job for Smith.
Indeed, Gough joked afterwards, "I'd like to take the cup with me! But I'm happy to have left on a high note."
It was Brian Laudrup who hit the only goal of this action-packed game in the 11th minute. But his solitary strike was all that was needed.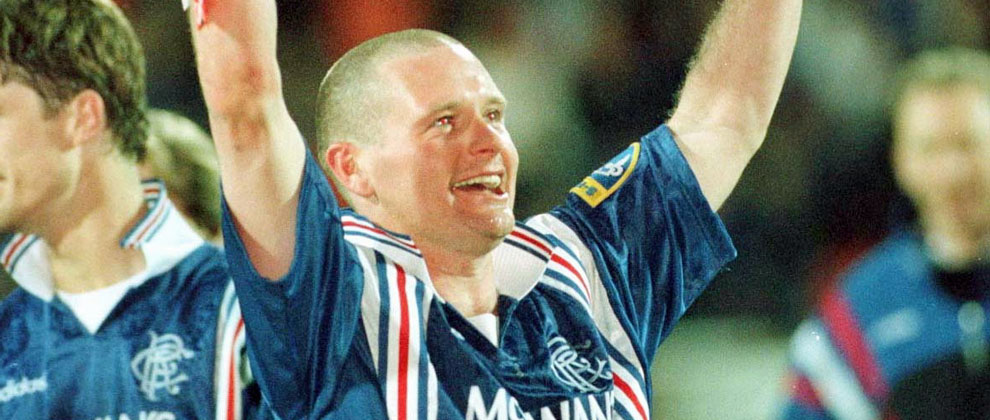 Charlie Miller – who stepped into the historic match at short notice – was clearly the man of the match.
But every man in Light Blue ran their heart out. There was an air of the determination that had been so clearly missing against Motherwell two days earlier.
But some questionable refereeing by Stuart Dougal, who produced no less than five yellow cards in a crazy nine minutes, didn't help the night's proceedings.
Rangers got over that handicap by outperforming their opponents. Up front, Gordon Durie came close and Craig Moore almost made his mark.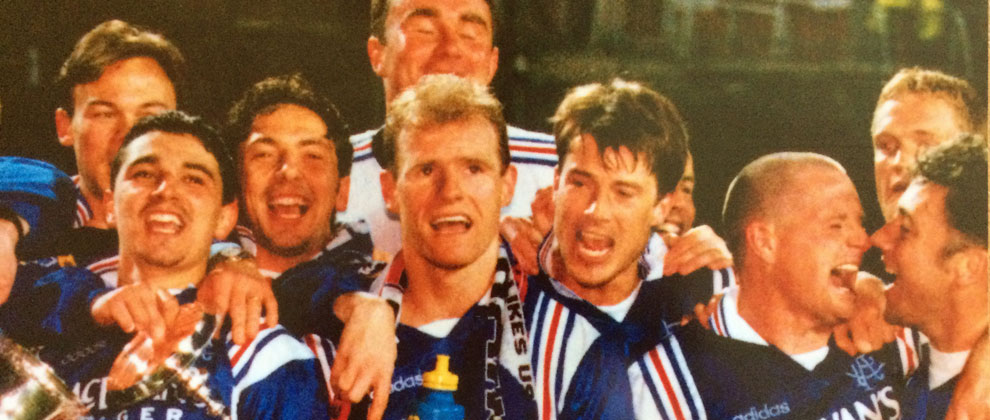 Gazza was also in the thick of it, and came close to a goal when he rattled a cute free-kick off Dijkstra's left post.
In fact, Gazza's willingness to play for the entire 90 minutes was evident as he looked none to happy with a decision by the Ibrox bench to take him off.
The Geordie genius stayed put until the last minute of the game when he got a standing ovation for his efforts.
Over at Parkhead, Kilmarnock held a sorry Celtic to a no-score draw. But for those who had travelled to Dundee, it was a truly satisfying night.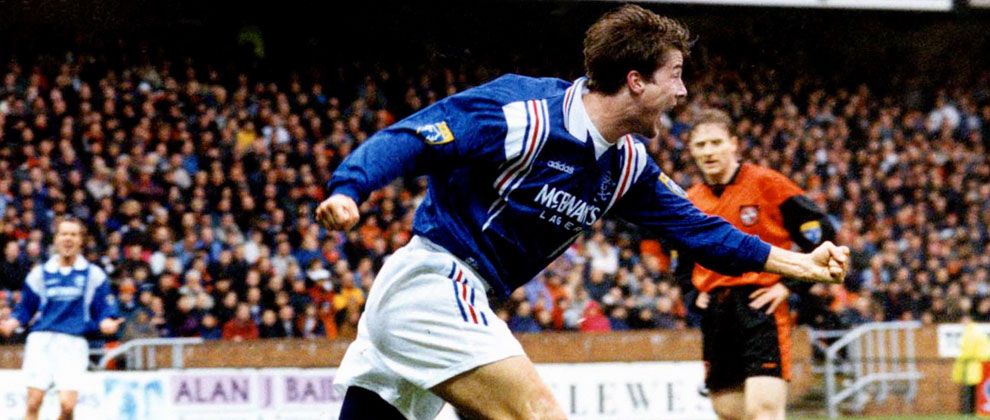 A decade's worth of titles is undoubtedly where the focus will turn next season – but Rangers can afford to wallow in their own pride for the moments.
For young fans reading this, it may jus be another championship. Speak to your dad and grandad, though, and ask him about the other side of the Old Firm dominating the league in the 60s and 70s.
The reply will be along the lines of the hurt that has been there for all those years. That hurt is now gone.
This is Gers' time to celebrate.
DUNDEE UNITED: Dijkstra, McInally, McKimmie, Pressley, Perry, Pedersen, Olofsson, Zetterlund, McSwegan, McKinnon, McLaren
RANGERS: Dibble, Cleland, Robertson, Petric, McLaren, Bjorklund, Moore, Gascoigne, Durie, Miller, Laudrup
SCORER: Laudrup 11′
BOOKINGS: Zetterlund 24′, Moore 27′, Laudrup 28′, McLaren 30′, Petric 33′
REFEREE: S Dougal
ATTENDANCE: 12,000
A Special Moment
THERE are certain moments in football which etch themselves in the memory forever.
Great goals or sublime pieces of skill will always be remembered although with Brian Laudrup you might just be stretching the point.
After all, there is only so much information one can log in the old memory bank.
However Danish wizardry apart, who can ever forget David Pleat's gallop across the Main Road turf as his Luton side avoided relegation on the last day of the season?
Or what about Gazza's tears during Italia 90 when he was yellow carded against Germany in the semi-final.
Special moments like there often tinged with sadness or joy or even sometimes both, happen very rarely and often quite fleetingly.
But, when they do, and in particular if it involves your team, then it's something you'll never forget.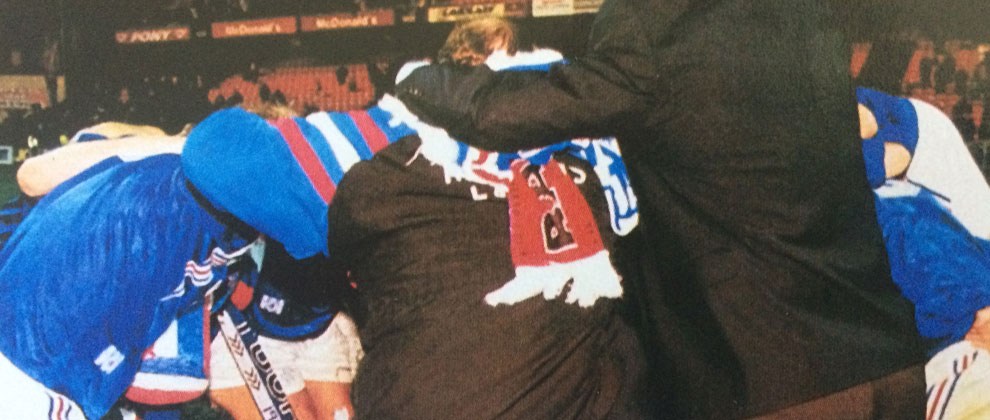 One such magical occurrence took place following Rangers' title-clinching victory over Dundee United at Tannadice last Wednesday.
Following the emotional presentation of the league trophy to the departing captain Richard Gough and the celebratory lap of honour the Follow Follow brigade got exactly what they'd been waiting for.
Led by Brian Laudrup, the 14 Gers' players ran into the centre circle and linked arms to form a nin-in-a-row huddle.
Then out of nowhere gaffer, Walter Smith sprinted fully 50 yards and swallow-dived on top of his victorious team.
It was a stunning spectacle and sent the already delirious Rangers fans into complete ecstasy.
The Gaffer's actions were only brief but those few seconds summed up exactly what nine-in-a-row meant for every single Rangers fan lucky enough to be inside the ground last Wednesday night.
Come On Over To My Place
THOUSANDS descended on Ibrox last Wednesday night to welcome home the triumphant Tannadice nine-in-a-row heroes.
Edmiston Drive had to be cordoned off after hordes of fans turned up in the mood for one big street party.
Their carnival plans were thrown into chaos on Monday but this was a moment Rangers fans have waited a lifetime for and they certainly weren't going to let it pass.
However, like Monday, the supporters were made to wait when the team bus was delayed following their short tour around George Square, where fans had also congregated.
But their patience, stretched to the limit against Motherwell, was rewarded when the victors returned just before 1 am to parade the spoils amid incredible scenes.
Once again it was Gazza who stole the show. Unlike all the other players who donned suits, the Geordie genius hadn't changed and was still in his full strip as he emerged from the bus clutching the league trophy.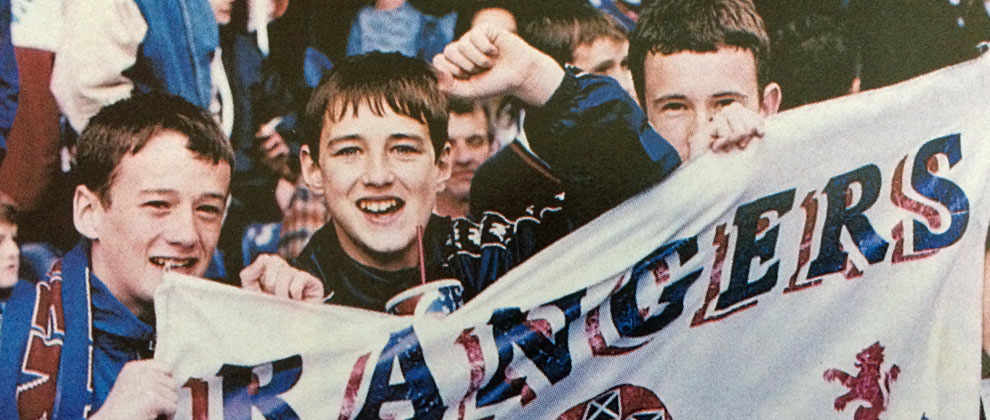 For some, the occasion proved too much and just like Richard Gough had done earlier in the evening, they shed a few tears.
Yet, it was tears of joy for supporter Annette McGartland who reckons Walter Smith's side saved her life.
Annette (46) from Ibrox underwent a serious heart operation last October but it was Rangers' nine-in-a-row dream which gave her the will to survive.
She said: "This means everything in the world to me. I nearly died after my heart operation but I was determined to survive and see Rangers win nine-in-a-row.
Annette added: "Walter Smith should be knighted for his achievements."
Chic Ramsay (38), a British Steelworker from East Kilbride was another fan quick to praise the Rangers manager.
He said: "His best piece of business was buying Brian Laudrup. He's made such a big difference and this season he's been outstanding."
And David Aitken (24) from Glasgow added, "After all the hype surrounding Monday's game it was such an anti-climax but after tonight's win it's difficult to put into words what it feels like
"To say I am over the moon is an understatement although I'm heartbroken that Richard Gough is leaving."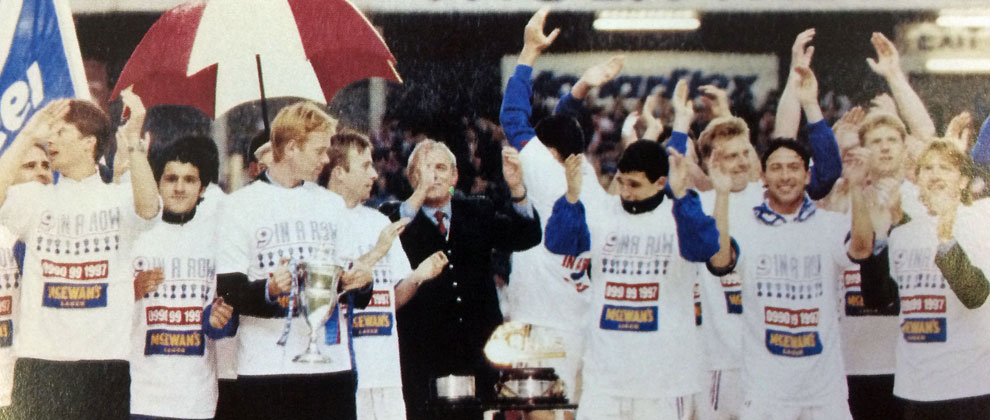 Brother and sister William (12) and Kim Muir (11) from Linwood are barely old enough to remember the first success in season 1988-89 but last Wednesday was a day they'll forever remember.
"I couldn't get a ticket for the Dundee United match but I listened to it on the radio and it was brilliant," said William.
Youngsters Lesley Milligan (16) and Michelle Mitchel (16) both from Pollock also missed the match but were determined not to miss the party.
They were at the Motherwell game so their nine-in-a-row festivities had to be put on hold for nearly two days!
Lesley said: "Brian Laudrup has played like a god all season and he proved it again when he grabbed the decisive goal to give us the championship."
And although not quite a youngster anymore Billy Nicholls (30) from Rutherglen recalled his childhood when he had to endure Celtic winning nine-in-a-row.
"I was at school when Celtic won the league nine times and I took stick from the kids and even some teachers." said Billy.
"However, this is now payback time and for us to equal their record means everything to me. It;s the greatest feeling in the world."