FOLLOWING the successful launch of Rangers Soccer Schools in Northern Ireland, the Club will integrate their Player Development Programme from September 2017 with Soccer Centres to launch in locations across the country.
Rangers legend and Club Ambassador John Brown officially launched the Rangers Soccer Schools Centres in Northern Ireland on August 9th, 2017.
Similar to the Club's established Soccer Centres in Scotland, these best in class programmes will help identify Light Blues Heroes of the future by engaging and inspiring boys and girls to participate in football at grassroots level in hubs across the country including Belfast, Antrim, Portadown, Larne and Newtownards with the hope of extending this to other parts of the province.
Rangers UEFA qualified coaches will deliver clinics to local Clubs and be on hand to encourage physical activity and social interaction whilst nurturing a positive environment that will allow boys and girls of all ages to develop, thrive and prosper.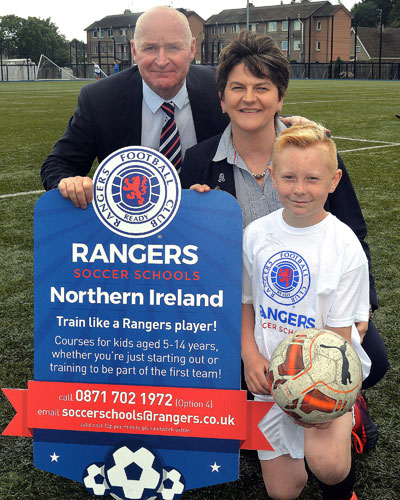 John Brown commented: "Programmes like these are not just essential for identifying future stars of the game but they help to create a safe environment for kids to come, build their confidence and express themselves through football."
Gary Gibson, Rangers Soccer Schools Manager added: "Rangers Soccer Schools are delighted to build on our existing infrastructure in Northern Ireland and we look forward to working on projects with Clubs in the area that provide a vision for our youth through football."
For further information or to book a place please call 0871 702 1972* (Option 4) or email [email protected] *Call costs 13p per minute plus network extras
Further Information:
Soccer Centres are open to kids aged between 5-14 years, whether they are just starting out or training to be part of the first team.
The programmes are designed to challenge boys and girls to maximise their potential with innovative sessions replicating that of the first team and Rangers Youth Academy.
Participants will be suitably grouped together under the guidance of highly qualified Rangers coaches to progress individual abilities.
Schedule of Events:
Londonderry Park, Newtownards Monday & Wednesday, 5:15 to 6:15pm
Allen Park, Antrim Monday, 7 to 8pm
Brownstown, Portadown Sunday (Time – to be confirmed)
Ashfield Boys, Belfast Tuesday & Thursday, 5 to 6pm
The Cliff, Larne/Carrick Rangers Academy Sunday (Time – to be confirmed)
Photography Copyright: Tony Hendron/Tonypixnews. 10th August 2017