DAVID Kirkwood has had his life changed by the Rangers Football Fans In Training course after losing a whopping three and a half stone.
The 53-year-old from Irvine was one of the latest group of participants to take on the free 12 week programme at Ibrox, which is funded by the SPFL Trust.
David achieved the best results out of the group and says the experience has been an overhaul of the lifestyle he used to lead. He lost nine inches off his waistline over the same period.
In total David and his fellow FFIT lost 54 stone and 258.7 inches. Additionally most participants saw their blood pressure reduce. That was through dietary changes and exercise with the help of trained professionals who run the course.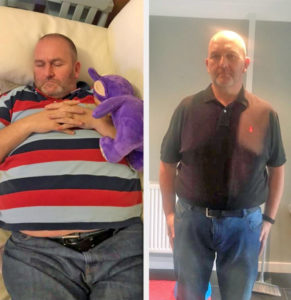 The main draw of the incredible programme is training inside Ibrox Stadium every Monday evening. There they work with football and health coaches and also receive an official Rangers training top to feel part of the team!
You could be the next David – all you have to do is take the first step and sign up to the latest course.
The 12 week programme includes an initial health check and introductions on the first session, with subsequent sessions being split between classroom health education and physical activity sessions.
The course covers lifestyle issues such as:
Weight management
Physical activity
Diet and healthy eating
Alcohol awareness
Motivation and well-being
---
Eligibility
Both men and women are eligible to take part if they are age 35 – 65 and meet any of the following criteria –
BMI of 27+ (Calculate this by visiting http://www.nhlbisupport.com/bmi/)
Waist measurement 100cm+ (measure your waist and go around your belly)
Trouser waist size of 37 inches+
Please note that anyone who has previously been on a Fit Fans course will not be able to participate.
---
Contact
To register please email [email protected] or phone 0141 580 8775 with the following details –
Name
Address
Date Of Birth
Contact Telephone
BMI / Waist / Trouser size