WINNING the under-18 league with a core of players younger than the maximum allowed age is the 'most pleasing thing' according to coach David McCallum.
More than half of Gers' players this season are from the under-17 age group, with some even younger, and coach McCallum is thrilled with their contribution to crown the Light Blues as the Champions.
Speaking to RangersTV at Oriam this afternoon after they defeated Hearts 3-1 to clinch the title, McCallum said: "I think one of the most pleasing things is when you look at the make-up of our group, throughout the season, we have challenged boys who are playing under-18 football, there are under-17 players – in fact 50 per-cent of our starting team have been under-17 players – we have under-16 players who have dipped in at different parts of the season, and we have Leon King who is and under-15 player.
"That in itself is probably the most pleasing thing. Yes, we have the reward at the end and we look forward to next season, but the bigest thing we can take forward is how we have done it and making sure we have challenged players up into different age groups."
Winning the league is one thing for Gers, but the major prize they had their eyes on is qualification for next season's prestigious UEFA Youth League.
McCallum continued: " [That's] Huge, absolutely huge. We have watched from a distance and seen Hamilton go and do well in the Youth League this season, and we want to be a part of that.
"That's the biggest prize – the cup is good, the medals are nice, but ultimately, it's the opportunity to go and be challenged further in a more competitive environment.
"I think that is something to really look forward to next season."
The campaign has been one of major highs for the group with both domestic trophies secured, while many of the players were also involved in the stunning triumph in the Alkass Cup in Qatar back in February.
McCallum said: "The season has been terrific when you look back on it. First and foremost, the reason they are league champions is because of the way we have played.
"We always make sure we push them in a certain way in terms of game style with and without the ball, and the reason they have got to this point today is the way they have applied themselves and applied that style of play itself.
"We have been ruthless in terms of the goals we have scored, and I think we are sitting on 64 goals over the course of the league campaign, which is almost an average of three per game, and we always look like a team that is going to do that.
"Defensively as well, our goals-against record is sitting at 14, so the lads have deserved it thoroughly."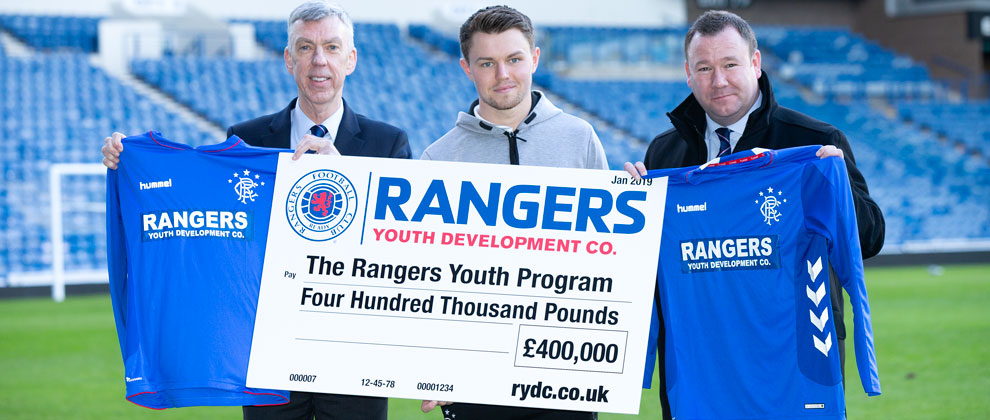 Since 2002, Rangers Youth Development Company profits have been directed to Rangers Football Club's youth programme – with almost £8 million provided to date.
And in January this year, Academy Head Craig Mulholland and youth graduate Glenn Middleton accepted an RYDC donation of £400,000.
For full details on RYDC's growing portfolio of products – the re-launched Rangers Pools, Rangers Lotto, Rising Stars, Scratchcards, Stadium Bricks and the Youth Members Club – visit www.rydc.co.uk or call 0141 427 4914.
The Rangers Youth Development Company has donated almost £8 million to the Rangers Academy since 2002.
One of their main revenue generators is Rangers Lotto – which costs just £1 to play, is one of the most successful products in RYDC's growing portfolio and fans have won cash prizes of £10 million since it was launched in 1994.
For full details on all their products – Rangers Lotto, Rangers Pools, Rising Stars, Scratchcards, Stadium Bricks and the Youth Members Club – visit www.rydc.co.uk or call 0141 427 4914.