RANGERS Reserves have 'surpassed' expectations by winning this season's SPFL Reserve League according to coach Graeme Murty.
The Light Blues wrapped up the title on goal difference this afternoon, beating Falkirk 3-1 to take the trophy by four goals.
Murty is thrilled with Gers' efforts across the season, as yet again, they claimed success with an exceptionally young team.
Speaking to RangersTV, Murty said: "We have been, as we tend to be, quite young with the majority of our team an under-19 team with under-17s and under-16s in there to make sure we get the right challenge.
"The guys, when we started out the season, tried to project where we would be, and we thought we would be competitive.
"But, they have surpassed what we thought we would do and I think when you see some of the play that we got up to today and the way we moved the ball, and shifted it and created problems, they deserve to be at the top of the league.
"So we are relieved that they've got to finish it off in a proper style today."
Gers have won each of their last five matches to come from well behind in the race for the title, but the style in which they have done it as well as their growth is what has pleased Murty most.
He continued: "I keep mentioning the refocus we had, but it is really, really critical. The guys said they wanted to win five games to win the league, and they managed to go and do that.
"Unfortunately, we came up short last week in the Glasgow Cup, but the resilience they showed to bounce back from that, and the resilience they showed to come back from 1-0 down, I thought was outstanding.
"Some of our play was great to see and really, really gives me hope for the future. But also, we look at the players we have, and the growth they have had has been the important thing.
"I keep on saying it, winning the league is lovely and it is a really good accolade for the players, but the development they have had and the growth they have shown is the thing which pleases me the most.
"We learned from the defeat last week, and it was difficult and it was hard. It will sort them out in the future and it will bode well for the future for their development, but it is nice to learn how to win, and to learn how to win through a long season is difficult to do.
"But, they maintained their standards and they maintained their quality and they pushed one another every single day in training.
"Every single day in training they pushed to try to get better and better and to improve and try to make sure they secure that next step.
"This is a fantastic accolade for them, but I keep on reiterating it to them – don't let this be the highlight of your Rangers career.
"Take this as a springboard to go on to bigger and better things, and if they do that, I will count my job to have been well and truly done."
Murty has often spoken for the need for his players to play in front of a crowd, and to have in excess of 900 Rangers supporters at the Falkirk Stadium this afternoon delighted him.
He said: "It was brilliant and they created a really good atmosphere. There was that little bit where we went behind and the players had to deal with that as well – it is all to their development and it is all to their growth.
"There are not a few of them who will be surprised by the quality we showed, the ability our players have and their understanding of the game.
"It showed up really well to hopefully a new lot of Rangers fans who can go away talking and enthusing about this young group as we do and hopefully they are ready to support them on their next step."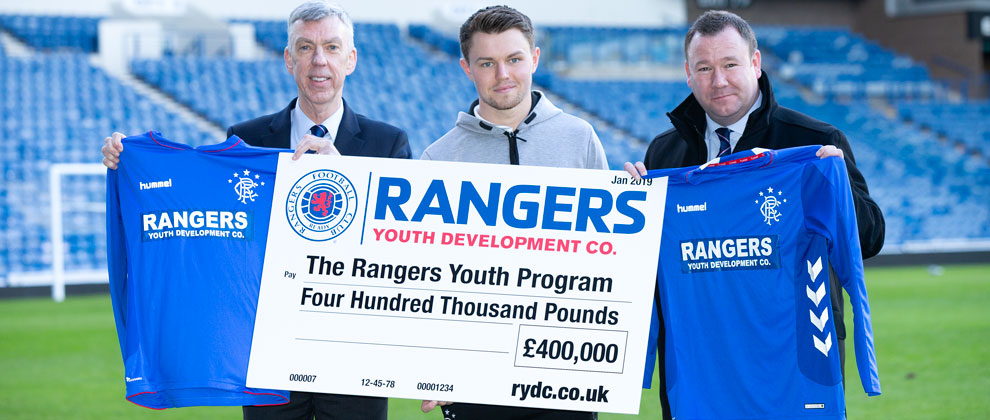 Since 2002, Rangers Youth Development Company profits have been directed to Rangers Football Club's youth programme – with almost £8 million provided to date.
And in January this year, Academy Head Craig Mulholland and youth graduate Glenn Middleton accepted an RYDC donation of £400,000.
For full details on RYDC's growing portfolio of products – the re-launched Rangers Pools, Rangers Lotto, Rising Stars, Scratchcards, Stadium Bricks and the Youth Members Club – visit www.rydc.co.uk or call 0141 427 4914.
The Rangers Youth Development Company has donated almost £8 million to the Rangers Academy since 2002.
One of their main revenue generators is Rangers Lotto – which costs just £1 to play, is one of the most successful products in RYDC's growing portfolio and fans have won cash prizes of £10 million since it was launched in 1994.
For full details on all their products – Rangers Lotto, Rangers Pools, Rising Stars, Scratchcards, Stadium Bricks and the Youth Members Club – visit www.rydc.co.uk or call 0141 427 4914.