COACH David McCallum views tomorrow's Scottish FA Youth Cup final as a chance for his side to "showcase" their talents.
The Light Blues' under-18 side face Celtic at Hampden as they look to lift the trophy for the first time since 2014, and they'll have the chance to do so in front of the watching nation with the match being broadcast live on BBC Scotland.
Speaking ahead of the match, coach McCallum explained: "We're looking forward to it and it's an opportunity for the boys to go and showcase what we are about and how they play, as a group first and foremost, but also as individuals.
"They have an extra bit tomorrow with the TV audience, and that's another challenge we like to put the boys in front of, and hopefully they'll show up well.
"We have always said from the start of the season our challenge is to keep pushing these players to try and accelerate their development.
"Added to that, the manger is going to be coming along as well so it's another chance for them to show what they can do in a more-pressured environment.
"The games between both clubs at this age group have been competitive, and there have been a lot of goals this season so far.
"While we have that belief – and of course we do as the guys have done well for most of the season irrespective of who we have been against – this is just another one.
"We won't treat it any differently and we'll ask them to focus in the same way and concentrate in the same way."
Some of the players in the squad will have the opportunity to win up to four trophies between now and the end of the season given, as well as being involved in the two under-18 competitions, a number will be involved with the Reserve side as they chase glory in the league at that level and also the City of Glasgow Cup.
Being involved in the hunt for trophies at this advanced stage of the season is hopefully something the youngsters will experience if they progress to the first-team, and McCallum added: "We can't hide them from that. For the under-18s and the Reserves, the most important thing is to produce and develop players, but part of playing for Rangers is to try to win trophies.
"So yes, we have got to this point in this cup where we have a one-off game to try and win a trophy, and players go into games with the aim to win games as well, and we will try to do that.
"Then in the league thereafter, they are in a good place to go and do that as well. However, it is still do be done and we are still to get over the line, and I'll keep reiterating the message – by playing the way we play in and out of possession, they give themselves the best chance and that's why they have got into this position.
"Getting to the final and getting to where they are in the league is as a result of the performance levels achieved up to this particular stage."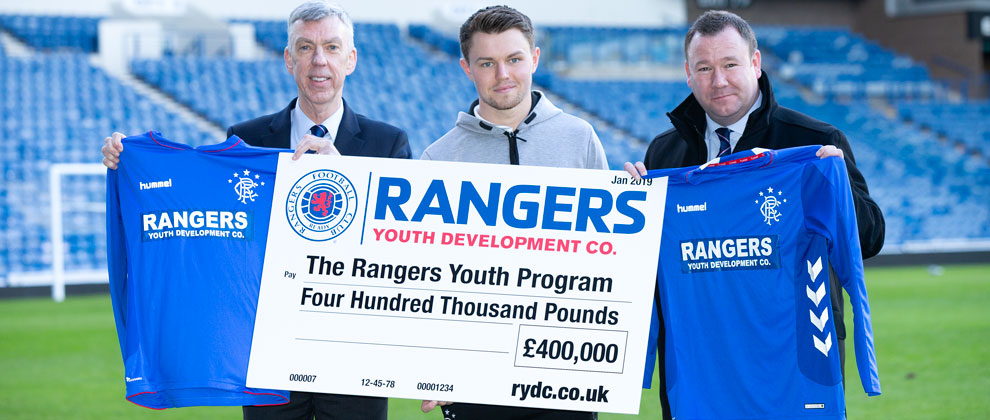 Since 2002, Rangers Youth Development Company profits have been directed to Rangers Football Club's youth programme – with almost £8 million provided to date.
And in January this year, Academy Head Craig Mulholland and youth graduate Glenn Middleton accepted an RYDC donation of £400,000.
For full details on RYDC's growing portfolio of products – the re-launched Rangers Pools, Rangers Lotto, Rising Stars, Scratchcards, Stadium Bricks and the Youth Members Club – visit www.rydc.co.uk or call 0141 427 4914.
The Rangers Youth Development Company has donated almost £8 million to the Rangers Academy since 2002.
One of their main revenue generators is Rangers Lotto – which costs just £1 to play, is one of the most successful products in RYDC's growing portfolio and fans have won cash prizes of £10 million since it was launched in 1994.
For full details on all their products – Rangers Lotto, Rangers Pools, Rising Stars, Scratchcards, Stadium Bricks and the Youth Members Club – visit www.rydc.co.uk or call 0141 427 4914.