RANGERS have won the Scottish FA Youth Cup for the first time since 2014 with a deserved win over Celtic at Hampden Park this evening.
Gers raced into a two-goal lead thanks to Ciaran Dickson and Dapo Mebude, but Celtic hit back to level at the start of the second half before Nathan Young-Coombes won the match midway through the second half.
Gers, who hold the advantage over the other half of the Old Firm in the under-18 league, started the brighter and were so nearly ahead inside three minutes.
Picking up a Ben Williamson ball out on the left, Dapo Mebude's drilled cross worked its way through to Nathan Young-Coombes, with Liam Morrison of Celtic making a super block on the Englishman's shot from inside the six-yard box.
There then followed a succession of corners for Gers, and at the end of the third of those, they took the lead on five minutes.
Kai Kennedy's ball into box was dummied at the front post by Nathan Patterson before it ran through to Ciaran Dickson, who was well-stationed on the edge of the area. He took a touch with his left foot, put it onto his right and curled the ball superbly into the bottom corner.
It was the ideal start for Gers at the National Stadium, and things got even better for them just over a minute later with the arrival of the second goal.
Williamson was fouled for Gers around 30-yards out over lightly to the left, with Kennedy and James Maxwell standing over the dead ball.
Maxwell shaped to curl the ball into the area first, wrong-footing the hooped defence before Kennedy picked out Kyle McClelland on the edge of the six-yard box to head down to the edge of the area.
There to collect it was Dapo Mebude, and he smashed the ball into the back of the net to put his side in dreamland.
Gers continued to threaten, and Josh McPake came close to a quite stunning goal after skinning three defenders before seeing his effort blocked by goalkeeper Liam Hughes at the front post before the rebound fell to Williamson 25-yards out, with his effort whistling just wide.
Indeed, it was 32 minutes before Lewis Budinauckas was seriously tested in goal for Gers as he had to turn away a Barry Coffey effort from distance.
Budinauckas then saved well from Armstrong Oko-Flex as Celtic came into the game more, while Maxwell had an effort of his own go just wide for Gers.
Into the second half, and within two minutes of the restart, Celtic pulled a goal back. Cameron Harper showed superb skill to work his way into the box before firing beyond Budinauckas to make it 2-1.
And, just as Rangers did in the first half, Celtic followed up their first with a quick second, Paul Kennedy's free-kick from 30-yards taking a massive deflection to wrong-foot Budinauckas and find the bottom corner.
Josh McPake responded with a decent effort soon after, Hughes making a decent save, before he was forced into another stop on the end of a Ben Williamson effort after he weaved his way into the area.
Neat interplay between McPake and Dickson ended with McPake forcing Hughes into his best save to date as he turned away his close-range effort.
Then, on 65 minutes, Gers' pressure told as they went back in front. Kai Kennedy's free-kick from almost the dead-ball line was superb to the front post, and meeting it there with a bullet header was Nathan Young-Coombes to make it 3-2.
Just two minutes later, the Light Blues were handed the chance for a fourth, with Dapo Mebude crudely cut down by Brody Paterson as he cut into the area. Kennedy's spot-kick looked good as it headed for the bottom-right corner, but Hughes somehow got down to turn it around the post.
As the time ticked down, Budinauckas made an excellent save from Oko-Flex, while there were some heroic blocks to keep Celtic at bay.
RANGERS: Budinauckas; Patterson, McClelland, Finlayson, Maxwell (Butterworth, 66); Dickson, Williamson, Kennedy (Balde, 90); Mebude, Young-Coombes (McKechnie, 76), McPake.
SUBS NOT USED: Kinnear, O'Connor, King, Yates.
CELTIC: Hughes, Forrest (Sparkes, 76), Paterson, Morrison, McQueen, Kennedy (Wylie, 72), Dembele, Coffey, Harper, Robertson (McKay, 45), Oko-Flex.
SUBS: Mullen, Moffat, Denham, McBride.
REFEREE: Tony Fullerton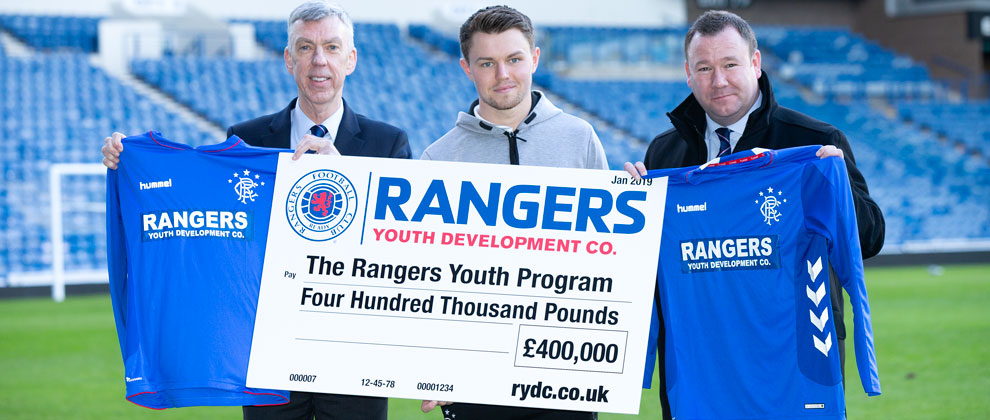 Since 2002, Rangers Youth Development Company profits have been directed to Rangers Football Club's youth programme – with almost £8 million provided to date.
And in January this year, Academy Head Craig Mulholland and youth graduate Glenn Middleton accepted an RYDC donation of £400,000.
For full details on RYDC's growing portfolio of products – the re-launched Rangers Pools, Rangers Lotto, Rising Stars, Scratchcards, Stadium Bricks and the Youth Members Club – visit www.rydc.co.uk or call 0141 427 4914.
The Rangers Youth Development Company has donated almost £8 million to the Rangers Academy since 2002.
One of their main revenue generators is Rangers Lotto – which costs just £1 to play, is one of the most successful products in RYDC's growing portfolio and fans have won cash prizes of £10 million since it was launched in 1994.
For full details on all their products – Rangers Lotto, Rangers Pools, Rising Stars, Scratchcards, Stadium Bricks and the Youth Members Club – visit www.rydc.co.uk or call 0141 427 4914.