GRAEME MURTY is excited to face Brighton & Hove Albion tonight at Ibrox with the game LIVE on RangersTV.
The 90 minutes coming up against Brighton is part of the ground-breaking games programme devised by the club which will give talented under-20 players at Auchenhowie the opportunity to test themselves against top European and English Premier League opposition.
After tonight's game against the Seagulls the Development Squad will face Manchester City away on September 16 and Leicester City at home on September 26.
Speaking ahead of tonight's game, Murty said: "We've got a really big draw for big teams and I'm glad that we've managed to use it in such a positive way for the players.
"This programme, although it is experimental and we won't have all the answers initially, it won't always work and it won't always look all singing and dancing, what it will do and what it is designed to do is to challenge our players and to make them struggle.
"That will look scruffy and it will horrible and it will look as though they can't handle it initially. Fine, we don't mind that.
"All we have to say is 'we start at this point, where do we want to get to?' We want accomplished first-team players.
They are not the finished article yet but we are supporting them to get to there and it's not going to be straight – there's going to be ups and downs.
"They know that, the fans know that, but we have to make sure as coaches we don't get so caught up in the 90 minutes that we lose the idea of what the plan looks like for these young players.,
"But as I said, the more they can get onto that football pitch and show how good they are and go and excel, the better for their long-term development and actually for their long-term career."
For now, Murty is focussed on Brighton and he is excited to see how his young guns react on the big stage in front of the Rangers fans. He said: "That's what it's for, it's about getting them out of their comfort zone.
"Not to decry them or not to dig them out, but just to add and ramp that pressure up to see how they react and actually support them when they find it a bit of a challenge, because ultimately Craig [Mulholland] and I and all the coaching staff in the academy want to prepare players to play in front of 50,000 people week in, week out.
"The best way we can do that is to put a demand on the players, to support them and to give them that real experience of noise as well as playing on a fantastic surface in a brilliant stadium.
"The more we can do that and the more we can expose them to that, the better for us, and actually it's a great draw.
"When we say to clubs 'come and play, and by the way we are going to play at Ibrox' you should hear the clamour from them.
"They all want to come, they know what Ibrox means and I talk to numerous friends down south about this games programme and they all want to be involved. Their first question is 'Can we play at Ibrox?'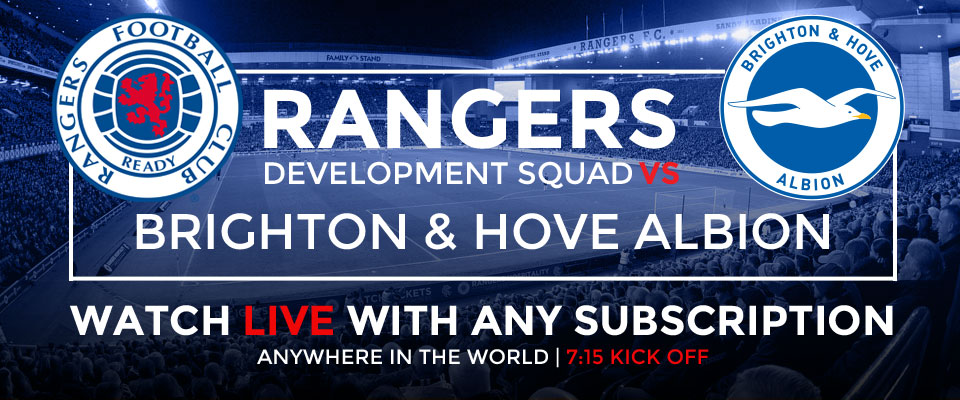 RANGERS Academy side face Brighton & Hove Albion tonight and you can watch the game LIVE on RangersTV.
The match will kick off at 19:15 at Ibrox and if you have a RangersTV subscription then you can watch all of the game as it happens wherever you are in the world.
Tickets are available for the match priced at £5 for adults and £2 for concessions, entry via the West Enclosure with kick off at 19:15.
Following the match against Brighton, the Gers will travel to Manchester City on Saturday for a closed door friendly. As a result of a major event taking place at the Ethiad Campus, Manchester City have confirmed that the match is strictly closed to the public so supporters should not travel to the game.
With packages available from starting at £5 per month you can get closer to your club than ever with a subscription that will give you exclusive features, our extensive archive, behind the scenes access and all the best match action.
Click on the links below to subscribe today to one of our package types:
Click HERE to find out more about what is included in the different packages and click on the following links for different series: