RANGERS are delighted to announce contract extensions for three promising youngsters – Zak Rudden, Aidan Wilson and Jack Thomson.
The trio have all lengthened their stays at Ibrox with Thomson and Rudden signing until 2020 and Wilson until 2019.
Wilson was thrown into the first-team frame under Pedro Caixinha after the manager's well publicised defensive crisis. The 18-year-old has been named on the Gers bench three times this season.
17-year-old Rudden was in Caixinha's match day squad for the final Old Firm game of the season and has made the step up to the Under 20 squad this season despite still being an Under 17. The striker has also trained with the first-team in recent months.
Thomson, also 17, has been blighted by injury this season but is a hot prospect in the academy and has returned to training in recent weeks. He featured in the first-team squad last season.
Aidan Wilson
"I was really happy with the extension; all my hard work has paid off. I've had a chaotic month or two.
"I am training a lot more than I was before and there is a gap between the standard of the 20s and the first-team, the intensity is a lot higher.
"It has been great getting on the bench and being involved in the first-team environment, I was really pleased to sign the deal and get involved with the first team a lot more.
"I think I have improved a lot over the time I've been training with the first-team, I have been learning new things from the gaffer and if I keep coming round and training with them I can only improve more.
"Signing the year extension gives me more opportunity to get into that first-team squad and I think there is a real incentive and drive within me to get a few appearances for the first-team."
Jack Thomson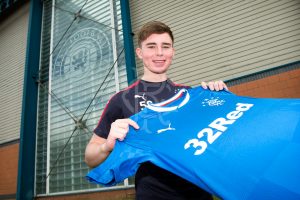 "I'm really pleased to sign, I have been injured a lot this season but I have been working hard behind the scenes so I was just delighted to get the contract.
"I know what I can do when I'm fit and I think Rangers know that as well so I was quite confident I could get an extension.
"In those two years I definitely want to break into the first team, that's my main objective as well as playing with the 20s because I am still young and I still have time to do that.
"I think one of my main attributes is that I am willing to learn and I take everything in and I'm hard working as well."
Zak Rudden
"I was really pleased to sign the extension; it is always good to get a deal. I have been training really hard and to get around to train with the first team a couple of times has been good as well.
"Getting this just shows I have been working hard and I feel really confident. I have been training hard with Graeme Murty, David McCallum and Billy Kirkwood, people who have been there helping me through it.
"Getting to train with the first-team and get into the match day squad just shows my hard work has paid off.
"My aim is to be round with the first-team more to train. I want to play games for them to show that all the hard work over the past few years has paid off and hopefully I'll be a first-team player."