RANGERS cult hero Terry Hurlock enjoyed a Twitter Q&A with supporters for RYDC recently – here are the highlights of his session.
The former Light Blues midfielder was delighted to be back at Ibrox – where he spent the 1990/91 season and played an important role in a League and League Cup double.
Terry, who also scored a crucial goal against Celtic that season, left for Southampton after only one campaign in Glasgow but he has fond memories of his time in Scotland and Rangers still holds a special place in his heart.
Q – Elsie – Hi Terry loved watching you play and watching YouTube videos of you, but how do you think you would cope with the modern-day players?
A – No chance whatsoever. I respect the game now but I would have had no chance. 
Q – Colin – What was your favourite Rangers goal? And favourite pass that resulted in a Rangers goal? 
A – Against Celtic of course – it took a deflection but was going in anyway. The pass for Ally at Celtic Park too.
Q – Jay – Why did you only stay for one season?
A – My age was creeping up on me. It was a great team and they added new players. I was getting suspended and it carried on until the next season. I loved every second up here. The people, the football everything really.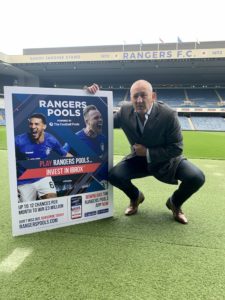 Q – Rab Hughes – Who was harder, you or Graeme Souness?
A – Graeme Souness all day long and he is an absolute legend. A proper manager.
Q – John Dryburgh – Have you ever played against anyone harder than yourself?
A – Loads of people. Jimmy Case for one. I took his place at Southampton. Graeme Souness too of course. Steve McMahon at Liverpool.
Q – The Ranger – Terry. You came with a hard man reputation and whilst you could put it about, anyone who saw you knew you were a very talented footballer too. Did you resent that you weren't given more credit for your ability?
A – When you play football and someone like Souness comes in you must have some quality. He likes a hard player, football-wise I adapted and played with good players and progressed.
Q – Karlarl – How was your relationship with Graeme Souness and do you wish you had longer at Rangers? 
A – I loved Graeme. He treated me like a proper man. He was a legend and I was in awe coming to this club. 
Q – Wilf – which was tougher. A tackle from Graeme Souness in training or that hike up Ben Nevis a few years ago?
A – We all caved in up Ben Nevis. It was a good cause. I'd rather have tackles from Souness though!
Q – Alex Rae – Can you ask Terry how he managed to finish 3rd in the 5 mile run after doing the sand dunes in Aberystwyth???
A – That sand – God help us. I am too heavy for the sand. You are a skinny runt!
That's me done thanks for all your questions – loved my time at Rangers. Great memories and a really special time for me. I'll never forget it and I am grateful to Graeme Souness for signing me. I was in awe when I signed and left with two trophies. Thanks to all the fans
For full details on RYDC's growing portfolio of products – Rangers Pools, Rangers Lotto, the new Union Jackpot half-time draw, Scratchcards and Stadium Bricks – visit www.rydc.co.uk or call 0141 427 4914.
To sign up to RYDC's Rangers Lotto product – CLICK HERE 
To sign up for Rangers Pools and have the chance to win a trip to New York – CLICK HERE