RANGERS' Head of Academy Craig Mulholland insists the barometer of success for his young players is not simply collecting trophies, but the manner in which they have won them.
Gers have lifted both the under-18 and Reserve Leagues this season as well as the Scottish FA Youth Cup, the CAS under-16 cup and, perhaps most notably, the Alkass Tournament in Qatar back in February.
While not dismissing the success of the players in claiming the silverware, for Mulholland, his players' style of play and also the fact they have claimed many of their titles with squads younger than the permitted age limit are of much greater importance to him.
Speaking to RangersTV, he said: "I think the highlights for us internally may be different from the ones people see externally. Yes, we have won a lot of trophies this season, but we don't place a lot on that, what we tend to look at is the style we have won them with.
"For example, if you look at the Reserve group, the under-18s group and the Alkass group – when you go and watch them you can see a really distinguished Rangers style of play. We build from the back, we pass through thirds, we dominate the ball and there is a real press and aggression to get the ball back.
"That is consistent through all of the age groups, and if you turned up and didn't know what the badge was, you would see a Rangers team which plays with a style, and that has been a long time in the making in terms of developing players.
"The other thing for us is the age groups we have played at. Our big strategy is the player challenge – it's not about winning trophies, it's about player challenge.
"When you look at all the trophies we have won, at least 60 percent of the players have come from younger age groups. From the Reserve group it has been under-19 players down, in the under-18s they have been predominately 17s, 16s and 15s and the under-16s have been 50 percent made up of younger players. In the Alkass group ten can go again next year.
"It is easy to win trophies if you go full strength – we don't do that. We challenge the younger players and the fact they have actually been successful through that challenge is a big plus for us in terms of our strategy."
Above all, however, for Mulholland is getting players to the first-team, and on that, he also looks back on this campaign as being a successful one for the Academy.
"The biggest plus for us this year is getting boys to the first team.," he continued. "So there is Glenn Middleton who made his debut and went on to make over 30 appearances, and we'll all think back to his Europa League experience where he was involved in the goal in Villarreal and then he scored in Moscow. That was done by design as he was part of our European Games Programme last year.
"We've also seen Ross McCrorie go and build on a successful first season with more appearances in the second season and you look at his performances in the Old Firm games where he has been fearless. The manager has mentioned that and hopefully that is part of the grounding he has had in the Academy.
"We also had further debuts with Stephen Kelly, Serge Atakayi and Jordan Houston. So there are two boys who have contributed over 60 appearances to the first team and have managed to achieve four debuts. I think from that perspective, we are starting to see outcomes there. When we started this project four years ago, it was about putting a high level of staff in an environment round about our players where we would see players flourish.
"Four years ago we had 14 international players from under-15s to under-21s. We are now sitting, with the latest under-15s squad being announced, with over 40 international players from under-15s to under-21s. That is a massive jump, and it means the future is quite exciting."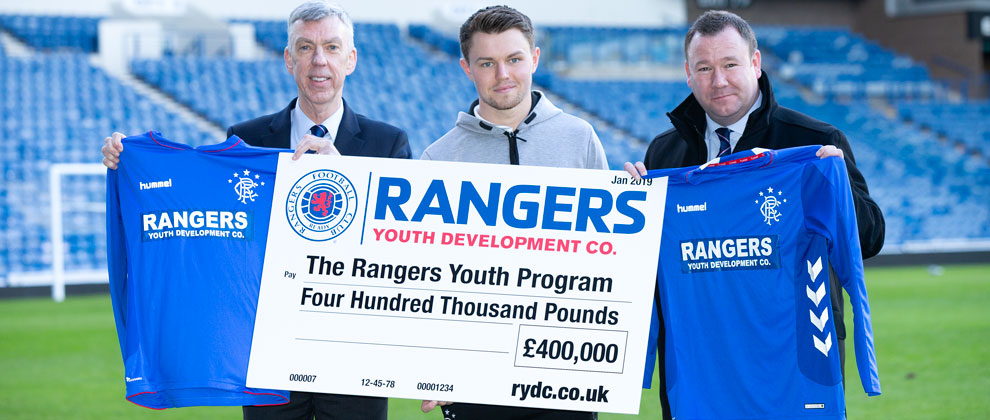 Since 2002, Rangers Youth Development Company profits have been directed to Rangers Football Club's youth programme – with almost £8 million provided to date.
And in January this year, Academy Head Craig Mulholland and youth graduate Glenn Middleton accepted an RYDC donation of £400,000.
For full details on RYDC's growing portfolio of products – the re-launched Rangers Pools, Rangers Lotto, Rising Stars, Scratchcards, Stadium Bricks and the Youth Members Club – visit www.rydc.co.uk or call 0141 427 4914.
The Rangers Youth Development Company has donated almost £8 million to the Rangers Academy since 2002.
One of their main revenue generators is Rangers Lotto – which costs just £1 to play, is one of the most successful products in RYDC's growing portfolio and fans have won cash prizes of £10 million since it was launched in 1994.
For full details on all their products – Rangers Lotto, Rangers Pools, Rising Stars, Scratchcards, Stadium Bricks and the Youth Members Club – visit www.rydc.co.uk or call 0141 427 4914.