IT's a difficult time for us all but The Rangers Youth  Development Company will still continue to operate as well as possible in these unprecedented circumstances.
We hope you all stay safe and we wish you and your families well.
This week, RYDC did a Twitter Q&A with former Rangers defender Steven Smith and they will have more of these in the weeks ahead.
Stevie, a Rangers Academy graduate, is a huge supporter of RYDC and was delighted to answer questions from fans.
Check out the highlights of his session…
Q – William Black – Have you any ambition to become a football manager at any level?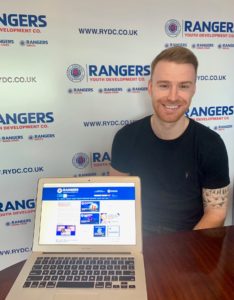 A – I have yes but I realise I have a lot to learn. I've only been coaching for a year. But that's my end goal. I am still learning every day and that is the biggest thing for me just now.
Q – Tom – What song do you sing for 20 seconds during your hand wash?
A- It is Three Little Birds – but I can't get Marvin Andrews out my head when I hear it!
Q – Nick – How did you prepare yourself as a young player for your Champions League debut against Villarreal in 2006?
A – I can't remember doing anything specific. There were nerves but I was young and had no fear. When you are that age you don't fear anyone and just go out and play. I went out and expected to win because that's the way I was brought up.
Q – Nick – What was your overriding emotion when the teams lined up and the music started?
A – Excitement and you just want the game to start. You just want your first touch and get the first part of the game out the way.
Q – Jamie – Hello Steven, how do you enjoy being the co-comms on RTV? Any co-commentators or pundits you especially like?
A – I was quite nervous at first but having Tom there made it easy. He is so well prepared and has done it for years. It is more difficult than people would imagine.
A – I really like Gary Neville. Everyone knows he is a Man Utd fan but he is so honest. He's the one for me. He is really intelligent and clued up. If he puts himself into something he gives it 100%.
Q – Jamie – You scored a good few free kicks for Rangers, which one was your favourite?
A –  Probably my first one! People weren't expecting it. It was against Dunfermline, it was a surprise to people and myself!
Q – Who's the best free kick taker you've seen past or present?
A – I saw a clip last week of Juninho who was at Lyon. His technique was incredible. It was about four minutes of him scoring free kicks. It was unbelievable. I also watched it last night and stopped it after about a minute as I couldn't believe what I was seeing.
Q – Colin – What do you miss most now you've stopped playing?
A – I actually don't miss it. I was doing commentary at a Rangers v Celtic game once and missed that but apart from that one occasion I don't miss it.
Q – Colin – Best stadium you played in other than Ibrox of course?
A – Portland Timbers Stadium. The atmosphere was always unreal. You had the national anthem playing and it was all passionate and positive. It was a different atmosphere and way of life over there.
Q – Colin – You enjoy running your Academy because …?
A – The challenge of running my academy every day. The learning process and teaching kids from all ages.
Q – Andrew – What was the reaction in the Portland Timbers dressing room to Boydy's mattress advert?
A – They never said anything it was more the reaction back home. I had a few calls and texts from back here slaughtering him. But we both got a free mattress out of it so we were quite happy.
Q – Fiona – Who'd be in your 5-a-side team of players you played alongside?
A – Allan McGregor, Davie Weir, Barry Ferguson, Steven Davis and Dado Prso. Klos, Boydy and Jig are subs.
Q – Brian – Motivated by – Arm round the shoulder or rollicking?
A – I wouldn't say I responded to either, I always worked hard and never gave anyone the opportunity to give me a rollicking.
Q – Biggest influence on the park & off the park?
A – On the pitch – Billy and Jamie Duncanson they were an influence on me as a young player. Then people like John Brown when I went full time with the academy.
A – Off the pitch – My mum and dad. It wouldn't be possible without them taking me to training, games etc when I was younger and even now when they watch my kids when I am coaching.
Q – Best part of coaching?
A – What I do gives every kid an opportunity. There is no pressure on them, they can come to my academy and learn in their own time. They can come to me and through time get better.
Q – Al – Hi Steven do you feel if it wasn't for injuries you would have achieved even more for Rangers than you did?
A – Deep inside I knew I wasn't the same after the injuries. I spent years out so I don't think you can be the same. You have to be mentally strong but I was fortunate to have the career I did at a high level for a good period of time.
Q – BBM – What was your favourite goal as a Rangers player?
A – The first one against Dunfermline – the first goal I scored. I was young and in the team and then I scored. When they kicked off and the tannoy announced my name as the goalscorer I always remember the reception I got.
Q – And who is the best ever player you've played against while at Rangers?
A – I would have to say Riquelme. I never seen him sprint, he walked and jogged and technically he was unreal.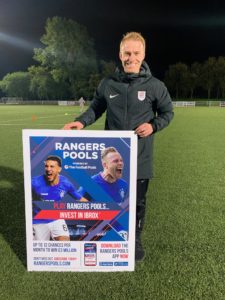 Q – 4LadsHadADream – Steven, We spoke about Borna Barisic when you guested on 4lads podcast earlier in the season 6 months on what is your opinion of him now and the form shown? & did you ever get the hairdryer from Greegs like he does?
A – I could always see his attributes from the very beginning, he was getting criticised but he showed great mental strength and came out the other side.
A – That was an every day thing for Allan! If you don't do you your job he is on to you but that is what I was used to growing up. You have to win.
Q – Jamie – What was Dado Prso like before a big game?
A – He was the same every day. He was always singing every day even walking down the corridor. He was passionate about everything he did. I will always remember him walking down the corridor hearing him sing Guns n Roses Paradise City!
For full details on all RYDC products – Rangers Pools, Rangers Lotto, The Union Jackpot, Scratchcards, and Stadium Bricks – visit www.rydc.co.uk or call 0141 427 4914.