THE Rangers Youth Development Company arranged a coaching session for supporters at the Hummel Training Centre as a thank you for their incredible backing.
RYDC recently agreed a partnership with Rangers Soccer Schools and former players Kevin Thomson and Steven Smith to deliver top-class coaching sessions to key RYDC supporters and the first was held last night at the training ground.
More than 30 supporters were treated to a work-out by Steven, Kevin, his academy coaching partner Kevin McDonald and Rangers Soccer Schools coach Scott Edgar.
It was a fantastic evening for all in attendance and there will be further sessions in the weeks and months ahead exclusively for loyal RYDC supporters.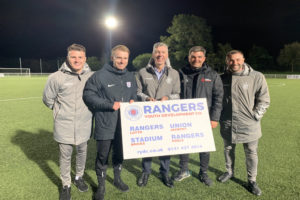 Director of Operations Colin Stewart commented: "The first RYDC coaching session was a huge success and I would like to thank both Kevins, Steven and Scott for taking the time to reward our loyal RYDC supporters with a first-class training session.
"Everyone who took part enjoyed the workout and it was great to see the coaches in action. They certainly put the guys through their paces and there was no slacking allowed!
"I would also like to thank all the fans who attended as they have backed RYDC in a variety of ways. We will reward more supporters with further coaching sessions in the near future and we will contact fans directly to extend an invite.
"RYDC has contributed £8 million to the Rangers Academy since 2002 and we will continue to support the youth programme in any way we can.
"Thanks also to everyone at the club who helped put this first session together – it was greatly appreciated."
To sign up for Rangers Lotto or any of RYDC's products CLICK HERE or visit www.rydc.co.uk
Rangers Soccer Schools run a successful programme at the Ibrox Community Complex and a number of locations around Scotland, delivering quality coaching to children of all ages.
For more information on Rangers Soccer Schools CLICK HERE.