RANGERS Academy duo Nathan Patterson and James Maxwell enjoyed a Twitter Q&A with fans for the Rangers Youth Development Company last week.
Both attacking full backs travelled with Steven Gerrard's first-team squad to Dubai and featured in the 6-1 victory against Uzbekistan champions Lokomotiv Tashkent.
18 year-old right-back Nathan started the match in Dubai and made his competitive debut for Rangers in last night's 2-0 win over Stranraer in the Scottish Cup – deputising for injured skipper James Tavernier.
Check out the highlights of their Twitter session below…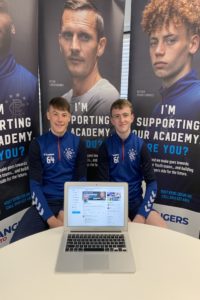 Q – Curtis – Nathan who is the first team player who offers you the most support to help with your development?
NP – I would say Scott Arfield – he always asks how we are doing, if we need anything and gives us tips. He is a really good help.
Q – Elsie McCready – Hi Guys. What did you learn being with the first team and how do you think it will affect you going forward?
NP – You always need to be on your game and willing to improve. They always push you and you are learning from the best.
JM – I learned about how high the standards need to be at all times Rangers. You need to be on it all the time.
Q – Aldo – What did you enjoy most about your experience on tour with the first team?
NP – Being away with the first team and enjoying the experience and occasion. Being with them every day and seeing what they do.
JM – Interacting with the first team on a daily basis and seeing what it is like every day.
Q – Scott Cameron – what are your aspirations for 2020?
NP – Just to be with the first team as much as I can and hopefully get some minuets on the pitch. I want to take any chance that comes and hopefully do well.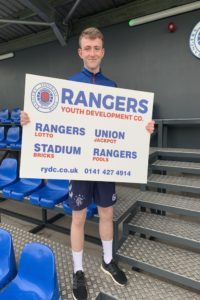 JM – Keep pushing towards the first team and hopefully try and make my competitive debut.
Q – Stewart Walker – This one's for Nathan Patterson. What was it like as a youngster starting the friendly in Dubai? You played really well attacking and defending it was a pleasure to watch
NP – It was obviously great. I just wanted to showcase what I can do. It was a good occasion and I enjoyed it.
Q – Sean – How much has Tav helped you both playing in his position?
NP – Watching and seeing what he does is great. We can integrate that into our game.
JM – you can learn from him by watching what he does every day.
Q – Ally – A question for  both players. Do you feel ready to start a competitive match for the first team if needed?
NP – Yes I feel as if I am ready. I have had a good amount of time with the first team and I am getting to grips with their style of play So yes I am ready.
JM – I have a lot of learning still to do but if called upon yes.
Q – Mason Alexander – Who is the funniest in the first team and the youth academy?
NP – First team I would say Allan McGregor, Rhys Breen in the academy.
JM – Andy Halliday and Breeny too.
Q – Sir M Elliott – Who is the worst singer in the team?
NP – Kai Kennedy – he was practicing his song for weeks as well!
JM – Kai as well!
Q – Andy Mack – Who had the best and who had the worst patter in Dubai?
NP – Best patter – Greegsy   Worst patter – Kai Kennedy!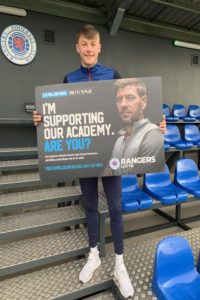 JM – Best patter – Ryan Jack  Worst patter – Kai Kennedy!
Q – 4 Lads Had a Dream – Congratulations to both on their new respective deals. Who at the club (or in football) do you most admire & look to try & emulate their success?
NP – Trent Alexander-Arnold He came though the Liverpool youth academy and he is a great modern day player.
JM – Andy Robertson of Liverpool. I like the intensity he plays with.
Since 2002, RYDC profits have been directed to Rangers Football Club's youth programme and more than £8 million has been provided in that time.
For full details on all their products – Rangers Pools, Rangers Lotto, The Union Jackpot, Scratchcards, and Stadium Brick – visit www.rydc.co.uk or call 0141 427 4914.
And to sign up for Rangers Pools – with all profits going to the upkeep and maintenance of Ibrox Stadium – visit www.rangerspools.com.