FORMER Light Blues midfielder Ross Lyon spent 13 years at the club and recently returned to the Rangers Academy in a youth coaching role which he relishes.
The 22-year-old currently plays part-time for Clyde but has always been keen to learn and develop and is delighted to get the chance to pass on his experiences to the younger kids at the training ground.
A few weeks ago we spoke to Max Ashmore, another former Academy player who was brought back to Rangers by Head of Academy Craig Mulholland, and Ross was thrilled to receive a similar call.
He explained: "When I left Rangers I joined Clyde as a part-time player but was looking for something else to do too.
"I always liked the idea of coaching and developing young players so when I got the call from Craig inviting me back to the club as a coach it was perfect for me.
"I was buzzing when he called to be honest.
"I was doing my own individual coaching as I feel that method is really important for kids to develop as well.

"But for me, as I look to develop as a coach, stepping back to Rangers is definitely the best move. I am always looking to learn and always looking to develop myself and it is great to be back.
"I know Rangers like the back of my hand as I was here for 13 years – working with all the staff and making use of the great resources at the club, which I think are the best facilities in the county –  so I am buzzing to be here.
"The Rangers Academy is improving all the time. The new stand has been built, the pitches are top quality, the infrastructure is first class, the academy dining room has been improved, the coaches are all of the highest standard so it is a great place to learn and develop.
"Everything has been upgraded and the kids will benefit as a result.
"I am delighted to be an academy coach working the 9s and 10s age groups. Alan Boyd is my line manager and it is great to be working with coaches like him and Andy Kennedy.
"It has been such a good move.
"I'm still young and looking to play as much as I can but coaching did always interest me. Even when I was a player at Rangers I was always looking to help the younger kids out and get them involved.
"If a young kid came over I would always give them a touch of the ball and feel part of it. I was there as a kid too and I know what it's like to see the reserve and first-team players in the indoor hall. You just want to be part of it. So there is nothing better than to get them involved.
"I can pass on my Academy experiences to the kids and I think that is the best way for me to help develop them. I've had a lot of experience as a youth player here, from under-8s to reserves to touching on the first team, so I can help them.
"I do hope my experience can help and guide the younger ones and I can let them know what they need to improve on to give them the best chance of becoming footballers.
"There is always high expectations at Rangers and the kids need to know that.
"I enjoyed my time as an Academy player and got to play in a lot of tournaments abroad which was great experience. Travelling to places like Hong Kong as a reserve player was an incredible experience and I picked up a few Player of the Tournament  awards when I was about 14 and 15.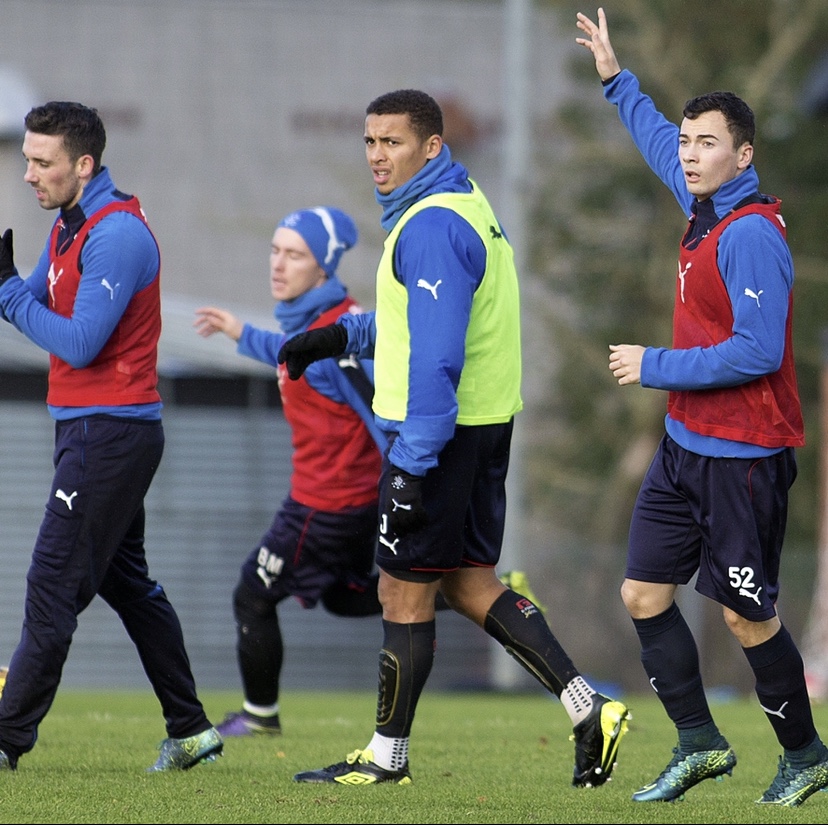 "Being involved with the Rangers first-team on a number of occasions was also a highlight for me.
"Working with Alan Boyd as a kid was fantastic and I am now picking his brain as I work with him as a coach.
"The lessons learned at the Rangers Academy can help players who move on too. I've had a chat with a few of the boys who have left recently and told them about my experiences and going to Clyde to play.
"If they want to play full-time they can still go and do it. Not just in Scotland, but abroad too.
"Rangers is a great place to learn as a young kid and there is something out there for players who leave.
"Before lockdown, my normal working week would be to train with Clyde twice a week then play for them on a Saturday. With the under-9s at Rangers I would coach them twice a week and go to their game on a Sunday.
"It's great to be involved in playing and coaching at the same time but I am still young and want to still play.
"I think I am hungrier than ever to learn about football. Coaching has given me a new insight into the game and I feel like I am learning so much.
"I am playing under Danny Lennon at Clyde and that is a great new experience for me too. I am not just seeing the game as a player anymore, I am looking at the game from the point of view of a coach as well. I focus more on why we do certain drills now rather than just doing them and looking at tactics in a different way so it is great to keep learning.
"I have a huge respect for coaches and especially coaches who look after kids. You can't expect them to be consistent and fully concentrated every single day as they are so young. You have to be patient and it has to be fun.
"During lockdown I have been trying to keep myself fit and Rangers have been great with all the staff and players. They have been hosting webinars and have looked at coach education as well during this period so we are all busy and engaged.
"There have been a lot of Zoom meetings too and weekly chats with the parents so we are supporting the kids as much as possible.
"I never thought I would be back. When Craig called I was delighted. We had a good chat and spoke about coaching and he wanted to get me involved. I couldn't refuse such an offer. Just seeing the training ground again and thinking about how I could learn from all the coaches there is such a great opportunity.
"It is brilliant to be back. I was there for 13 years and it feels like home. It feels like where I should be.
"I've been away about a year, ventured out and it's great to be back. It's not just about football though it is also about education and attitudes and I can help the kids in so many ways as I have already made that same journey.
"It is a great place to work and learn and I will do everything I can to keep improving and help the academy kids."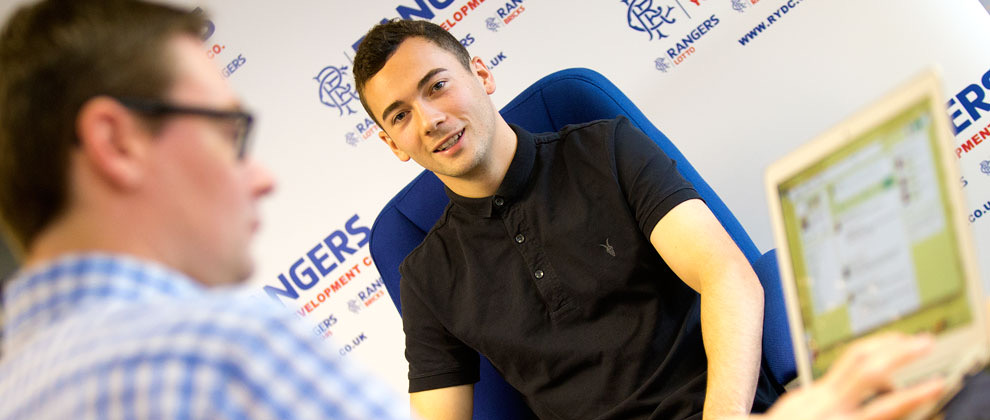 RYDC will have a Twitter Q&A with Ross on Friday from noon, so tweet your questions now @rfc_rydc and he'll answer the best ones.
RYDC is proud to have provided more than £8.5 million to the Rangers Academy since 2002 – with profit from their portfolio of products.
For full details on RYDC, Rangers Lotto, Rangers Pools, The Union Jackpot, Scratchcards and Stadium Bricks visit www.rydc.co.uk or call 0141 427 4914.