HEAD OF ACADEMY Craig Mulholland says the Gers youth players are looking forward to an exciting week of matches in the games programme.
Following the announcement of their new games programme last month, it's the first time the team will play on home soil, with the clash with the Seagulls kicking-off an exciting week, with an away trip to follow against Manchester City next Saturday before Leicester City visit Ibrox the following Tuesday.
Mulholland said: "The players are loving it. We put the full fixture list to them and you could see the excitement in their eyes.
"If you're a young player and you are looking at that fixture list, which started with Feyenoord who had five Dutch internationals in their starting line-up, and even Graeme Murty – I've not seen Graeme as excited since he took the first team at Parkhead last season!
"That's the challenge they are getting. What we are doing is learning quickly – we talk about leaning, but what I want to happen at Rangers, and I will know if we are doing our job, is that we don't go and win these games by the way Scottish teams traditionally would – i.e. sitting and defending, going and hitting on the counter attack and trying to hold on to a lead.
"That is not what we are about – we want to dominate the ball and go and impart our style onto the opposition, and actually give these kids the belief that Scottish players shouldn't be inferior to their continental counterparts. I genuinely believe when a kid is born in Scotland, they should be no different to a kid born in Holland, Spain, Italy, or anywhere else if we get the programme right.
"I think what we are doing here, and hopefully with Rangers leading the way, we are being brave enough to go and challenge ourselves, challenge others and actually change what we are trying to do."
Of course, the idea behind the games programme is to better prepare players for the first team, and Mulholland believes through all levels of the Academy, there are many promising players.
He added: "A big part of Mark Allen's role working with Pedro and myself is to put in place a real succession plan so we know what the fist team squad looks like in years to come, we know where the gaps are to bring through young players and we know what recruitment has to happen.
"We want it to be done in a really planned and organised way. If we get that right, our player trading will become better and we'll add value and hopefully get a return on our investment. The best way to make money for the club and make sure we have a successful first team is to develop our own talent, but there must be a pathway to do that.
"At the end of the season, we saw the green shoots with Aidan Wilson, Jamie Barjonas and Myles Beerman, and even this year, you have seen Ryan Hardie step up the pecking order and Ross McCrorie step up the pecking order.
"So we are confident we will have players who will play this year, and the thing for us is when we look at our 16, 17 and 18 year-olds who, two years ago I said were too early to hit the first-team, they are now getting closer.
"The disappointing thing for us is the likes of Liam Burt, Jordan Houston and Ross Lyon having long-term injuries – and these are key players we thought might have pushed towards the first team.
"If we get them back fit and going, we have a good batch we think will push pretty quickly in the pathway, perhaps in a way it hasn't before."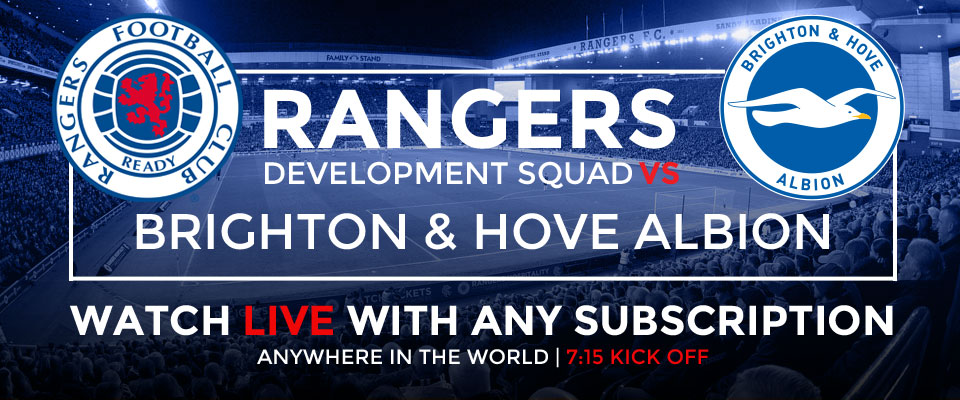 RANGERS Academy side face Brighton & Hove Albion tonight and you can watch the game LIVE on RangersTV.
The match will kick off at 19:15 at Ibrox and if you have a RangersTV subscription then you can watch all of the game as it happens wherever you are in the world.
Tickets are available for the match priced at £5 for adults and £2 for concessions, entry via the West Enclosure with kick off at 19:15.
Following the match against Brighton, the Gers will travel to Manchester City on Saturday for a closed door friendly. As a result of a major event taking place at the Ethiad Campus, Manchester City have confirmed that the match is strictly closed to the public so supporters should not travel to the game.
With packages available from starting at £5 per month you can get closer to your club than ever with a subscription that will give you exclusive features, our extensive archive, behind the scenes access and all the best match action.
Click on the links below to subscribe today to one of our package types:
Click HERE to find out more about what is included in the different packages and click on the following links for different series: