RANGERS Academy winger Kane Ritchie-Hosler enjoyed a Twitter Q&A with fans for the Rangers Youth Development company recently.
The 17-year-old, who signed from Manchester City, has enjoyed a positive start to life in Scotland and marked his debut with two goals in a 6-1 victory over Partick Thistle.
Here are the highlights of his session…
Q – Alex – How are you finding life in Glasgow? And what are your plans for the future?
A – It has been very good, the city is amazing. My plans for the future are to try and get into the Rangers first team.
Q – Rab – Since moving from Manchester City to Rangers, what differences are you finding between both clubs?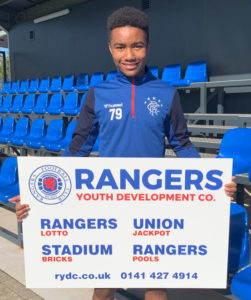 A – The style of football is different. At City, we would keep the ball, at Rangers, it is more free-flowing attacking football.
Q – Mark – Who is your best pal in the squad?
A – I can't name just one, they are all very good teammates and have helped me settle in very well.
Q – Stewart Walker – What do you think of Glasgow and playing for Rangers?
A – Playing for Rangers has been very good. I have enjoyed playing my football here, the way we play and attack as a team. We have started off the season very well and are scoring plenty of goals. So long may that continue.
Q – Curtis – How are you finding it here at the Rangers Academy?
A – Joining the Rangers Academy has been really good. Everyone has been so helpful and I have settled in well on and off the pitch.
Q – Tom – Good luck Kane for a great career at Rangers. In the dressing room whose accent is hardest to understand?
A – Alex Lowry!
Q – James – Do you see yourself in other positions other than midfield?
A – I am actually a winger. I can play in midfield but I play both sides on the wing.
Q – Jamie – Who were your footballing heroes growing up? Good luck at Rangers!
A – At the moment I would say, Raheem Sterling. He is getting a lot of goals and playing so well. He has also got through a lot of issues with the media and I respect him a lot.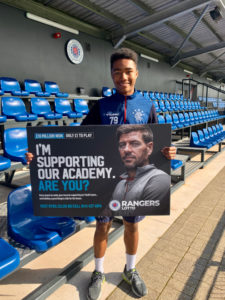 Q – Andy – How have you found the switch to Rangers?
A – The transition was quite easy. I have settled in very well. I scored two goals on my debut and that helped me settle in too.
Q – Rab – What made you choose Rangers? How would you describe yourself as a player?
A – Rangers is a massive club to be joining and there is a good chance of youth players progressing here compared to England.
A – I am a fast tricky winger who gets goals and likes to create chances.
Q – Mary – Do you have any advice for the younger kids at the academy?
A – For younger kids I would say just enjoy your football. Be yourself and play with no pressure.
For full details on RYDC's growing portfolio of products – Rangers Pools, Rangers Lotto, the new Union Jackpot half-time draw, Scratchcards and Stadium Bricks – visit www.rydc.co.uk or call 0141 427 4914.
To sign up for Rangers Lotto CLICK HERE