HEAD Development Coach Graeme Murty enjoyed a Twitter Q&A session with supporters for the Rangers Youth Development Company yesterday.
If you missed it you can check out the highlights here.
Graeme, of course, guided the young Light Blues to a 2-0 victory over Slovan Bratislava in the UEFA Youth League last week and the Colts approach this weekend's Tunnock's Caramel Wafer Cup quarter-final tie against Wrexham at Ibrox in confident mood.
Q –  Graeme McGraw – I was there at Firhill when we drew 2-2 with Young Boys, I'll be there on Saturday v Wrexham. I'd just like to thank Graeme Murty for everything he has ever done for us and to keep up the great work.
A – I am glad to see people are appreciating our young players. We would like people to spread the word about the levels they are attaining. Hopefully, Saturday is another chance for people to come along and see it first hand.
Q – Scott McKay – Do you believe we can beat Wrexham and go further in the Cup? How good is this experience for the young players?
A – I do believe we can beat Wrexham. We hadn't won a game in this competition before this season The lads have faced every challenge thrown at them and it is great to see their development on and off the pitch.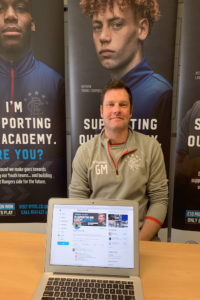 It is the next step in their development. They need to play in front of a crowd. We are thankful it is at Ibrox and we hope to have lots of fans there as it will really help prepare them for the next stage in their career.
Our academy feel is vital that our young players continue to experience the challenge of playing against men which is why we will continue to advocate a B team in the lower leagues in Scotland. This will allow us to retain control of their development while giving them the next stage of a physical challenge.
Q – Team Murty – Which first team player do the younger players most look up to?
A – Dapo has a great relationship with Jermain Defoe – he Has been fantastic with Dapo and gives him advice on things he has to work on.
The person getting the headlines is Alfredo Morelos. He is displaying the clinical edge we hope our young players can learn from.
The first team players have a fantastic manner about them and are all really approachable giving good advice and demonstrating elite habits on a daily basis.
Q – David Morrison – Will we start to see some more youths coming thru to 1st team, if not what else could be done to get them there, ajax being the model?
A – The bottom line is that any player wanting to get into our first team from our academy or elsewhere need to displace good players. We always speak to the young players not about what they have done so far, but what they can achieve in the future. To never be satisfied but have a real desire to be the best player they can be.
Q – Kimmie – What is your best experience from being a Rangers coach, what is your best Rangers game you have watched?
A- Speaking on a purely academy basis I love coming in and working with good players every day. Players who show the right attitude to their own development. And being me I am always looking for the next game our young players play to be the best game.
Q – Colin – If you had to choose one attribute for a young player to have, what would it be (speed, skill, etc.)?
At the end of this season, what would make you sit down & say 'that was a good season'?
A – There are several attributes it depends upon the individual. We have all seen a gloriously talented young player who could do with an improved attitude or do more work.
We have also seen a kid less talented with a fantastic attitude that need to improve technically.
Looking at top players around the world it is a ruthless edge. The manager explained it really well when he said it's almost like being obsessed to be the best on a daily basis.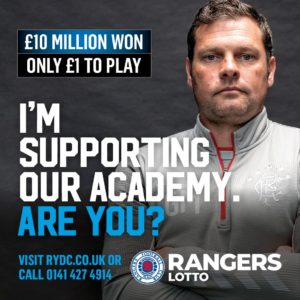 If we were to give ourselves a mid-season assessment – I think we are comfortable enough with each other to be ruthlessly honest. But we have to be somewhat satisfied with the steps the academy has taken. The 20s in the UEFA youth league and challenge cup and how the 18s are performing also.
Most importantly how our young players are starting to perform when they train with the first team.
Q – Laura – What do you think your biggest strengths are as a coach and is there anything you would like to improve on? ps Happy Birthday for Wednesday.
A – Thanks for reminding everyone in the office I have to bring in cakes now!
I feel that I am very self-reflective and self-critical, always wanting to deliver better quality and detail. Be it in the session or supporting players in the games. And there are many things I would like to improve on.
Not least my own emotional control on the sidelines during games.
Q – Thomas Carpels – What is your favourite member of staff? Me, Graeme Smith or Greg Vignal?
A – you are all brilliant for different reasons!
For full details on RYDC's growing portfolio of products – Rangers Pools, Rangers Lotto, the new Union Jackpot half-time draw, Scratchcards and Stadium Bricks – visit www.rydc.co.uk or call 0141 427 4914.
To sign up for Rangers Lotto and to help support the Rangers youth programme CLICK HERE
Remember Graeme's Rangers Colts are in Challenge Cup quarter-final action at Ibrox this weekend – tickets are on sale now at the Rangers Ticket Centre priced £10 for adults and £5 for kids.
CLICK HERE to secure your seats.