DAVID McCALLUM was overjoyed with the character and quality shown by his Rangers side as they brought the Scottish FA Youth Cup back to Ibrox for the first time in five years.
Gers were well-deserving of their 3-2 victory over Celtic at Hampden Park tonight, where they found themselves 2-0 up early on before being pegged back to 2-2 at the start of the second half.
But, Nathan Young-Coombes popped up with the winning goal midway through the second half to see the Light Blues lift the trophy.
McCallum beamed: "We did so well in the first half, especially early-on, to get a comfortable 2-0 lead. We spoke to them at half-time as we felt there were buts we could still do better, but whilst we created a lot of chances in the first-half, we felt we could have done better in terms of coming from the back into the middle and giving the guys who build the play some opportunities rather than going long.
"I felt we were doing that and the game turned over too quickly. At half-time, we went through that and spoke about it to make sure we started the second half properly, though I don't think the players heard those words!
"The way Celtic started, it put us on the back foot, but for our lads to go and recover and show that amount of character to go back up again and have the chance to go two-ahead in terms of Kai's penalty.
"So it swung back and forwards, but character is probably the best way to describe it with quality in there at the same time."
McCallum was asked if the work the Academy sides do with mind coach Donald McNaughton assisted them to power on to victory after the setback of Celtic making it 2-2.
"I hope so!" he replied. "The players would answer that but the amount of time Donald has spent with the lads over the course of the last two years would maybe subconsciously make an impact on the players in terms of their resilience and their character to go and find another level to take the game back to Celtic and put them on the back foot and go score to make it 3-2.
"Thereafter, Celtic had chances, but, you saw our players put their bodies on the line to block and make sure whatever chances they had were restricted, and it showed a lot of character to do that."
While so much of the work McCallum and his staff do is based on the superb football that was on-show tonight, Gers three goals came from excellent set-pieces.
McCallum continued: "The lads have got a bank of set-plays we work through, however, we always give them that license to go and be creative if they see something different as they have the ability to do that.
"They don't need to be, for want of a better phrase, joystick controlled all the time – they have that freedom to go and express themselves and if they see something different, go and do it, and they did that, particularly the first two as they maybe showed a little bit more creativity."
McCallum also believes the fact Gers had to fight to the very end to secure victory will also stand them in good stead, and he added: "When games become too easy, it doesn't test the players at the level they need to be tested at to go and play for the Rangers first team.
"For that to happen, and the way Celtic came back at us and for us to go and deal with it again, in a funny sot of way, it will probably stand them in good stead.
"If you see the game out at 2-0, they've not had to work hard to go and achieve that as much as what they had to the way the game finished to go 3-2."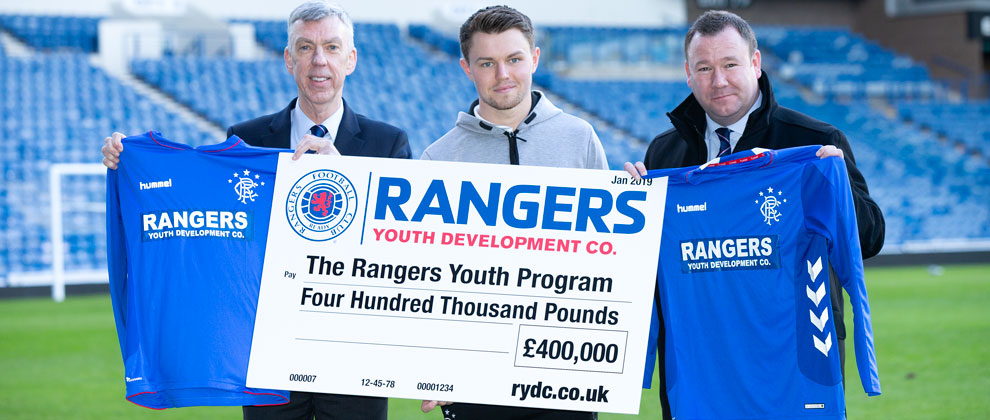 Since 2002, Rangers Youth Development Company profits have been directed to Rangers Football Club's youth programme – with almost £8 million provided to date.
And in January this year, Academy Head Craig Mulholland and youth graduate Glenn Middleton accepted an RYDC donation of £400,000.
For full details on RYDC's growing portfolio of products – the re-launched Rangers Pools, Rangers Lotto, Rising Stars, Scratchcards, Stadium Bricks and the Youth Members Club – visit www.rydc.co.uk or call 0141 427 4914.
The Rangers Youth Development Company has donated almost £8 million to the Rangers Academy since 2002.
One of their main revenue generators is Rangers Lotto – which costs just £1 to play, is one of the most successful products in RYDC's growing portfolio and fans have won cash prizes of £10 million since it was launched in 1994.
For full details on all their products – Rangers Lotto, Rangers Pools, Rising Stars, Scratchcards, Stadium Bricks and the Youth Members Club – visit www.rydc.co.uk or call 0141 427 4914.