RANGERS are delighted to announce that Carrick Packaging has become Official Partner of the club's Academy and Development teams for the coming season.
The partnership comes at an exciting time for the Gers Academy teams who saw success across the board during the last campaign. Rangers lifted both the SPFL under-18 and Reserve Leagues, as well as the Scottish Youth Cup, the CAS under-16 Cup and perhaps most notably, the Alkass Tournament in Qatar.
Carrick Packaging will be displayed on the front of all Academy and Development squad jerseys during season 2019/20, and the company will also have a significant presence at Academy games moving forward and within Ibrox.
The Glasgow based company, with offices across the UK, are already a big supporter of Youth Sport and this partnership cements their support of excellence amongst young sports stars.
Rangers managing director Stewart Robertson, manager Steven Gerrard, Head of Academy Craig Mulholland and several professional youth players from the club's academy welcomed Carrick Packaging representatives Derek Warren and Cameron Kirkwood to Ibrox on Sunday for the Marseille friendly, to launch the partnership.
Craig Mulholland commented: "Having the support of Carrick Packaging for this season is hopefully a reflection of the hard work, modern practice and innovative change that has went into our Academy over the last few years and we are delighted that we now have a partner in Carrick Packaging who are as passionate about developing young people as we are.
"Before agreeing this exciting partnership, we spent time with our friends at Carrick Packaging and they have come into our environment and witnessed the Academy culture, playing style, strategy and philosophy and also some of the exceptional talent we now have in Rangers Academy.
"It has probably been our desire to radically change how young players are developed in this country, rather than the more public successes like last years various cup wins, which has attracted Carrick Packaging to the Rangers Academy.
"It is important for us that Carrick Packaging are as passionate about our programme as we are and also where we see our Academy programme heading in the future.
"Season 2019/20 is set to be another exciting campaign across all Academy age groups and will see our Development Squad travel across Europe to some of the world's biggest clubs with the return of our European Games Programme.
"We will also play against Scottish first teams in the Glasgow Cup and Challenge Cup and the under-18s will be competing in the UEFA Youth League for the first time.
"All this will be with Carrick Packaging's logo on our jerseys and we hope it is the start of a great partnership."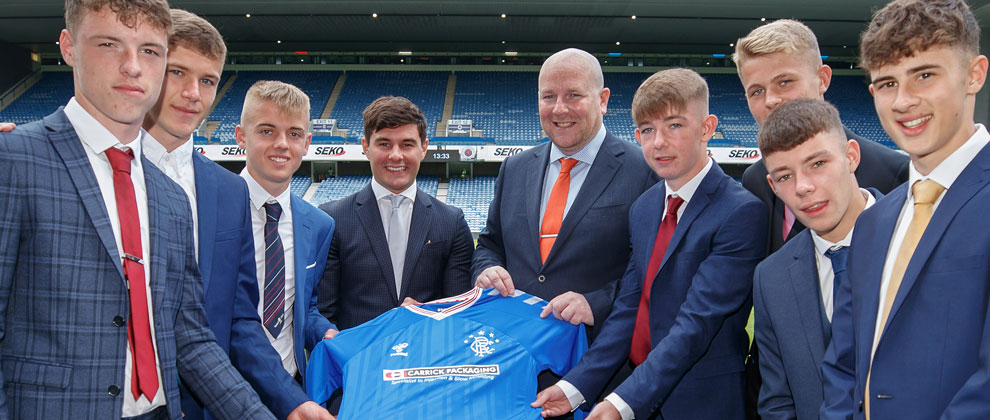 Managing Director of Carrick Packaging John Jordan said: "Carrick Packaging is delighted to be on board as the Official Partner of the Rangers Development and Academy teams for the coming season.
"As a business, Carrick Packaging takes great pride in investing in and developing, young talent. Over the years we have been in the fortunate position to be able to pursue that passion further and to lend our support to young sportsmen and women across the UK.
"After seeing first-hand the stellar work being carried out at the Hummel Training Centre by Craig Mulholland and his team, we were honoured to be invited to become the Official Partner for the clubs Academy and Development teams.
"The Rangers Academy not only focuses on developing excellent young athletes, but also focuses on developing well-educated, well-rounded individuals who have the tools to succeed in life outside of football.
"The approach taken to player development in the Academy has brought strong success in recent years at youth level and the innovative work facilitating that challenging transition to First Team level gives the young players as good a chance of success as there has ever been."
Carrick Packaging is one of the UK's most respected and enduring packaging manufacturers, first established in 1851. The family-run business operates from three distribution locations in the UK, with headquarters in Glasgow, supplying customers locally and across Europe.