AHEAD of Tuesday evening's City of Glasgow Cup Final between Rangers and Celtic the Glasgow Football Association have announced a new three year sponsorship deal.
The agreement with City Refrigeration Holdings will support the activities of the Glasgow FA in continuing the development of youth football in the city.
The new partnership, which begins in August 2019 means the relationship will now extend to 12 years, which is a generous and sustained level of support to the community.
The Glasgow Cup stretches back to 1887 and is actually the second oldest trophy to be played for in world football.   Always a keenly fought contest, the tournament this year featured Rangers, Celtic, Partick Thistle and Queen's Park.
Due to renewed support and commitment from all clubs in recent years, the Glasgow Cup has moved from 'knockout' to a round-robin format, with two semi-finals and the winners then competing in the competition Final.
The tournament final will take place at Celtic Park this Tuesday with Graeme Murty's side facing Celtic's Under 20 side.
While the main focus of the Glasgow FA will always be the Glasgow Cup competition, in recent years the activities of the Association have been expanded to include grassroots football at community level to make a positive difference with the community.
Lord Willie Haughey, Executive Chairman of City Refrigeration Holdings said: "City Refrigeration is delighted to continue its support of the Glasgow Cup and the wider football development activities of the Glasgow FA.
"I have always known that the competition has been vital in the development of young players in the city, with so many players over so many years experiencing this tournament on their journey to becoming top players.
"For a number of years, City Refrigeration has enjoyed involvement and invest-ment in Scottish football and we are pleased to continue this close association through the City of Glasgow Cup.
"I know there is a real appetite across all clubs within the city to see young foot-balling talent flourish, and we are delighted to support the Glasgow FA in this ob-jective and their wider vision of making a meaningful difference to the lives of young people."
Eric Riley, Chairman of the Glasgow FA commented: "We are delighted to an-nounce this extended sponsorship agreement which will ensure further magnificent support for the football development activities of our Association.
"Willie has been a tremendous supporter of youth football in the city for such a long time and we are very grateful to him for this continued commitment and backing.
"He shares our vision of making a positive impact to young people at local level through football and the support he has given the Glasgow FA will allow us to continue our im-portant work in this area. We thank Willie and everyone at City for their continued support."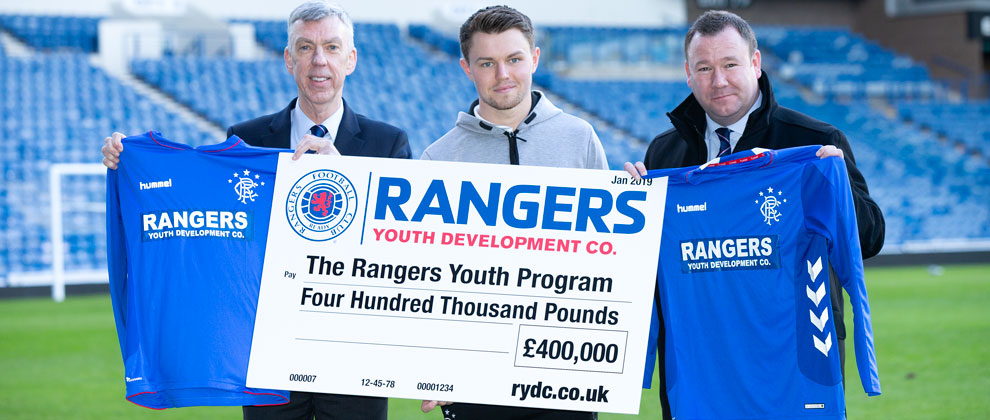 Since 2002, Rangers Youth Development Company profits have been directed to Rangers Football Club's youth programme – with almost £8 million provided to date.
And in January this year, Academy Head Craig Mulholland and youth graduate Glenn Middleton accepted an RYDC donation of £400,000.
For full details on RYDC's growing portfolio of products – the re-launched Rangers Pools, Rangers Lotto, Rising Stars, Scratchcards, Stadium Bricks and the Youth Members Club – visit www.rydc.co.uk or call 0141 427 4914.
The Rangers Youth Development Company has donated almost £8 million to the Rangers Academy since 2002.
One of their main revenue generators is Rangers Lotto – which costs just £1 to play, is one of the most successful products in RYDC's growing portfolio and fans have won cash prizes of £10 million since it was launched in 1994.
For full details on all their products – Rangers Lotto, Rangers Pools, Rising Stars, Scratchcards, Stadium Bricks and the Youth Members Club – visit www.rydc.co.uk or call 0141 427 4914.