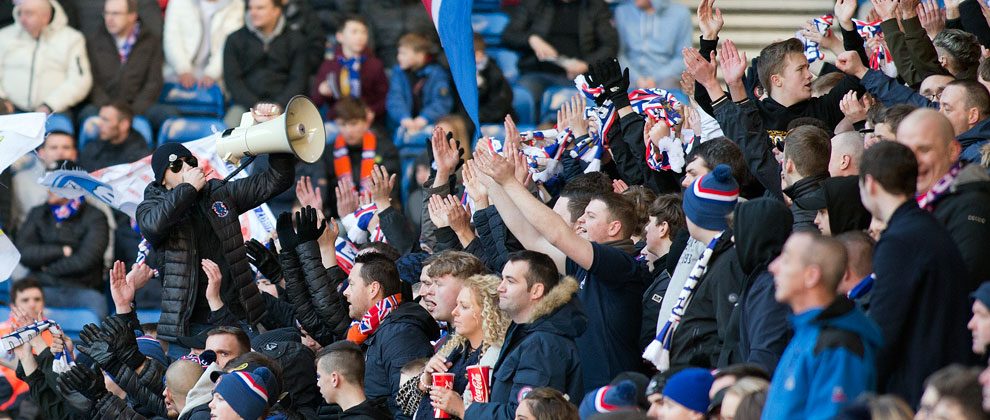 How can I purchase a season ticket?
Season Tickets can be purchase online at www.rangers.co.uk, or by calling the Ticket Hotline on 0871 702 1972 (calls cost 13ppm plus network extras) (Subject to availability).
What are the sales channel opening times?
The Ticket Hotline is open Monday to Sunday 9am to 9pm.
Can I buy for someone else?
Yes, as long as you have all of their details and are buying on their behalf.
Can I buy multiple seats together?
Yes, subject to availability.
How do I buy multiple Season Tickets online?
Purchase season tickets online here
If you do not already have a Rangers Number click 'My Account' and then 'Register' you should then enter your details to be allocated a Rangers Number. If you already have a Rangers Number you are not required to re-register to purchase a Season Ticket
Ensure that everyone you wish to purchase a Season Ticket for has a Rangers Number, if they do not you can register them in the same way as described in Step 1.
Click on 'My Account' and then 'Friends and Family'. If you already have a friendship group it will list everyone else in the group's details. If you do not already have a friendship group you can add people by entering their Rangers Number, surname and postcode.
Once you have created the group that you want to purchase Season Tickets for you should select 'Season Tickets' from the 'Tickets' dropdown menu. At this point you should select the TOTAL number of season tickets that you want to purchase i.e. one for yourself and one for a friend would be 2.
You can then decide if you wish to sign up to any schemes.
After this there will be a dropdown menu related to each Season Ticket you are purchasing. From this dropdown please select the Rangers Number of the person in your friendship group that you wish to allocate this seat to.
What are the Finance Options?
Our finance options are Rangers 4 Monthly Instalments or online only with Zebra Finance, who offer extended term monthly plans.
RFC 4 INSTALMENTS FAQS
How does the instalment plan work? 
The RFC instalment plan is an easy way of securing your seat and spreading the cost of your Season Ticket/s over 4 months.
How do I apply for the instalment scheme? 
You can sign up for the instalment plan at the time of purchasing your Season Ticket. This can be done by phone on 0871 702 1972, in person at Rangers Ticket Centre.
Can anyone go on to the instalment plan? 
Yes, all supporters are welcome to apply.
Does the plan cost extra? 
There is an additional £10 cost which is added to the first payment.
Is there a credit check?
No, this scheme is not regulated under the Consumer Credit Act so therefore no credit checks will be made.
Can I choose the day the payment comes out? 
No, I'm afraid you cannot select a specific date. The first instalment, including the additional £10 cost is taken on purchase; subsequent payment dates are 29 June, 31 July and 31 August.
Can I pay for more than one season ticket in instalments? 
Yes, you can pay for multiple Season Tickets on the scheme.
Can I use the auto renew facility with an instalment plan? 
Yes, supporters using the Season Ticket instalment plan are automatically renewed the following Season.
What if I cannot keep up the payments?
If a payment is missed, your account is instantly suspended and the associated Smartcard is blocked. We understand that supporters may experience financial difficulty and should this occur, contact the Ticket Centre at the earliest convenience for information and assistance.
Can I clear the balance early? 
Yes, you can pay the balance at any time
FAMILY SECTION
What is the Family Section?
Our Family Section, situated in the Broomloan Rear Stand is a family friendly environment with pre-match activities for children.
What makes a Family Group?
Age restrictions apply to Family Groups; they must comprise of at least 1 adult and 1 junior (under 16). A maximum of 3 juniors can accompany 1 adult. A maximum of two adults can accompany 1 junior.  A junior should be under 16 years of age at the annual cut-off point of 1 July.  Single adult, single junior or adult concession Season Tickets are not available in the Family Section.
Will my seat be moved during Season 2018/19 to accommodate visiting supporters?
Relocations from this area can occur for certain games and competitions. On these occasions, alternative seats would be made available. Please note that adult Season ticket holders who have purchased their Season Ticket to include SPFL Celtic games will not be relocated this season.
BROOMLOAN FRONT
Do Season Tickets in Broomloan Front now include Celtic tickets?
Any new Season Ticket sales in this area will now include SPFL Celtic games and will not be relocated for these games.
SALES LEVELS
Who can apply for a junior or concession Season Ticket?
The annual cut off point to determine sales levels by age is 1 July.
Juniors* should be under 16 years of age, adult concessions should be age 65 or over by this date.
*Except in Govan Rear, where junior status is extended to under 18 years of age at 1 July.
Are junior concessions available in all areas of the ground?
Junior/concession prices are not available in the Bar72 or MLF areas of the stadium.
Are adult concessions available in all areas of the ground?
Adult concessions are not available in the Family Section
Do I have to provide any documentation to prove eligibility for a Junior / Concession season ticket?
Renewals which involve changes to the sales level should provide the Club with proof of age i.e. passport, drivers licence or birth certificate – photocopies are accepted.
How can I receive information updates from the Club?
Please supply the Club with your contact details including name, address, mobile and telephone numbers and email address and you shall be included on our mailing list. You can also find the latest Club news at www.rangers.co.uk.
How can I change my address with the Club?
Changes of address can be amended online at www.rangers.co.uk (select online sales>my account>update my details), by email to [email protected] or in writing to: Rangers Ticket Centre, 150 Edmiston Drive, Glasgow, G51 2XD.
My relative has a Season Ticket but has recently passed away, can I keep the seat?
A change of ownership can be processed free of charge on production of a copy of the death certificate of the original owner.
My child cannot attend the match; can I upgrade their ticket to an Adult price so I can bring someone else?
You can upgrade a junior or concession season ticket for a game by calling 0371 702 1972, or in person at Rangers Ticket Centre. You will be charged the difference in price between a junior / concession ticket and an adult ticket.
How do I release my Season Ticket seat for resale through Secondary Ticketing?
Please click here for detailed information.
I am interested in purchasing a Season Ticket in the future; can you hold my details on a waiting list?
You can join the season ticket waiting list here