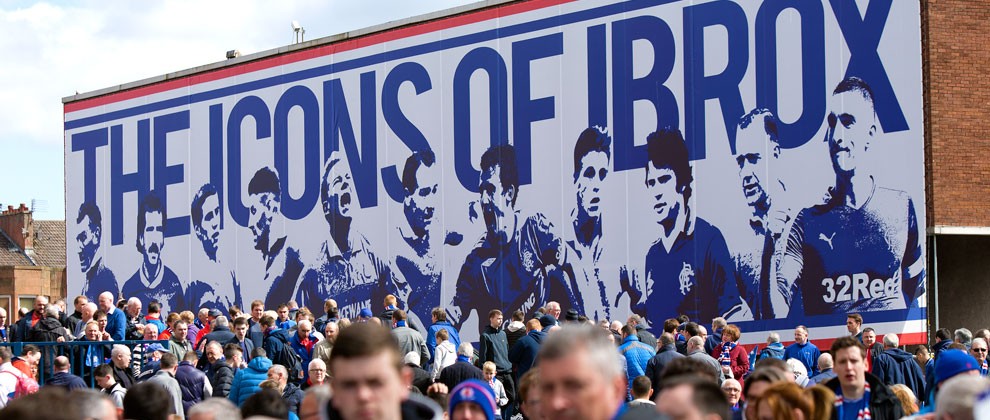 How to buy a ticket – general sale
At Ibrox Stadium the demand for tickets has increased enormously for every game. The record breaking numbers of Season Ticket holders has impacted on the number of tickets we are able to offer.
Full details of how to buy tickets: Online, telephone and Ticket Centre purchasing:
Tickets may be purchased at the Ticket Centre, via telephone on 0871 702 1972 (calls cost 13p per minute plus network extras) and online here.
Rangers Ticket Centre is open Monday, Tuesday, Wednesday and Friday 9am to 5pm, Thursday 9am to 6pm and Saturday (non matchdays) 10am to 2pm. The Ticket Centre is closed on a Sunday (excluding Sunday matchdays).
How do I create an account?
Sign up here
How do I reset my password?
Click here to access your account.
Select 'Forgot your login details?
Enter your Rangers number and click 'Reset Password'.
An email has been sent to you to confirm your request. Login to your email account and follow the link to complete the process and reset your password.
Ticket collections
Where there is insufficient time for delivery, any tickets purchased on the ticket hotline or on the Club website will be held for collection.
These tickets can be collected from the Ticket Centre or on matchdays from the Collection Point located directly in front of the Ticket Centre.
The Ticket Centre & Collection Point is open from 9am on weekend home matches and for home games played on any weekday. The Collection Point closes at half-time.
Please note that if you have not purchased tickets through the ticket hotline or on the Club website, your tickets may be held for collection elsewhere and you will need to contact the person who made the arrangements for further advice.
Incorrect postal address
If you have just purchased a ticket and have noticed your delivery address is incorrect, you will need to update your address details by logging into your online account using your Rangers number.
Providing that you amend this immediately following your purchase, your tickets will be sent to the updated address. Tickets are sent to the address held on your membership account at the time they are printed.
Please follow the instructions below:
Login to your account using your Rangers number and password
Select 'My Account'
Select 'Update My Details'
Amend your postal address, remembering to click the 'Update' button!