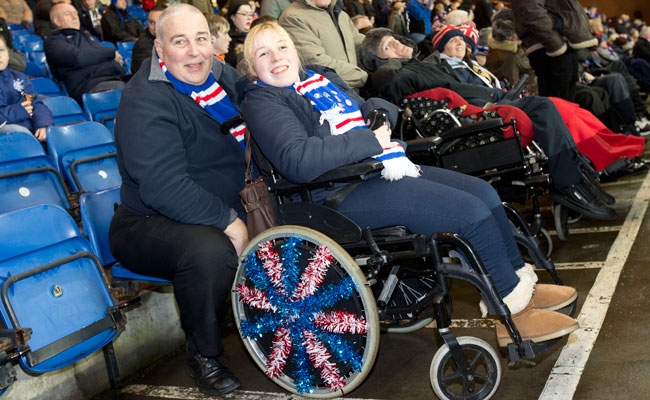 Rangers Football Club's current safety certificate permits 114 wheelchair fans and 114 attendants at each match.
68 of these spaces are located in the West Enclosure, 35 East Enclosure, 4 in the Broomloan and 7 within the North West Corner.
The 103 spaces in the West & East Enclosure are used by Rangers fans and are split into season ticket holders and Match to Match (M2M) members. The current ratio is 93 season ticket holders and 7 Match to Match places. The other 7 spaces are used for Club requirements.
The Match to Match scheme has been designed to encourage wheelchair-using Rangers fans to attend individual matches and thereby help ensure the most efficient use of the available spaces. Match to Match tickets for the entire season are allocated equally amongst members of the Wheelchair Match to Match Scheme.
If you wish to be added to the wheelchair season ticket waiting list or the Match to Match Scheme please email ticketcentre@rangers.co.uk
The 7 spaces in the North West Corner are utilised by away fans, with the exception of Celtic who utilise the 4 seats in the Broomloan subject to availability. The allocation of these spaces is controlled by the away club.