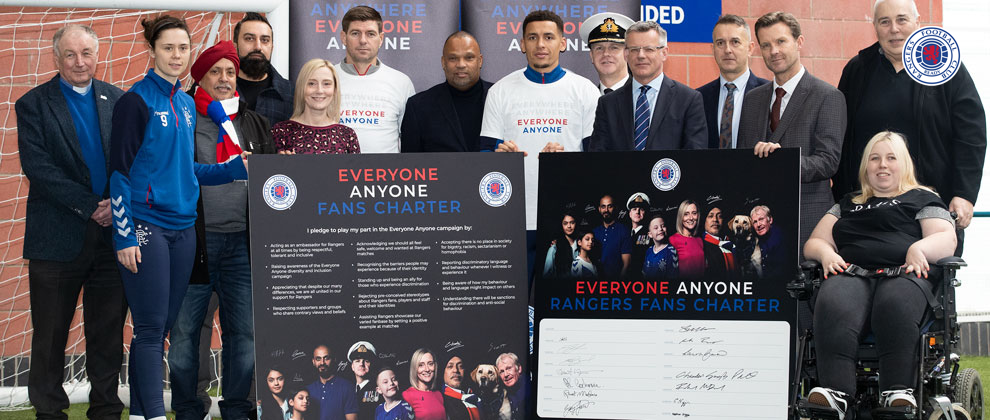 RANGERS recently launched a new Fans Charter which is the latest strand in our hugely successful diversity and inclusion campaign 'Everyone Anyone'.
Rangers is proud to be a diverse football club where people from all backgrounds, cultures and communities are welcome.
Our Everyone Anyone campaign represents our core values and sends a clear message of inclusion, togetherness and zero-tolerance to all forms of discrimination – on and off the pitch.
We feel it is the responsibility of everyone associated with the club – fans, players, staff and the wider community – to help create a positive environment where our differences are celebrated, our shared bond is our love of Rangers and no one is excluded.
I pledge to play my part in the initiative by:
Acting as an ambassador for Rangers at all times by being respectful, tolerant and inclusive
Raising awareness of the Everyone Anyone diversity and inclusion campaign
Appreciating that despite our many differences, we are all united in our support for Rangers
Respecting supporters and groups who share contrary views and beliefs
Acknowledging we should all feel safe, welcome and wanted at Rangers matches
Recognising the barriers people may experience because of their identity
Standing up and being an ally for those who experience discrimination
Rejecting pre-conceived stereotypes about Rangers fans, players and staff and their identities
Assisting Rangers to showcase our varied fanbase by setting a positive example at matches
Accepting there is no place in society for bigotry, racism, sectarianism or homophobia
Reporting discriminatory language and behaviour whenever I witness or experience it
Being aware of how my behaviour and language might impact on others
Understanding there will be sanctions for discrimination and anti-social behaviour